Dismissal or Distraction? Power Scuffles and Governance in Uzbekistan
Uzbek President Mirziyoyev recently dismissed Jahongir Artikhodjaev, the controversial mayor of Tashkent.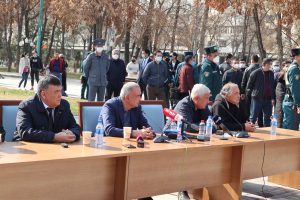 Some tensions are arising in Uzbekistan between elites with clashing economic interests. As new groups of elites emerge and accumulate political power, those tied to older networks are being pushed out. The latest iteration of this age-old struggle comes amid an energy crisis in the capital, Tashkent. Some also see the latest political drama — the dismissal of controversial Tashkent mayor Jahongir Artikhodjaev — as a distraction, drawing public attention away from Uzbekistan's greater flaws, namely a governing method rooted in widespread corruption, from the which the freezing public is now suffering. 
Uzbekistan's government has won abundant financial and political support through the persistent appeasement of multinational donors in and out of Washington, in particular, by promising transformative democratic reforms while consolidating authoritarianism and kleptocratic expansion at home.
Artikhodjaev was dismissed by President Shavkat Mirziyoyev on January 16 amid a winter energy crisis that is increasingly causing public distress in Tashkent and across the country. Now ex-mayor, Artikhodjaev still remains in the government given his concurrent positions in the Senate and City Council in Tashkent. On January 19, it was reported that Artikhodjaev retains immunity as a deputy in the city council and a senator, which shields him from prosecution, arrest, or imprisonment without the consent of the city council and the senate.
Artikhodjaev became mayor of Tashkent on December 21, 2018. Prior to serving as mayor of Tashkent, including a period as acting mayor, Artikhodjaev had been the head of the Tashkent City Directorate, the agency responsible for the mega urban redevelopment project Tashkent City.
In Uzbekistan, hokims — a term referring to top local leaders, such as regional governors and the mayor of Tashkent — are directly appointed by the president. Mirziyoyev has mentioned direct election of hokims, but that change has not yet been seriously pursued. In Mirziyoyev's mind, Artikhodjaev was fit for the post of mayor because he was an entrepreneurial, business-minded type that supposedly should have helped create an investor friendly environment in the Uzbek capital.
Artikhodjaev has long faced allegations of conflicts of interests, namely involving the $1.3 billion mega urban redevelopment project Tashkent City. The project involved the demolition of traditional neighborhoods in O'qchi and Olmazor, where residents were swiftly strong-armed out of their homes. Moreover, the wheelchair factory Altromark, a foreign enterprise, fought a long battle to save its business before being demolished fully in August 2021.
The then-mayor was also awarded substantial state aid, including 30 hectares of land for the construction of Akfa University in the Tashkent region. It caused wide public discontent and was criticized by the state anti-monopoly committee for unfair advantage as it provided unequal treatment, including tax exemptions in addition to land allocation.
Historically, kleptocrats in the Uzbek context survive based on their ties to power, and as far as they are able to maintain such connections, they are left to survive and thrive. Gulnara Karimova is Exhibit A that maintaining such a position requires cooperation with others in the same kleptocratic network, essentially the sharing of economic profits. An individual can become alienated from the network, and dismissed, but the system remains in palace.
Artikhodjaev is likely to continue his business activities using the public positions he retains in the senate and city council. It is possible that he might be restricted in opportunities to gain lucrative contracts with no open competition, as Mirziyoyev has other, more favored candidates close to his family for those privileges. 
Immunity for Impunity?
Artikhodjaev has breached the protocols set out in the law on the status of deputies and senators on two counts. First, Article 6 reads: "A deputy must work in the Legislative Chamber on a permanent basis and, for the period of his term, cannot engage in other types of paid activities, except for scientific and pedagogical ones." The same applies for a senator. While serving in these positions, and as mayor, Artikhodjaev remained a businessman, owning the conglomerate Akfa-Artel Group. 
Second, Article 11 on the ethics of deputies and senators states, "A deputy, a senator, must strictly observe the norms of ethics. It is inadmissible for a deputy or senator to use his status to the detriment of the legitimate interests of citizens, society and the state." Artikhodjaev, as mayor, was alleged to have intimidated local journalists and bloggers whose reporting he did not welcome. Two Kun.uz journalists resigned following alleged death threats and threats to spread rumors that they were gay. This is exactly what its meant by "using power to the detriment of the legitimate interests of citizens" and restraining media freedom. 
Firing Artikhodjaev from the Tashkent city government yet still allowing him to remain in the central government illustrates two things: First, the anti-corruption reform Mirziyoyev so passionately speaks about is a masquerade and not to be taken seriously; and second, impunity for high-level officials continues to prevail in Mirziyoyev's government despite the loud rhetoric of reform.
If Mirziyoyev was really serious about reform and uprooting corruption in the government, he would have not only sacked the governor of the capital but followed through with an investigation and prosecution to hold Artikhodjaev accountable for countless allegations of corruption during his tenure. This would include an open investigation into alleged corruption related to development projects and land allocation, with special attention to conflicts of interest and the cruel eviction of citizens from their homes. Those who were deemed ineligible for compensation following their eviction, for not residing in the de facto area at the time of the demolitions, should be compensated fairly.
In light of this case, a host of additional broader recommendations come to mind, too. First, the full disclosure by public officials of assets and income via an electronic system should be required. Ukraine championed this sort of system to tackle public corruption. Second, there ought to be established a transparent database for for public procurement in which tenders and contracts with the government and its agencies are made public. Third, international financial institutions need to conduct thorough due diligence in advance of issuing loans to the government of Uzbekistan, in particular to ensure that they will not contribute to urban development projects that involve human rights violations.
And finally, this  case also proves that judiciary reform and independence of judges are essential to the reform of the entire governance system in Uzbekistan. Prosecution is not possible without an independent judiciary, and it is necessary that individuals using state power for the purposes of self-enrichment are held to account, without exception.