A Third Term for Uzbekistan's Mirziyoyev
With 87 percent of the votes in a campaign devoid of genuine competition, the Uzbek president has cemented himself in power much like his predecessor.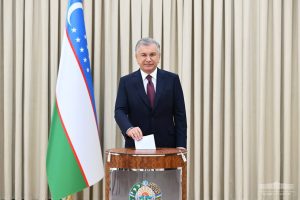 Uzbek President Shavkat Mirziyoyev sailed into a third term — despite Uzbekistan's long-standing but never-heeded two term limit — by capturing 87 percent of the vote on July 9. Turnout reportedly hit 80 percent. 
Mirziyoyev called for the snap presidential election in early May after ushering through a wide-ranging revision of the country's constitution. Part of the revision included a familiar Karimovesque tactic of altering the length of the president's term — in this case extending it from five to seven years — and thereby nullifying previous terms. After standing for election in 2016 and 2021, Mirziyoyev can now potentially serve in the presidency until 2037.
In their preliminary findings, the OSCE's election observation mission noted that the "election was technically well-prepared but took place in a political environment lacking genuine competition." This is not a new complaint. The OSCE said as much about the 2023 constitutional referendum ("…technically well-prepared… lacking open debate…"), the 2021 presidential election ("…demonstrated that recent reforms… have not yet resulted in a genuinely pluralistic environment…),  the 2019 parliamentary election ("…greater tolerance of independent voices but did not yet demonstrate genuine competition…"), the 2016 presidential election ("… a campaign devoid of genuine competition…") and so on back through every Uzbek ballot-box experience since independence. 
In the July 9 election, there were four candidates. RFE/RL described them succinctly as "a former education minister, a former high-ranking forestry official, and a career judge fresh from a term in the slavishly loyal Senate." Uzbekistan has five registered political parties, and registration is necessary in order to run for office.
The campaign was lackluster. Mirziyoyev visited the regions, of course, but there was no genuine debate between candidates (just televised "debates" between proxies), and no competing visions offered to voters. The OSCE noted that "[a]ll registered political parties and their candidates endorsed the President's policies." Indeed, one of the political parties — Milliy Tiklanish, led by Alisher Qodirov — opted to just back Mirziyoyev rather than contest the polls.
One name that didn't appear on the ballot was Xidirnazar Allaqulov. The former university rector has been trying, for years, to get his Truth, Progress, and Unity party registered. In an interview with RFE/RL, he said, "For 32 years of independence there has been no competition in our political arena… They don't want it. They don't want justice. They don't want the rule of law."
Allaqulov hasn't just had registration requests denied by the Justice Ministry; he's been harassed and allegedly assaulted. Back in April 2021, a group of around 20 people accosted Allaqulov in the halls of his apartment building, demanding he stop engaging in politics. That came days after his offices were broken into. Earlier, in February 2021, just after he'd announced his intention to run for president and tried to organized a party congress, as RFE/RL reported, "his Tashkent home was surrounded by a squad of security troops and Allaqulov was taken to Andijon, some five hours' drive away, where police said a private citizen had filed a complaint against him."
A month before the 2023 election, Allaqulov was gathering signatures in Fergana and was reportedly beaten by men in plainclothes, an incident that continued into a police station — but the Fergana police are apparently investigating Allaqulov for injuring police officers. (For more on Allaqulov, check out Chris Rickleton's article for RFE/RL about him).
Allaqulov's experience underlines the reality of politics in Uzbekistan. Regardless of whatever positive reforms the Mirziyoyev government has ushered through — most notably the eradication of forced labor, but also opening the country to the world for tourism and investment — those reforms have not extended, and will not extend, into the political arena. Having secured a seven-year term, Mirziyoyev does not have to deal with presidential politics until 2030. Parliamentary elections were not previously due until late in 2024 (or early 2025), but are expected to take place later this year instead given the new constitution. There's little expectation that political dynamism will somehow bloom on its own in an autocratic desert.
Like Karimov before him, Mirziyoyev presents himself as the people's choice. And he very well may be, since there are, conveniently, no other options.