Do Pakistan-Russia Ties Have a Future?
There are strategic, economic, and geopolitical reasons for Islamabad to prefer ties with Washington over Moscow.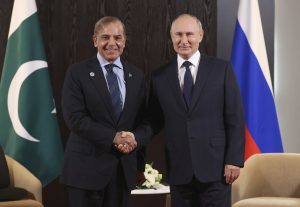 In early December 2022, upon his return from a short visit to Moscow, Pakistan's petroleum minister, Musadik Malik, surprised the public with an announcement that Russia would provide Pakistan with crude oil and diesel at a discounted price. Musadik also confirmed a Russian invitation to start talks over the supply of liquefied natural gas (LNG) to Pakistan, which could begin in 2025 or 2026.
Many in Pakistan believed that energy ties with Moscow could really develop this time, after many false starts. Following the announcement, various Pakistani officials told national and international media that Pakistan was all set to start purchasing 4.3 million tonnes of oil from Russia to help meet its annual demand and consumption of 19.92 million tonnes of oil and diesel.
Musadik pointed out that buying energy from Russia was necessary since Pakistan's energy supplies need to rise by 8 to 10 percent to meet its target growth rate of 5 to 6 percent. There is no denying that Pakistan could use cheap energy resources from Russia to revive its economy, which has been struggling to gain momentum for the past five years. Pakistan is now on the verge of a default, as the country's foreign exchange reserves fell to just $4.5 billion in the second week of January, barely enough for three weeks of imports.
The euphoria over using cheap energy from Russia to revive Pakistan's struggling economy turned out to be very short-lived, however.
Pakistan's Foreign Minister Bilawal Bhutto Zardari shot it down during his visit to the United States in mid-December 2022. In his engagement with the U.S. media during his visit, Bhutto confirmed that Pakistan was neither "pursuing [n]or receiving any discounted energy [from Russia]," adding that Pakistan was exploring various possible options to meet its energy demands. Bhutto also confirmed that Russian supplies could not materialize immediately, as energy ties with Moscow, he said, "will take a long time for us to develop."
In simple words, Bhutto killed any possibility of an immediate energy trade with Russia.
Bhutto's statement came within a week of Musadik's visit to Moscow. That the foreign minister downplayed the possibility of Pakistan receiving energy supplies from Russia so quickly shows that Musadik was not able to achieve anything beyond a conversation to begin a conversation around Russian supplies.
Even though a Russian delegate recently visited Pakistan to "explore" business opportunities in the energy sector, this has turned out to be another round of "talks about talks." The major outcome was that Pakistan and Russia decided to discuss energy cooperation again in March. This is in addition to other ambiguities surrounding the ongoing talks, including questions about the currency to be used to make payments to Moscow.