Forget the Taliban and Help the Afghan People Instead
The international community must prioritize evacuating and settling Afghanistan's embattled female population at the earliest possible opportunity.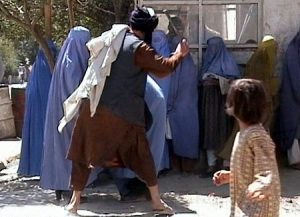 When the Taliban bulldozed their way to power in August 2021, countless Afghans tried to flee their country in despair, fearing the return of their vengeful rule. Yet, there was a sense at the time that this second installment of the Taliban regime might be more reasonable than the first one, especially since they were keener on gaining international recognition.
For months, as their fighters swept the countryside and captured Kabul, the Taliban went on a charm offensive, lobbying for investment and promising to behave better. In his first press conference after the Taliban returned to power, the Taliban's spokesperson, Zabihullah Mujahid, vowed that the regime would respect women, fight against global terrorism, and allow the media to remain independent. The Taliban then encouraged women to return to work and allowed girls to attend school. They declared their country open to foreign investment and presented themselves as a willing partner in economic development.
Short of any other credible alternatives in the wake of NATO's withdrawal, many in the West were cautiously optimistic. Days after the Taliban took Kabul, Britain's army chief, Gen. Nick Carter, said that the militants were no longer what they used to be in the 1990s. "It's less repressive," Carter said. "And indeed, if you look at the way it is governing Kabul at the moment, there are some indications that it is more reasonable."
But as yet another new year begins and the months roll on, much of that hope has largely evaporated. The Taliban have not been given recognition, funds remain frozen, and sanctions are still in place.
Meanwhile, the Taliban have promptly gone back to the past themselves. Women and girls have been barred from educational institutes, parks, gyms, and various public places. Both men and women have been beaten up for an array of supposed indiscretions. More recently, women were barred from working for international NGOs in Afghanistan. In November, a U.N. report said that the Taliban's atrocities "may amount to crimes against humanity."
In the face of this rapid deterioration, many have begun to argue for the Taliban's isolation. Late last month, the head of the U.S. mission in Afghanistan said that Washington was looking at a "range of actions" to punish and isolate the Taliban.
That's still easier said than done. As the Afghan economy flounders under risks of famine and instability, calls continue for engagement with the Taliban on economic recovery. And given the country's strategic location – wedged between Central and South Asia – ignoring Afghanistan was always going to be difficult anyway. World powers, including the U.S. and its allies, now worry that if they don't engage with whoever is in power in Kabul, they would be ceding strategic space to their rivals.
Late last year, spooked by reports that China was scoping for opportunities in Afghanistan, the Indian charge d'affaires in Kabul was said to have expressed interest in resuming New Delhi's own development projects. Afghan economists opined that the move would help revive their economy.
Despite these imperatives, however, engaging with the Taliban promises neither to revive the Afghan economy nor to reform the Taliban themselves. For one, the Taliban's repressive policies and exclusion of women and minorities will not permit any sort of sustainable economic recovery. And as time goes on, those policies look increasingly irreversible. The rank and file of the Taliban were always ideologically committed, regardless of political expediency. Since coming to power, the Taliban's leadership has also competed with the more fundamentalist Islamic State Khorasan Province (ISKP) to keep its own radical militants from defecting. All told, the Taliban now appears willing to pursue hardline Islamism even at the expense of development.
Under the circumstances, rescuing the Afghan economy by working with the Taliban increasingly looks like a fool's errand. What the world – and the West in particular – ought to do is prioritize helping Afghanistan's embattled female population to evacuate and resettle elsewhere as soon as possible.
For their part, regional powers such as India ought to draw down big-ticket strategic projects and focus instead on humanitarian assistance and the provision of exit opportunities to the Afghan people. In the aftermath of the Taliban's advent in 2021, New Delhi tied itself up in knots by rushing to help evacuate Hindu and Sikh minorities and then canceling all visas issued to Afghans en masse. That confusion has since festered with no clear resolution. Opening up opportunities for Afghans to study, work and live in India would be an immensely helpful step.
In the meantime, both the U.S. and India would also do well to provide more proactive support for the Afghan resistance. In the 1990s, India maintained an airbase and hospital in Tajikistan to help resistance leader Ahmad Shah Massoud. Yet, this time around, it has largely abandoned that movement.
As difficult as it is to accept, Afghanistan's political quagmire is unlikely to be resolved any time soon. The Afghan people ought not to be left to suffer for that indefinitely.