In Pakistan, Trans Men Search for Inclusion, Visibility
While cultural traditions provide some space for trans women, trans men are invisible and live isolated lives.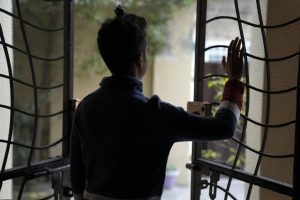 Aman, a 22-year-old transgender man from the eastern Pakistani city of Lahore, says he was always close to his father. When he was little and it was cold out, his father held his hands to warm them. When he was at university, his father would wait until he got home to eat dinner together, regardless of how late it was.
Now they are cut off. Aman's decision to live as a man has cost him everything. His parents and five siblings no longer speak to him. He dropped out of university and had to leave home. He has attempted suicide three times.
Trans men face deep isolation in Pakistan. The country, with a conservative Muslim majority, has entrenched beliefs on gender and sexuality, so trans people are often considered outcasts. But trans women face a degree of tolerance because of cultural traditions. Trans women in public office, on news programs, in TV shows and films, and even on the catwalk, have raised awareness about a marginalized and misunderstood community.
The Pakistani movie and Oscar contender "Joyland" caused an uproar last year for its depiction of a relationship between a married man and a trans woman, but it also shone a spotlight on the country's transgender community.
Trans men, however, remain largely invisible, with little mobilization, support or resources. Trans women have growing activist networks — but, according to Aman and others, they rarely incorporate or deal with trans men and their difficulties.
"It's the worst," said Aman. "We are already disowned by our families and blood relatives, then the people we think are our people also exclude us."
Trans women have been able to carve out their space in the culture because of the historic tradition of "khawaja sira," originally a term for male eunuchs working in South Asia's Mughal empire hundreds of years ago. Today, the term is generally associated with people who were born male and identify as female. Khawaja sira culture also has a traditional support system of "gurus," prominent figures who lead others.
But there is no space within the term or the culture surrounding it for people who were born female and identify as male.
"Every khawaja sira is transgender, but not all transgenders are khawaja sira," said Mani, a representative for the trans male community in Pakistan. "People have been aware of the khawaja sira community for a long time, but not of trans men."
He set up a nonprofit group in 2018 because he saw nothing being done for trans men, their well-being or mental health.
Trans people have seen some progress in protecting their rights. Supreme Court rulings allow them to self-identify as a third gender, neither male nor female, and have underscored they have the same rights as all Pakistani citizens.
Although Mani was involved in the trans rights bill, most lobbying and advocacy work has been from transgender women since it became law.
"Nobody talks about trans men or how they are impacted by the act," said Mani. "But this is not the right time to talk about this because of the campaign by religious extremists (to veto changes to the act). I don't want to cause any harm to the community."
Another reason for trans men's low visibility is that females lead a more restricted life than males in Pakistan, with limits on what they can do, where they can go and how they can live. Family honor is tied to the behavior of women and girls, so they have less room to behave outside society's norms. On a practical level, even if a girl wanted to meet trans people and get involved in the community, she wouldn't be able to because she wouldn't be allowed out, said Aman.
Coming from a privileged and educated family, Aman said his parents indulged him as a child, letting him behave in ways seen as male and dress in a boyish way. He wore a boy's uniform to school.
But there came a time when he was expected to live and look like a girl. That meant fewer freedoms and the prospect of marriage. He didn't want that life and knew there were operations to change his gender. But his father told him he was too young and would have to wait until he was 18, apparently hoping he would grow out of it.
Aman had nobody to speak to about his gender identity struggles. He used social media and search engines, making contact with a trans man in India who connected him with a WhatsApp group of trans men in Pakistan.
Aman grew his hair long and dressed like a girl "just to survive" while still at home, he said. He also felt he shouldn't do anything to jeopardize the family's honor.
"These restrictions created a war in my mind," he said. "You have to socialize, and it was difficult for me because I had to socialize as a girl."
He wasn't allowed male friends because of the taboos around mixing with the opposite sex, nor was he allowed female friends because his parents feared it would lead to a lesbian relationship.
Still, Aman set goals to get educated, earn money and be independent, planning eventually to live as a man. By 2021, he was on hormone therapy and his voice was changing.
But it all changed when a family member asked outright if Aman was changing his gender. The question inflamed all the doubts and worries his parents already had about his steps to transition. They disowned him, saying he could no longer live under their roof if he wanted to live as a man.
"They said everything can be tolerated but we can't tolerate this," Aman said. His mother said it would hurt his siblings and their marital prospects. His sisters locked him in a bathroom once. Only his older brother supported him.
Aman moved out and began living alone – and fully as a man.
Mani has helped, giving him an office job at a non-governmental organization. Still, Aman barely gets by and faces constant problems. One is that he hasn't changed his gender to male officially on his ID card, which he needs to vote, open a bank account, apply for jobs and access government benefits including health care.
He went once to NADRA, the government agency responsible for ID cards, but there the officials harassed him. They inspected him, talked derisively about him, and demanded a bribe. One official felt his chest.
He feels isolated.
"I'm satisfied with my gender, but I'm not happy to live anymore," he said. "I love my family. I need my father, I need my brother."