Rohingya Refugees in Bangladesh: Boon or Bane?
Crime has risen as have unemployment and prices. But rehabilitation work among refugees has provided locals with jobs in NGOs.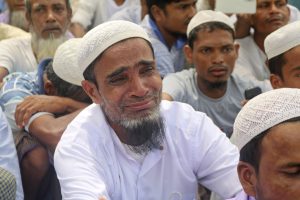 Rising crime rates at Rohingya refugee camps in Bangladesh have led to the Bangladesh Police launching "Operation Root Out" in the camps. More than 20 Rohingya, most of them community leaders living in the camps, have been killed since July 2022. Over 900 Rohingya criminals and militants are said to have been arrested from these camps in recent months.
Persecution of Rohingya Muslims in Myanmar's Rakhine State, which the U.S. has described as a "genocide" triggered an exodus of almost a million Rohingya to Bangladesh in 2017. These Rohingya took shelter in camps at Ukhiya in Cox's Bazar. More recently some have been moved to Bhasan Char in Bhola district. The flood of refugees has resulted in the Rohingya becoming the demographic majority in areas where the camps are located, rendering the host Bengali community a minority.
Literature on forced migration has drawn attention to the adverse impacts of refugee influxes. It is said that "incidents of robbery, assassination, prostitution, and drug trafficking" rise in host communities.
The world's most densely populated country, Bangladesh has struggled with its own problems, including widespread poverty, unemployment and denial of basic rights of citizens. The influx of over a million refugees has added to the severity of these problems, especially in Cox's Bazar district.
Crime rates have risen dramatically in Rohingya refugee camps located at Cox's Bazar. A 2018 newspaper report revealed that 22 Rohingya were murdered and another hundred injured over a period of 14 months due to infighting. Some Rohingya groups are said to be involved in kidnapping for ransom, rape, forced disappearances, gunrunning, drug trade and trafficking.
Such crimes are not limited to refugee camps; local people, foreign journalists, and security forces have been targeted as well.
Unemployment prompts many refugees to take to crime. According to a 2019 report, 97 percent of youth and adolescents in camps lack access to quality education or learning opportunities. Since most of them are sitting idle, they engage in fights and violence within the camp and outside. They are easily attracted to drug trafficking; several hundred are reportedly involved in drug trafficking.
Some get into "fake marriages" to secure Bangladeshi citizenship, prompting the Bangladesh government to ban marriage between Rohingya and Bangladeshis. Around 250,000 Rohingya are said to have gone abroad on illegal Bangladeshi passports. Reports show that at least 500 Rohingya women at Kutupalong, one of the Rohingya camps in Cox's Bazar, are engaged in the sex trade.
The refugee influx has also impacted the environment. An estimated 5,000 acres in the hilly and forested Cox's Bazar have been destroyed to set up camps and other facilities for the refugees.
This is "threatening the biodiversity of the three ecologically critical areas of the country," according to a 2018 report. The report further reveals that around 7,000 tons of fuelwood is collected each month and a Rohingya family uses on average 60 culms of bamboo to construct their temporary shelters. The indiscriminate hill cutting to provide shelters for the Rohingya has destroyed the natural slope of the hill terrain, causing a potential risk of landslides. The report also found that thousands of shallow tube wells have been sunk, threatening the aquifers in the area.
Pollution has also worsened in the area due to increased vehicular traffic and smoke from firewood burned by the refugees. Polythene bags and plastic bottles are all piling up in various parts of the area.
Local livelihoods have been affected by the influx of refugees in several ways. Many locals depend on the hills and forests for their livelihood. With these being destroyed, they are unable to earn a living. Poverty is serious in the area; nearly 35 percentof the people of Cox's Bazar live below the poverty line and around 20 percent live below the extreme poverty line. The presence of the Rohingyas has been dramatically affecting the local economy.
With aid money and international humanitarian personnel pouring into the area, the price of essential goods in the local market has skyrocketed. According to Kamal Ahmed, an auto-rickshaw driver: "The fish I used to buy at 30 taka ($0.30) per kg, now costs 150 taka ($1.50). It's the same with vegetables. This is because all these products are bought for the Rohingya and people working for various organizations. I simply cannot afford the price."
In addition, local wages have fallen as refugees are willing to work for half or even a third of the local rate for daily unskilled wage earners. Local resident Mohammad Ismail said that earlier, "a day laborer in the paddy fields would earn 700-800 taka ($7-8) per day. Now, Rohingya come out of the camps, and do our job for 250-300 taka ($2.5-3)." A similar scenario is visible in other professions.
The influx of Rohingya refugees saw an increase in the number of NGOs working in the area. House rents have "increased dramatically due to rising demands for housing for NGO workers and officials, who frequently visit camps," said an NGO official who is working in Ukhiya, Cox's Bazar.
Interestingly, the flood of refugees to Cox's Bazaar has also benefited the local community.
A local NGO worker told The Diplomat that he did not have a job before 2018. With dozens of NGOs coming up in the area for the rehabilitation of refugees, new job opportunities have emerged. "Now I am working in an NGO. It's not only me; many other local youth have benefited from the NGO jobs. The Rohingyas have improved the fortunes of locals," he said.
A student of Ukhiya college told The Diplomat that he can now "work part-time as a guide to the camps." "We can thus help our parents," he said. The flow of a large number of people in the Ukhiya region has led to an increase in demand for accommodation, food and communication. Local businesses have benefited from this.
The arrival of the refugees has therefore brought a mixed bag for the people of Cox's Bazar. However, while some locals have gained from the influx, the costs far outweigh the benefits.