Thai Activists Hospitalized After Hunger Strike Over Royal Defamation Cases
Tantawan Tuatulanon and Orawan Phuphong demanded that a judge revoke their bail in solidarity with other activists facing lese-majeste charges.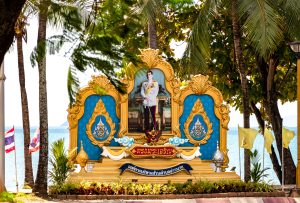 Two young Thai pro-democracy activists have been taken to hospital after launching a hunger strike to protest what they considered to be unjust pretrial detention of critics of the country's monarchy.
Tantawan "Tawan" Tuatulanon and Orawan Phuphong began their hunger strike in Bangkok's Central Women's Correctional Institution on January 18, two days after appearing in a Bangkok court to ask a judge to revoke their bail. The pair intended this as a show of solidarity for two other political activists who were returned to prison on charges including lese-majeste, demanding that the charges be dropped.
Thailand's lese-majeste law criminalizes any criticism of the monarchy or the royal family, and carries punishments of up to 15 years imprisonment.
According to a report by BenarNews that cited the legal advocacy group Thai Lawyers for Human Rights, the pair began the hunger strike after the court refused to reconsider other cases. They were taken to a prison hospital after collapsing two days into their strike, and are refusing to be fed by an intravenous drip or receive medical care.
In 2022, Tantawan and Orawan were charged with lese-majeste for conducting public opinion polls about royal motorcades. They were jailed but later released on bail. Appearing outside the Ratchadapisek Criminal Court on January 16, the pair poured red paint over themselves after announcing that they would revoke their bail in an act of solidarity with other detained activists.
The pair are just two of the many individuals who face criminal charges for organizing the wave of public demonstrations that took place in late 2020 and early 2021. The youth-driven protests demanded a host of political changes including Prime Minister Prayut Chan-o-cha's resignation, the drafting of a genuinely democratic constitution, and – most explosively – limitations on the power of the Thai monarchy.
This rare open discussion of the role of the royal family, the linchpin of Thailand's steeply hierarchical system of privilege and wealth, has been met with a ruthless legal offensive. After almost a three-year hiatus in the pursuit of lese-majeste cases, the authorities began issuing indictments in November 2020 and have since charged at least 210 people – many of them protest leaders and political activists – under the law. At least 22 people are incarcerated pending trials, according to Thai Lawyers for Human Rights.
Many of these cases involve almost comically minor transgressions. Last year, a court in Bangkok sentenced a political activist to two years in prison for placing a sticker on a portrait of the king. In September, another activist was sentenced to three years imprisonment for wearing traditional Thai attire at a political demonstration in October 2020 – an act that was deemed to be insulting to the country's Queen Suthida.
Hundreds of people including activists and former politicians rallied in downtown Bangkok on Monday to call for the release of Tantawan and Orawan. These included Thanathorn Juangroongruangkit, the former leader of the disbanded Future Forward Party, who has also been charged with lese-majeste for questioning a COVID-19 vaccine deal that benefited a pharmaceutical company owned by King Vajiralongkorn.
In a statement earlier this week, the advocacy group Human Rights Watch called on the Thai government to immediately drop the charges against the pair, and to "permit peaceful expression of all viewpoints, including questions about the monarchy."
"Holding these activists in pretrial detention for the peaceful exercise of their rights is punitive and cruel," Elaine Pearson, HRW's Asia director, was quoted as saying.