Thai Man Imprisoned For Selling 'Yellow Duck' Calendars
The cartoon images of the duck, a symbol of the country's pro-democracy movement, were said to mock the Thai king.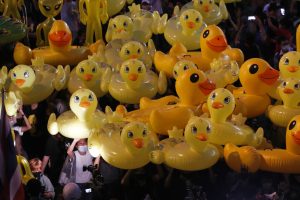 A Thai man has been sentenced to two years in prison for selling calendars featuring cartoons of yellow ducks that authorities allege defamed the monarchy – the latest instance of the use of Thailand's harsh lese majeste law.
According to the legal aid group Thai Lawyers for Human Rights (TLHR), the Bangkok Criminal Court ruled that the 2021 calendar, which was sold on the Facebook page of the pro-democracy democracy Ratsadon group, contained pictures of yellow ducks in poses said to ridicule King Vajiralongkorn.
Narathorn Chotmankongsin, 26, was convicted under Thailand's harsh lese-majeste law, which criminalizes any criticism of the monarchy or the royal family, and carries punishments of up to 15 years imprisonment.
According to the advocacy group Human Rights Watch (HRW), police arrested Narathorn at his home "and confiscated calendars that featured cartoons of a yellow duck." Pro-democracy groups have often featured large inflatable yellow ducks at their protests.
The conviction is the latest in a string of lese-majeste cases that involve the leaders, organizers, and participants of Thailand's youth-dominated pro-democracy movement, which mounted large protests in Bangkok and other Thai cities in late 2020 and early 2021. The protests demanded a host of political changes including Prime Minister Prayut Chan-o-cha's resignation, the drafting of a genuinely democratic constitution, and – for the first time in living memory – limitations on the power of the Thai monarchy.
While the government observed an informal moratorium on the use of the lese-majeste law, it removed the shackles in late 2021, and TLHR claims that at least 233 people have since been charged with lese-majeste. Many of these have involved absurdly minor or oblique "offenses," which have been reported to the authorities by royalist zealots.
A year ago this week, a court in Bangkok sentenced a political activist to two years in prison for placing a sticker on a portrait of the king. In September, another activist was sentenced to three years imprisonment for wearing traditional Thai attire at a political demonstration in October 2020 – an act that was deemed to be insulting to the country's Queen Suthida.
As the lese majeste law has been mobilized to quash dissent, the abrogation of the law has become a key demand of the country's youth protest movement – the prerequisite of an open or honest accounting of the role of the royal institution in Thailand's political economy. Two young female activists seeking its repeal and the release of imprisoned activists are reportedly in critical condition after launching a hunger strike in prison in late January.
In a statement released today, HRW asked Thai authorities to "quash the sentence" and release Narathorn. "The prosecution and three-year sentence of a man for selling satirical calendars show that Thai authorities are now trying to punish any activity they deem to be insulting the monarchy," said Elaine Pearson, Asia director at Human Rights Watch. "This case sends a message to all Thais, and to the rest of the world, that Thailand is moving further away from – not closer to – becoming a rights-respecting democracy."