TSMC's US Investments Spark Political Controversy in Taiwan
Plans for new chip plants in the U.S. have sparked concerns about Taiwan's "silicon shield" – and whether Washington has Taipei's best interests at heart.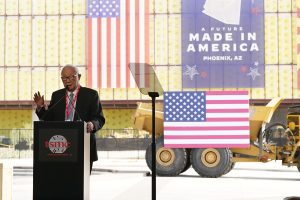 The construction of an Arizona plant by the Taiwan Semiconductor Manufacturing Company (TSMC), at a cost of $12 billion, has been subject to controversy in Taiwan. Namely, the opposition Kuomintang (KMT) has accused the ruling Tsai administration of "gifting" TSMC to the United States, suggesting that this will erode the advantages that Taiwan currently enjoys in terms of international support because of its preeminence in semiconductor manufacturing.
The "tool-in" ceremony for the Arizona plant, marking the first installation of semiconductor manufacturing equipment, took place on December 6. The significance of the event for the company can be observed in the dignitaries that were present. In addition to TSMC founder Morris Chang and CEO D.Y. Liu, U.S. President Joe Biden was in attendance. Apple CEO Tim Cook, AMD CEO Lisa Su, Esmer CEO Nick Wen, Micron Technology CEO Sanjay Mehrotra, and NVIDIA CEO Jen-Hsun Huang were among the other leaders of major tech companies that were present.
The Arizona plant, TSMC's Fab 21, will be for advanced four-nanometer processes and will come online in 2024. Plans for the fab were originally announced in May 2020, with the intention of constructing a plant for five-nanometer processes. At the time, the then-Trump administration was calling for tech companies to move manufacturing back to the United States, in line with rising protectionist sentiment.
The Biden administration, which took office in January 2021, has continued with calls to bring advanced technological manufacturing back to the United States, particularly with regard to the semiconductor industry. The CHIPS and Science Act was a major piece of legislation aimed at boosting U.S. semiconductor manufacturing, so as to avoid reliance on foreign manufacturers. That being said, U.S. politicians have sometimes touted the CHIPS Act as a potential avenue for cooperation between the United States and Taiwan, as former Speaker of the House Nancy Pelosi did during her August 2022 visit to Taiwan.
Shortly before the tool-in ceremony took place. TSMC announced that it would be building a second fab in the United States for three-nanometer processes, scheduled to come online in 2026. This will increase TSMC's investment in the U.S. to $40 billion, making this one of the largest foreign investments in American history.
In his remarks at the ceremony, Biden touted that the fab will create 10,000 new high-tech jobs, as well as 10,000 construction jobs. Biden also played up Morris Chang's education in the United States and his time spent at Texas Instruments, depicting TSMC as something of an American company that was returning home.
The global economy is currently heavily reliant on Taiwan for semiconductor manufacturing, with Taiwan producing more than 90 percent of high-end chips and 65 percent of semiconductors in the world. It is thought that this increases the incentives for Western countries such as the U.S. to defend Taiwan from Chinese military threats, given their reliance on Taiwanese semiconductors.
China is also reliant on Taiwanese semiconductors – to the extent that it was reported by the Washington Post in April 2021 that Taiwanese chips are used in the missiles that China has pointed at Taiwan, though the Taiwanese government has denied this. That China's supply chains are also dependent on Taiwanese semiconductors is thought to be a deterrent for a Chinese invasion of Taiwan. That semiconductors incentivize Western powers to defend Taiwan and dissuade China from an invasion has been termed Taiwan's "silicon shield."
As such, Taiwan sees maintaining its advantages in semiconductor manufacturing as of key importance for national defense. But as the world has increasingly become conscious of its reliance on Taiwanese semiconductors, particularly after the COVID-19 pandemic, there has been a new push toward "resilient" and diversified supply chains. That has in turn led to increased political contestation in Taiwan about the industry.
TSMC's rising investment in the United States and use of advanced processes in its Arizona plants have led to concerns that the company will be pressured by the U.S. into relocating key facilities and personnel out of Taiwan, thereby eliminating the advantages of the "silicon shield."
For its part, TSMC has claimed that it will maintain its key facilities and retain the most advanced processes in Taiwan – for example, it plans to build its one-nanometer plant in Hsinchu. But because of such concerns, the KMT has increasingly questioned the Tsai administration over the construction of the Arizona plant. The KMT legislative caucus held a press conference on December 26, led by caucus convener Tseng Ming-chung, to criticize the Tsai administration several weeks after the "tool-in" ceremony.
The Tsai administration allowing the Arizona plant to be built was criticized not only in light of national security but because of TSMC's contribution to Taiwan's economy. The company's capital expenditure from 2019 to 2021 of 1.8 trillion Taiwanese dollars constituted about 12 percent of overall domestic capital expenditure in Taiwan. Consequently, the Tsai administration has been accused of allowing the United States to undermine a major pillar of Taiwan's economy.
KMT legislators further suggested that TSMC's fab construction in the U.S. would contribute to Taiwan's problem of brain drain to America. They asserted that a nearby fab constructed by Intel would lead to Intel scooping talent away from TSMC with higher salaries, which are three to five times that offered by TSMC. This would lead to the loss of critical technologies.
On the other hand, TSMC founder Morris Chang has claimed numerous times in public comments – and reportedly when meeting with Nancy Pelosi during her visit to Taiwan – that U.S. efforts to compete with TSMC are futile.
Either way, such criticism is not new. The KMT previously held a press conference in October 2021, accusing the Tsai administration of handing over intellectual property, trade secrets, and technologies to the United States. This took place after the U.S. Department of Commerce requested both domestic and foreign semiconductor companies – including TSMC and South Korean's Samsung – to turn over data on chip inventory and sales in September 2021.
TSMC's role in Taiwan has become increasingly politicized as of late. In election campaigning for November 2022 local elections, the KMT accused the Tsai administration of directing TSMC to build facilities in parts of Taiwan where its support was weak, so as to create job opportunities that would boost the DPP's standing locally. Candidates of both parties vowed to lure TSMC to develop high-end facilities in their constituencies, to stimulate the local economy with high-tech jobs.
It has become common for the pan-Blue camp to accuse TSMC of acting at the behest of the Tsai administration. During the COVID-19 pandemic, TSMC helped negotiate vaccine purchases from BioNTech, alongside FoxConn founder Terry Gou's Yonglin Foundation and Buddhist organization Tzu Chi. TSMC was accused of having become involved so that the vaccine purchase would not solely become credited to the pan-Blue camp, with Gou having sought the KMT presidential nomination in the past.
At the same time, the KMT has sought to claim TSMC's current successes as an accomplishment of the party's past policies when it held power. TSMC's founding and initial growth occurred during the authoritarian era, when the KMT ruled over Taiwan as the sole party.
However, controversy regarding TSMC's Arizona plant has been much more significant in public discourse than before, perhaps reflecting broader anxieties about the United States' relationship to Taiwan. Although current party chair Eric Chu has touted that he intends to rebuild relations between the KMT and the United States, the KMT has increasingly leaned into criticisms of strengthened Taiwan-U.S. ties under the Tsai administration, so as to sow distrust about the United States and depict the DPP as uncritically pro-American.
Pan-Blue politicians such as Gou have framed U.S. weapons sales to Taiwan as Washington foisting unwanted, expensive, and useless arms onto Taiwan by. The DPP lifting the longstanding ban on ractopamine-treated pork exports from the U.S., long a stumbling block to a prospective trade deal, was similarly criticized as an instance where the Tsai administration caved to U.S. pressure. Allowing for ractopamine-treated pork imports was framed as not only endangering the food safety of the Taiwanese public, but allowing the United States to undermine the domestic agriculture industry.
In this sense, the KMT's criticisms of the Tsai administration over TSMC's Arizona fab construction follow along the lines of other angles of attack that the pan-Blue camp is leaning into. But, more broadly, the Arizona plant construction reflects how Taiwanese tech companies such as TSMC caught between the U.S. and China have had to choose sides.
Indeed, in a series of widely reported remarks at the tool-in ceremony, TSMC founder Morris Chang declared that globalization was "almost dead." Although this may have been a strange comment to make on the occasion of the construction of a TSMC plant overseas, Chang was likely reflecting on the demise of his ambitions for the company to steer clear of political allegiances.