UN Names Pakistani Linked to Mumbai Attacks as Terrorist
Lashkar-e-Taiba leader Abdul Rehan Makki's designation as terrorist came after China lifted its technical hold on his inclusion in the UNSC list.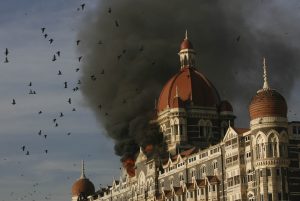 The United Nations has designated an anti-India militant being held in Pakistan as a global terrorist, the world body's second such designation stemming from the 2008 terrorist attacks in Mumbai that killed 166 people.
The announcement regarding Pakistani citizen Abdul Rehman Makki was hailed by neighboring India on Tuesday, a day after the decision.
Pakistan's Foreign Ministry said the Islamic nation is itself a victim of terrorism and Pakistan supports counterterrorism efforts at the international level, including at the United Nations.
Makki, 68, is a senior figure in the outlawed Lashkar-e-Taiba group, which is mainly active in the disputed Himalayan region of Kashmir. He was arrested in Pakistan's Punjab province in 2019 and convicted in November and December 2020 in two separate cases on charges of terror financing.
Makki was sentenced to one year in prison, but officials say he is still in custody without providing an explanation. He is being held in Punjab pending his appeals, according to several government officials who are familiar with the case.
The U.N. Security Council committee overseeing sanctions against al-Qaida and Islamic State extremists and their associates put Makki on the sanctions blacklist after approval by the council's 15 members. Under the U.N. measure, Makki's assets can be frozen and he will also face a travel ban.
Makki is a close relative of Hafiz Saeed, a militant leader accused of orchestrating the Mumbai attacks. Saeed, 72, is serving a 31-year prison sentence and was designated a terrorist by the United States and the U.N. Security Council after the 2008 Mumbai attacks.
Saeed, like Makki, was never charged in connection with the Mumbai attacks that strained relations between Pakistan and India. He is the founder of Lashkar-e-Taiba, which was blamed by India for the attacks in India.
Monday's U.N. Security Council decision came after China lifted a hold on designating Makki as a global terrorist.
The spokesperson at India's Ministry of External Affairs in the capital New Delhi, Shri Arindam Bagchi, on Tuesday welcomed Makki's designation as a terrorist.
"India remains committed to pursuing a zero-tolerance approach to terrorism and will continue to press the international community to take credible, verifiable and irreversible action against terrorism," he said.
Mumtaz Zahra Baloch, the spokesperson at Pakistan's Foreign Ministry, said: "Pakistan is a victim of terrorism and supports counter-terrorism efforts at the international level including at the United Nations and other multilateral fora."
Baloch said in a statement that "Pakistan has always called for strict compliance with the Security Council's listing rules, procedures and established processes to maintain the integrity of the UN counter-terrorism regime."
Since gaining independence from Britain in 1947, Pakistan and India, which have a history of bitter relations, have fought two of their three wars over Kashmir, which is split between them and claimed by both in its entirety.