Under New Leadership, What's Next for Fiji?
After 16 years with Frank Bainimarama at the helm, Fiji faces myriad challenges as Sitiveni Rabuka takes over.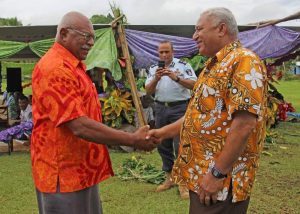 New Fijian leader Sitiveni Rabuka proclaimed he was "humbled" as he was confirmed in late December to become the small island nation's 12th prime minister. His confirmation ended a somewhat tense stalemate that had enveloped the country in the days following an election that resulted in no clear winner.
As the Associated Press reported in December, Rabuka promised change as the first new Fijian leader in 16 years, with his victory coming after three political parties — the Social Democratic Liberal Party (SODELPA), National Federation Party (NFP), and his own People's Alliance Party (PAP) — announced they would form a coalition government.  
Dr. Tessa Newton Cain, senior research fellow and project lead for the Griffith Pacific Hub, believes that the new Fijian government will initially focus largely on "domestic policy and issues."
"There is so much work to be done including in terms of trying to get the economy back on track," she told The Diplomat. 
In terms of the relationship between SODELPA, NFP, and PAPA, Newton Cain noted that keeping any coalition together is a "challenge." 
"Whilst Fiji has had coalition governments before, this is the first in quite a long time," she said. "The first three months will be key in terms of working out what the shared priorities are and how best the three parties can work together." 
SODELPA promised to put Indigenous affairs and education as their top priorities. 
Dr. Sanjay Ramesh, a senior fellow in the Department of Social and Political Science at the University of Sydney, told The Diplomat that "poverty amongst Indigenous Fijians is very high, as much as 70 percent in some areas."
"These socio-economic factors have convinced Rabuka and his party that the best way to improve the conditions of Indigenous Fijians is by embracing democracy and collecting ethnic-based statistics, which were outlawed under the previous government."
Rabuka's electoral success ended the long and controversial reign of Prime Minister Frank Bainimarama, who came to power in a 2006 military coup. 
Rabuka, colloquially known as "Rambo," has himself overseen two coups, while also serving as a democratically elected prime minister between 1992 and 1999. 
Fiji has had a pernicious relationship with democracy in its recent history, with four military coups in the last 35 years. Both Rabuka and Bainimarama have occupied important positions in attempts to remove previous leaders, and there is an air of fragility around Fijian democracy. 
Ramesh believes, however, that the new coalition will be a "transparent and accountable government."
"In a three-party coalition, the party functionaries agree that they don't want [the] corrupt and authoritarian practices of the former government," he said.
These "corrupt and authoritarian" practices include claims by human rights groups of Bainimarama government sidelining opponents, silencing critics, and suppressing the media
When asked what it says about Fijian politics that two former coup leaders were the main candidates for this election, Newton Cain highlighted that "Fijian politics is still colored by the idea of a 'strong man' as leader. In this context that means someone who can influence the military."
What It Means for the Region
For the Pacific region, there is significance in this new power dynamic. The parties in the coalition have signaled an aspiration to cool relations with China, which has been increasing its presence in the region – both financially and diplomatically. 
In 2011,  China and Fiji signed a memorandum of understanding that centered on police cooperation and another in 2014 that focused on defense issues – including border control. 
Rabuka has implied that there is little need for Fiji to sign up to any more security pacts. 
"If China's re-emergence in the Pacific would affect the peaceful atmosphere we now have, that is something we have to avoid and it can be avoided with frank, responsible dialogue," he told the Australian Broadcasting Corporation (ABC).  
Nonetheless, he has said he would welcome partnerships with China while expressing a commitment to re-examine Fiji's military relationships with all foreign nations. 
Ramesh notes that China will still have a large part to play in Fijian politics. 
"Some in the new government [are] not pleased by the Australian government's policy [of] using aid and trade as leverages… Not to mention, Australia's continued indifference toward many human rights abuses between 2014 and 2022."
Previous Australian governments were ambivalent to the issue of climate change, which caused consternation in Fiji. While this has been somewhat soothed by the Albanese government's more ambitious climate change targets, there remains a belief that Australia sees itself as superior to other nations in the region. 
Despite expressing a desire to preserve the peace, the new prime minister was forceful in his opinion of the regional powers in the region, including Australia and New Zealand: "Australia and New Zealand and the United Kingdom and America have sort of seen us as output of their colonial regimes of the past and have not reorientated their thinking to the international landscape where we are all equal."
Rabuka reiterated his belief that the bilateral relationship with Australia may be recalibrated. He wants the two countries to be seen as "equal partners in the Pacific."
Furthermore, he has stated that his government intends to work with all of Fiji's development partners. Newton Cain notes that Australia and New Zealand occupy a "very important role" in that regard. 
"Both put a lot of energy into maintaining positive relationships with Bainimarama, and it is not clear how well developed their connections with this new government are." 
She was also quick to observe that Australia is put at a "disadvantage" by continuing to have no High Commissioner in the country. 
For Australia, the relationship with Fiji has taken on new significance as a bulwark against Chinese expansion in the region. Canberra has invested heavily in the island nation, including funding the Blackrock Camp in Nadi where they are setting up a regional peacekeeping hub, outbidding China in 2018 for the right to finance the project.
For Fiji, Rabuka's electoral victory has sparked some optimism in a nation long plagued by political instability. In the Pacific region, many of the regional powers – including China and Australia – will continue to jostle for the attention of the new coalition government in their larger struggle for diplomatic power throughout the Indo-Pacific.