Unmanned Systems in China's Maritime 'Gray Zone Operations'
While China's autonomous underwater technologies are predominantly used for marine scientific research, they can also be used for military activities.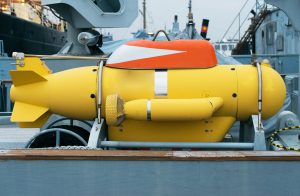 China recently inducted an unmanned drone carrier, the Zhu Hai Yun, an autonomous system capable of carrying unmanned surface vehicles (USV), unmanned underwater vehicles (UUV), and unmanned aerial vehicles (UAVs, or drones) at the ship's spacious deck. The Global Times reported that even though the vehicles were designed for marine scientific research, they will be employed to gather intelligence in the disputed South China Sea, which highlights the question of China's use of unmanned systems in military operations other than war.
China has been significantly investing in a variety of unmanned systems, such as drones and autonomous vehicles, to strengthen the position of its People Liberation Army Navy (PLAN). China has been using UUVs for marine scientific research in the South China Sea and the Indian Ocean. In 2020,  China's survey ship Xiangyanghong 06 deployed a fleet of underwater drones in the Indian Ocean to gather oceanographic data.
In the same year, Indonesian fishermen reported that they captured a Chinese Sea Wing underwater drone near Selayar Island in South Sulawesi, which is on the eastern side of the Makassar Strait, close to the international sea line of communication. This was not the first time the Chinese gliders were found collecting information in the territorial waters of Southeast Asian states. However, China denied any wrongdoing in the matter and continued to push for ocean observation exercises in the Southeast Asian waterways.
The Chinese use of USV/UUV/gliders in gathering strategically relevant data raises pertinent questions about unmanned vehicles' possible future use in "gray zone" operations.
Michael Mazarr, a senior political scientist at the RAND Corporation and associate program director of the Army's Arroyo Center there, defined gray zone operations as a kind of "maneuver in the ambiguous no-man's-land between peace and war, reflecting the sort of aggressive, persistent, determined campaigns characteristic of warfare but without the overt use of military force." Mazarr also emphasized that gray zone operations will demand more adaptation and experimentation, which will drive innovation both in concepts and capabilities.
In the case of China, gray zone operations take different forms and tactics, including the construction of artificial islands, the use of paramilitary/maritime militia vessels to assert administrative control over disputes islands in the South China Sea and East China Sea, and shadowing foreign military vessels operating in China's EEZ. By employing unconventional tools and tactics, China has created a new approach to pursue its aggressive aims in the South and East China Seas. Newer naval technologies such as USVs/UUVs will further enable China to be more successful in asserting its political control over the disputed islands and coercing commercial or foreign military vessels entering China's claimed EEZ.
The importance of the UUV program for China was evident when it paraded the largest displacement autonomous underwater vehicle, the HSU-001 along with a panoply of ballistic missiles during the military parade marking the PRC's 70 anniversary in 2019.
China's ambition to build autonomous underwater systems can be traced back to the 1980s, when the Shenyang Institute of Automation (SIA) in collaboration with Shanghai Jiao Tong University started to develop the first remotely operating vehicle, HR-01, in China. In the 1990s, SIA developed its first autonomous underwater vehicle (AUV), CR-01 Explorer. In the past 25 years, SIA has developed niche capabilities in building both underwater vehicles and artificial intelligence research in China.
More recently, demand for developing more UUVs for the purpose of deep-sea exploration emerged from China Ocean Mineral Resources R&D Association (COMRA). Now, China has gained expertise in building medium-to-large UUVs for seabed mapping and exploration. One such project, the Haidou-1, has broken several world records for unmanned submersibles, including a diving depth of 10,908 meters. This has allowed the Chinese to conduct scientific investigations of the abyss below 10,000 meters. Likewise, a Chinese underwater glider named Haiyan has set a new endurance record after working for 141 days and sailing 3,619.6 kilometers in the South China Sea.
These underwater technologies, which are predominantly used for marine scientific research, can also be used for military activities like intelligence, surveillance, and reconnaissance (ISR) missions on the high seas. Beyond performing ISR functions, unmanned surface vehicles can be directly employed to conduct naval missions like freedom of navigation operations in disputed maritime areas without raising the risk of escalation in the region.
In conducting gray zone operations, the use of unmanned systems is advantageous for two primary reasons. First, it can be challenging to trace the origin of deployed unmanned systems because they might not have any national markings on them. Second, they can also be used for offensive missions like deploying unmanned surface vehicles to intimidate commercial or military vessels in China's EEZ. In this regard, unmanned systems have the potential to increase Chinese coercion in the contested maritime zones and shift the burden of escalation to the littoral states.
China's potential use of unmanned vehicles in gray zone operations represent a new set of challenges to regional peace and security in the Indo-Pacific. Since, there is no global regime governing conduct toward and interactions with unmanned systems, it is possible this may lead to conflict between navies in the contested waters of the South and East China Sea.