What's Behind China's Resumed Imports of Australian Coal? 
China's decision to import Australian coal after a two-year ban was driven by diplomatic, not economic, considerations.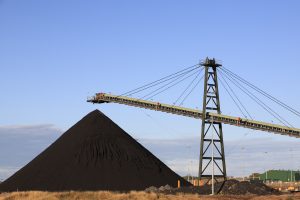 On January 3, China's National Development and Reform Commission decided to allow four state-owned companies – China Baowu Steel Group, China Datang, China Huaneng Group, and China Energy Investment Corp. – to import Australian coal for their own use. This marked an end of a ban on Australian coal imports that lasted for more than two years.
Some analysts contended that this decision was driven by China's domestic energy supply pressure. Some suggested that it was promoted by Australia to offset the impact of declining iron ore prices on its export revenue. However, rather than emphasizing the economic incentives, it is more convincing to understand this decision as another step taken by the Chinese side to gradually improve the bilateral relationship with Australia.
Indeed, scrutiny of the Chinese and Australian economies and coal trade data indicates that both sides lack significant economic impetus to reopen their coal trade. China has increased its coal imports from Indonesia, Russia, and Mongolia to fill the gap created by the ban on Australian coal import, which amounted to 80 million tons before the ban. These replacement suppliers have to a large extent satisfied China's needs, as China's coal imports have increased from 300 million tons in 2019 and 2020 (before the ban) to 320 million tons in 2021. In addition, Beijing has increased its energy supply by producing more electricity from thermal power generation, solar farms, and wind farms at home, leading to considerable alleviation of its energy shortage at the end of 2022.
Moreover, due to the rise of coal prices in the international market after the Russian invasion of Ukraine, the price difference between China's domestic coal and Australian coal has substantially decreased. As a result, the lift of the Australian coal ban will bring marginal economic benefits for China, especially since it is only allowing a limited amount of imports at this stage.
The same is true for Australia. After China's import ban, Australia utilized India, Japan, and South Korea as alternative export markets for its coal export. While these markets have not fully absorbed the 80 million tons that Australia previously exported to China, the surging price of coal in early 2022 significantly increased Australia's income regardless. Coal export revenue reached 114 billion Australian dollars, an increase over the previous year of A$73 billion or 186 percent. In addition, since early 2022 Australia has hit its production limits and is facing difficulties to expand its coal production and export capacity swiftly. Therefore Australia has limited capacity and economic interests in terms of restarting coal export to China.
In this sense, Beijing's approval of Australian coal imports should be understood as another cautious step to restart the bilateral relationship between these two states.
The bilateral relationship reached rock-bottom in 2020, when then-Australian Prime Minister Scott Morrison called for an independent investigation into the origin of the COVID-19 virus. Beijing criticized this statement as an anti-China policy and froze all ministerial interactions with Canberra. The coal import ban, along with a number of other restrictions on Australian goods, came into force soon after this conflict.
The relationship approached its turning point when Morrison and his coalition government lost the general election in May 2022 and the Labor Party came into office with Anthony Albanese as the new prime minister. Because of Labor's history of being friendly to China, the change of government was regarded by many observers as a chance for the two countries to restore their relationship.
Changes occurred quite swiftly, as President Xi Jinping and Albanese had an official meeting at the G-20 Bali summit in November 2022. Although the two leaders did not reach any substantial agreements, the sit-down itself was a major breakthrough considering that it was the first meeting between Xi and an Australian prime minister since 2016. Soon after, Australia's new foreign minister, Penny Wong, paid an official visit to China and talked with then-Chinese Foreign Minister Wang Yi. This visit, although again without any joint communique, further shows that both parties are formulating engagement as the new approach to bilateral relationships.
This changing political atmosphere is the backdrop of China's decision to lift its ban on Australian coal. The move should be understood as another step taken by Beijing in this political process. The Chinese government has kept denying that its bans on various Australian goods are "sanctions" per se, or connected with the political conflicts between Australia, but all the evidence shows otherwise: They are Beijing's way to punish Australia for its alleged anti-China policies. Therefore the lifting of these bans is essentially a political decision to demonstrate China's willingness to move the bilateral relationship in a more friendly direction.
But this movement is a cautious one. This is illustrated by the limited amount of Australian coal China has allowed to be purchased. Only four state-owned enterprises are allowed to buy Australian coal and they can only use this coal for their own needs. As such, the decision represents a political signal sent from Beijing to Canberra to show that it is ready to implement policy changes to substantiate the improving political atmosphere established by top leaders. Meanwhile, the limited easing of restrictions gives Beijing the flexibility to decide its policy based on Australia's response: If Canberra also makes a move to improve its relationship with China, then the restrictions can be further eased; otherwise, the move toward lifting the ban will stop or even be reversed.
Cautiousness not only underpins Beijing's movements but also Canberra's. Clearly Albanese has adopted a different approach to China compared to his predecessor, one that is characterized by promoting engagement and articulating divergences simultaneously. Morrison's harsh anti-China rhetoric proved to be a major reason for his party's election loss in 2022, in which Chinese Australians one-sidedly voted for the Labor party. It is thus reasonable that the new government chooses to restore the bilateral relationship.
Nevertheless, there are essential divergences between China and Australia on a number of important issues, including human rights, regional security, and the relationship with Pacific Island states. In addition, as a key ally of the United States, Australia is unlikely to go against Washington's China policy which is characterized by containment and systematic competition. Hence, Albanese's only option is to engage with China gradually while keeping a balance between his China policy and other important political agendas such as human rights and the relationship with the United States.
Overall, the lifting of the ban on Australian coal is mainly driven by the political agenda Beijing seeks to pursue in its renewed relationship with Canberra's new government. After years of political "decoupling," the bilateral relationship has entered a new stage that is characterized by cautious engagement from both sides. As a result, the future of coal trade – as well as other restricted goods such as wine and beef – will be determined by the development of the political relationship between the two sides.