What's Behind Kyrgyzstan's War on Radio Azattyk?
A demand from the Kyrgyz government for RFE/RL's Kyrgyz language service to remove a video has escalated into a legal battle that could end Azattyk's operations in the country altogether.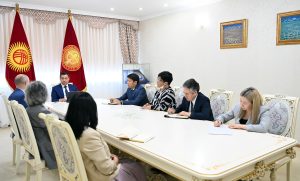 Kyrgyzstan's months-long campaign to pressure RFE/RL's Kyrgyz Service, known locally as Radio Azattyk, into removing a September 16, 2022, video report produced by Current Time about the Kyrgyz-Tajik border conflict has entered a new phase. The Kyrgyz Ministry of Culture, Information, Sports, and Youth Policy petitioned a court in Bishkek to halt Azattyk's operations; a court hearing is scheduled for February 9. 
In late October 2022, the ministry sent RFE/RL a letter threatening to block Azattyk if the September 16 video, in fact a republishing of a Current Time report, about the Kyrgyz-Tajik border conflict was not removed from Azattyk's website. Current Time is a Russian-language TV channel produced by RFE/RL in cooperation with the Voice of America (VOA). Both RFE/RL and VOA are supervised by the U.S. Agency for Global Media and funded by the U.S. government.
The ministry alleged that the report was "biased" and pushed for its removal, citing a 2021 "fake news" law that allows the government to request that information deemed "inaccurate" be removed. The Kyrgyz authorities claimed that the video featured hate speech and false information, showing a bias to the Tajik narrative of events. In the video, however, correspondents from both countries laid out the official positions of each government.
The video, as RFE/RL President and CEO Jamie Fly stressed in an interview with The Diplomat, "is balanced."
"Essentially, what we are being punished for is having the tenacity to acknowledge that Tajikistan has a point of view."
RFE/RL declined to delete the report. 
Two days later, the ministry blocked RFE/RL's websites in Kyrgyzstan. Within a week, Kyrgyz authorities has frozen Azattyk's bank accounts, too.
A Deeper Agenda
Current Time's website, however, remains accessible according to RFE/RL, a detail The Diplomat confirmed with contacts in Kyrgyzstan. Given that the original video was broadcast by Current Time, Fly suggested there may be another motive at play.
"If there is a deeper agenda with regard to Azattyk, let's be frank, it's probably because Azattyk for years has been boldly reporting inconvenient facts not just for this administration but for others about deep seated corruption in the Kyrgyz government, working with other media partners like Kloop, like OCCRP — winning international awards for our investigations into corruption," Fly told The Diplomat. He was referencing a 2019 six-part series the three outlets collaborated on — Plunder and Patronage in the Heart of Central Asia — for which they were awarded the 2019 Tom Renner Award from Investigative Reporters and Editors (IRE).
The series, among others, implicated a former Kyrgyz customs official — Raimbek Matraimov — in corrupt schemes to steal hundreds of millions out of Kyrgyzstan. Ahead of the report's publication a main source was murdered in Istanbul, and afterward the three media outlets were pressured in various ways. Azattyk's bank accounts were temporarily frozen; Matraimov launched libel lawsuits launched against both RFE/RL and Kloop.
And then in early October 2020 Kyrgyzstan roiled with protests following a botched parliamentary election. In the ensuing tumult, Sadyr Japarov was busted from jail (where he'd been serving an 11.5 year sentence for kidnapping) and within weeks he was acting president. In late October 2020, Matraimov was arrested, released, and later detained again.
In December 2020, the U.S. government designated Matraimov for sanctions under the Global Magnitsky Act, largely on the back of Azattyk, Kloop, and OCCRP's work.
The following February Matraimov pleaded guilty to corruption and was fined 260,000 Kyrgyz som ($3,087). Earlier, he'd reportedly paid the state 2 billion som (1.4 billion som in cash and 600 million som in real estate) under President Japarov's dubious "economic amnesty" scheme.
The Power of Azattyk
Dr. Aijan Sharshenova, a postdoctoral research fellow at the OSCE Academy in Bishkek, told The Diplomat that "RFE/RL plays an important role in the Kyrgyz media environment."
She characterized the latest pressure exerted by the Kyrgyz government as an effort to "further reduce space for freedom of opinion, dissent and criticism, and to eliminate any opportunity for free expression of opinion in Kyrgyzstan."
This week the Ministry of Culture informed RFE/RL that it had petitioned a court in Bishkek to shut down Azattyk entirely, specifically citing the Kyrgyz Law on Mass Media Article 23 (clause C), which prohibits "propaganda of war, violence and cruelty, national, religious exclusivity and intolerance towards other peoples and nations" and the outlet's refusal to remove the aforementioned September 16 report. 
The lawsuit triggered an outcry not only among human rights and media advocacy groups, including Human Rights Watch, Amnesty International, Reporters Without Borders (RSF), and the Committee to Protect Journalists, but the U.S. Senate and also, most critically, from Kyrgyz who say Azattyk is a reliable outlet and one that, importantly, produces quality content in Kyrgyz, in addition to Russian.
Azattyk "is one of very few media outlets with the capacity to produce high-quality content in both Kyrgyz and Russian languages," Sharshenova told The Diplomat.
"Without Azattyk," she said, "a lot of pressing issues, such as corruption or gender based violence, would have gone unnoticed." She added, "Given the limited funding and the absence of any signs of independence of the state-owned media and the financial and other struggles faced by other independent media in the country, it is crucial to have Azattyk's reporting on socio-political and economic issues."
"The Kyrgyz people recognize Azattyk, they trust Azattyk," Fly told The Diplomat. "Through multiple presidential administrations, through all the political turmoil that Kyrgyzstan has experienced in the last several decades, we have always been there."
When last Fly met with Japarov, in September 2021, he and other Kyrgyz officials lauded Azattyk's work. A Kyrgyz Foreign Ministry readout of Fly's meeting with then-Foreign Minister Ruslan Kazakbayev stated that the minister "noted that, traditionally, Radio Azattyk occupies a special place in the information space of Kyrgyzstan and for many years has remained as a reliable source of news regarding current events happening in the country." 
Kyrgyzstan and Beyond
"There's clearly something deeper going on in Kyrgyzstan right now in terms of democratic backsliding, pressure on civil society, targeting of independent journalists — we've seen multiple cases other than just ours," Fly noted. "We do have to acknowledge that broader context, it is not limited to Kyrgyzstan. We've seen an authoritarian backlash against independent journalism across all of Eurasia. Almost everywhere we operate."
But Fly says RFE/RL is optimistic that the present, tense, situation can be resolved. He plans to travel to Kyrgyzstan in two weeks and hopes to meet with Japarov, or other officials, again.
"I have offered repeatedly since this problem started to meet with President Japarov or any of his officials. We've not had that meeting, and they have not expressed interest in dialogue. But we'll try again."
Fly says RFE/RL is pursuing all legal avenues, including challenging in Kyrgyz court the blocking of its websites and bank accounts and is prepared to appeal any decision to shutter the outlet. But, he added, RFE/RL is prepared above all else to carry on its work.
"We will continue to do our journalism for the Kyrgyz people. We've shown in country after country that you can shutter our offices, you can entirely kick us out, and we will still serve our audiences," Fly told The Diplomat. "I would warn the Kyrgyz government to not be so foolish to think that physically shuttering an office will silence us, or silence our journalists, or deprive the Kyrgyz people of truthful information and balanced reporting."
Sharshenova said shutting down Azattyk would be a "grave mistake." 
The outlet, she noted, had "survived all five Kyrgyz presidents with varying degrees of authoritarian inclination." Its potential closure, she explained, would illustrate just how little tolerance the government has for free, independent, professional media — and how it continues proactively shrinking civic space, eliminating opportunities for criticism and dissent.
"As the last 32 years of Kyrgyz political cycles have demonstrated, any reduction in freedoms and rights leads to an obliteration of the guilty political leadership," she warned.