China-Ukraine Relations: Kyiv's Balancing Act 
Insights from Yurii Poita.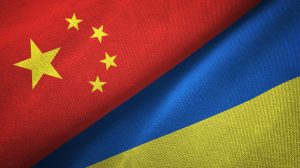 The Diplomat author Mercy Kuo regularly engages subject-matter experts, policy practitioners, and strategic thinkers across the globe for their diverse insights into U.S. Asia policy.  This conversation with Yurii Poita – Futures Fellow at Mercator Institute for China Studies (MERICS) in Berlin and head of the Asia-Pacific Section at Center for Army, Conversion and Disarmament Studies (CACDS) in Kyiv, Ukraine – is the 354th in "The Trans-Pacific View Insight Series."
Compare and contrast Ukraine's relations with China before and after Russia's invasion of Ukraine in February 2022. What has changed?
The biggest contrast is the change in the perception of China in Ukraine. Before a full-scale invasion, China was seen primarily as an opportunity for economic growth, investment, reindustrialization of the economy, and counterbalancing relations with Russia.
After February 24, 2022, the office of the President of Ukraine still had some hopes about the possibility of China taking a more favorable position for Kyiv, but they are gradually diminishing. Kyiv increasingly understands that Beijing will not help Ukraine and on some issues China is on the side of Russia, providing it with economic, technological, and diplomatic support.
The expert environment and the media have become much more critical of China, illusions about the prospects for the development of relations with China have diminished, and discussions have begun about the need to recalibrate relations with China. This discussion gradually spread from the expert environment and the media to the parliament and the government.
Currently, the official position of Ukraine towards China has not changed; according to the signed documents, China remains a strategic partner of Ukraine. But the government began rethinking relations with China and started to search for a new formula of relations. The new model is likely to be built on the long-term national interests of Ukraine and real possibilities of their realization; aspirations of Ukraine to join the EU and NATO and taking on the corresponding obligations.
After the completion of this discussion and reaching a consensus, it is expected that Ukraine will begin the practical implementation of steps to implement the new Chinese strategy.
Examine Kyiv's strategic objectives toward Beijing vis-à-vis Moscow.
So far, it is difficult to name Kyiv's strategic goal, as relations with China are still being rethought and a new strategy is being built. The ideal scenario for Ukraine would be for China to take a more favorable position for Kyiv and distance itself from Russia, but given a number of factors, this is unlikely. China continues to adhere to its so-called pro-Russian neutrality and there are no significant signs of its change.
On the other hand, it is important that China's position does not become worse and that it does not provide military support to Russia and huge assistance in circumventing sanctions. Since China's decisions do not depend on Ukraine's actions and Kyiv simply does not have the tools to influence China, clear and consistent U.S. and EU diplomacy in this direction is important for Ukraine at the moment.
In particular, this diplomacy should be aimed at proving and constantly articulating that China will suffer catastrophic losses if it supports Russia. Constant monitoring of China's implementation of the sanctions regime should be ensured, and pressure on China to reduce purchases of Russian raw materials should be continued.
Identify the key drivers of Ukraine's trade relations with China and the Indo-Pacific.
Before the full-scale war, Ukraine's trade with China and the countries of the Indo-Pacific was mainly based on the export of products with low added value  ̶  agricultural products and raw materials. The raw structure of Ukraine's economy, monopoly and significant influence of oligarchs, and lack of investment did not allow Ukraine to change the situation but kept the economy afloat.
In the conditions of a full-scale Russian-Ukrainian war and the post-war reconstruction of Ukraine, a new model of the economy must be built, which will be able to provide colossal military expenses and turn Ukraine from a recipient of aid into a self-sufficient donor of military and economic security of the region.
In this aspect, the role of China is very secondary and will lie exclusively in the trade sphere with significant limitations. The role of other countries of the Indo-Pacific should become strategic – for example, Japan, South Korea, and Taiwan, which can help Ukraine build a new digital economy, provide technologies, and help integrate into global production chains.
Analyze Ukraine's strategy in balancing relations with China vis-à-vis the United States.
For a long time, China was Ukraine's first trade partner, and Kyiv viewed China as a promising source of investment and an important political partner for a counterbalance with Russia. Therefore, Kyiv tried to balance relations by developing a security partnership with the U.S., and an economic partnership with the EU and China. In this regard, Ukraine did not share the approach of recognizing China as a strategic challenge, refrained from criticizing China on human rights issues, and sold weapons and military technologies to China.
At the same time, Ukraine's hopes were only partially fulfilled. China imported Ukrainian raw materials but did not invest in Ukraine. After February 24, China did not even manage to take a clear political position regarding criticism of Russia's actions. Kyiv's efforts to attract China to its side have completely failed.
In this regard, Ukraine's balancing strategy should change to a strategy of full integration into the economic, technological, and security environment of the West (EU and NATO), with all the consequences for positioning towards China.
What should U.S. and EU policymakers understand about Ukraine's intentions toward China? What are the implications for China-EU relations?
It is strategically important for Ukraine to adjust its policy towards China in accordance with EU and NATO approaches ̶  taking into account China's global ambitions and related challenges.
In this regard, the U.S. and the EU should help Ukraine increase awareness and expertise on China by intensifying joint research. The focus should be on protecting against risks from China.
Secondly, Ukraine needs to significantly reduce its economic and technological dependence on China, in connection with which the EU and the U.S. should offer a serious alternative  ̶  a clear prospect of joining the EU and NATO. The closed-door policy of the EU and NATO created opportunities for increasing the influence of China and Russia, while the accession of Ukraine, on the contrary, will crystallize a new policy towards China.
Thirdly, it is necessary to help Ukraine build protection of its sensitive technologies and diminish China's ability to influence Ukraine. In particular, this includes Kyiv's formation of a new Asian strategy for Ukraine; building an effective mechanism for screening foreign investments; preventing China's access to elements of critical infrastructure and sensitive sectors of the economy, etc.
Finally, in the broader aspect of Ukraine's Asian strategy, it is necessary to help Ukraine build stable and mutually beneficial relations with the countries of the region  ̶  Japan, South Korea, Taiwan, etc.  ̶   which will help Ukraine integrate into global production chains and become a European economic tiger. This is also beneficial for the countries of the Indo-Pacific, since the victory and strengthening of Ukraine will lead to the strengthening of the U.S. alliances and democracy in the region and in the world.