China's Growing Foothold in Hungary
Deepening Sino-Hungarian ties may pose further challenges to EU unity on China.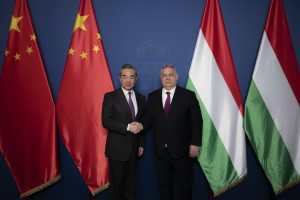 Over the last decade, the Hungarian government under Viktor Orban's deepening ties with authoritarian actors, most notably Russia and China, have been reason for concern in the European Union. Hungary's participation in the 16+1 format, a cooperation format linking China and Central and Eastern Europe (CEE), and in the Chinese Belt and Road initiative (BRI) are prime examples of the tightening Sino-Hungarian relationship.
Hungary's Opening to the East
The reason for Hungary's increased commercial and political relations with the East lies in a particular policy known as Eastern Opening ("Keleti Nyitás"). First announced after Orban and his Fidesz party's election victory in 2010, it aims to reduce Hungary's dependence on Western countries and reorient the country toward the east in the hope of obtaining investments and loans.
Although Hungary's Eastern Opening policy has largely failed to deliver the expected results, the government continues to seek out ties with its eastern partners, among them China.
One prominent Chinese project in Hungary is the Budapest-Belgrade railway, financed through a Chinese loan and arguably the BRI's most important project in Europe. Nonetheless, the rail project linking the capitals of Hungary and Serbia has widely been criticized for its lack of transparency, the risk of corruption, and the potential for a debt trap, although that latter has been debunked as being unsubstantiated due to limited evidence. Once completed, the railway would only serve for cargo transportation and help bring Chinese goods from the Port of Piraeus in Greece to Central Europe. Thus, it would arguably be of limited value to the EU and Hungary itself.
In 2020, the details of a plan to build a campus of the prestigious Shanghai Fudan University in Budapest, the first of its kind in the European Union, were leaked. The plans sparked outrage among residents of Budapest due to the costs associated with the project and the planned location for the campus, as affordable student housing could have been built there instead. Some, most notably Budapest's mayor Gergely Karácsony, also emphasized fears over potential attempts of influence-seeking activities in Europe.
As noted by the U.S. Embassy in a letter to Magyar Hang, previous experience shows that Beijing uses academic institutions to undermine intellectual freedom and further its influence. All in all, the decision to build the campus in Hungary was interpreted as a sign that, for Beijing, Budapest is a politically safe environment where it will face little scrutiny, given Budapest's China-friendly stance in the EU.
Most recently, in August 2022,  Contemporary Amperex Technology Co., Limited (CATL) announced plans to open a new factory for automotive batteries in Debrecen, Hungary. With an investment of 7.3 billion euros, more than three times bigger than the previous largest investment in Hungary, according to fDi intelligence, the plant will be the largest in Europe and is of strategic importance for Hungary. In light of the EU's plan to ban new combustion engines from 2035, it will help keep Hungary's car industry, which makes up a fifth of the country's exports, alive.
Tax breaks and friendly regulation aside, which render Hungary an attractive location for ventures of this scale, the decision is also framed in political terms, identifying Hungary's China-friendly stance as one of the primary reasons for the decision to build the plant in Hungary instead of other European countries that have also competed for the investment.
By the same token, the investment further demonstrates the "pragmatic political relationship" between the two countries and signifies the continuation of Hungary's "Eastern Opening" and orientation toward Chinese investments. According to Hungarian Foreign Minister Peter Szijjarto, China was the largest investor in the eastern European country in 2022 and Hungary greatly benefits from these investments, although specific data on the actual amounts of investments in CEE and to what extent exactly Hungary benefits from them remain missing.
Still, critics fear that this new investment in Hungary could further expand China's economic influence in Europe and provide Beijing with diplomatic leverage.
Mutual Benefits, Vested Interests: Sino-Hungarian Relations
According to Dr. Edit Zgut-Przybylska, a researcher and expert, the primary reason for Hungary's attractiveness to China lies in the country's potential veto power on EU positions critical of Beijing, underlining the common view that China leverages political influence over the country through its investments. And indeed, Orban's previous appeasement of Beijing and vetoing of China-critical positions at the EU brought him plus points, thus rendering future investments more likely.
As stated in an editorial in the Chinese news outlet Global Times, Hungary offers "predictability in terms of policy and business environment," one reason for Beijing's most recent CATL investment in Hungary.
Similarly, a report by the Carnegie Endowment sets out that "China can also leverage local ties to influence EU decision making or undermine EU unity on certain issues, as well as build legitimacy for the Chinese regime back home." Hungary has previously demonstrated its readiness to use its veto powers in the EU, thus shielding Beijing from international criticism and undermining European consensus on positions regarding China.
As stated in the Carnegie report, local weaknesses in Hungary, such as the lack of transparency, a lenient attitude toward investment screening, and willingness to circumvent EU requirements on public tenders, facilitate state capture and make the country more vulnerable to political influence from outside. At the same time, the lack of transparency benefits the Hungarian elites, as elaborated further below.
While some researchers and experts on the CEE region consider Chinese investments in Hungary a potential security threat and source of influence, one also needs to bear in mind the benefits they bring to Budapest.
First and foremost, China can help fill the financing gap persistent in the region, which the EU and financial institutions alone could not close. Beijing's investments thus serve Hungary economically, as also previously pointed out by the foreign minister.
Second, Beijing presents an alternative to the West and offers Hungary an opportunity to receive large investments with fewer strings attached and no criticism for a lack of democracy, rule of law, or human rights protection.
Third, as previous projects show, China's "corrosive capital" comes with an increased risk of corruption due to non-transparency, therefore allowing for the continuation of Orban's clientelist corruption and helping him further consolidate his power in the country.
Lastly, the relationship with Beijing equips Orban with political leverage that he can use in negotiations with the EU, as he has previously done. Already in 2018, Orban warned that he would turn to China if the EU does not offer more funding for infrastructure. Given the growing rift between the EU and Hungary over the country's illiberal turn and the prospect of losing EU funding, Chinese investments are also a source of alternative funds to maintain economic growth.
Despite Hungary being among the biggest net beneficiaries of EU money and regardless of the EU insistence that bilateral relations with China should be coordinated with the bloc, and that "member States should reinforce agreed EU positions in their bilateral relations with China," Budapest continued luring in Chinese investments.
Given Fidesz's reelection in March 2022, Hungary's approach to China is unlikely to change in the coming years – which may pose a challenge to the EU and its united approach to China.
European Unity: Between a Rock and a Hard Place
While it should be noted that Hungary is by far not the biggest recipient of Chinese investments in the EU, past experiences illustrate that Budapest's increasing affinity to Beijing and readiness to leverage the relationship can disrupt the EU's unity and transatlantic alignment with China.
A prime example includes Hungary's blockage of an EU statement on the South China Sea ruling in 2016, together with Croatia and Greece, until it was substantially watered down. It signaled that the EU is not only divided on such issues but that certain member states may prioritize relations with Beijing over standing up for EU values and supporting common positions.
Similarly, Hungary's silence on the arrest of Canadian-Hungarian dual citizen and former diplomat Michael Kovrig by China in 2018 is a showcase example of Budapest's effort to appease Beijing and its divergence from common EU-transatlantic positions.
Then, in 2021, Budapest agreed to sanction Chinese officials under the EU Magnitsky Act for their complicity in crimes against the Uyghur minority, only to later criticize the EU for doing so. Szijjarto even called these measures "pointless, self-aggrandizing and harmful," illustrating the balancing act the government is performing between appeasing China and not entirely selling off the EU.
Finally, the most recent notable instance of the Sino-Hungarian relationship's influence on the Hungarian government came in 2021, as Hungary blocked a statement by the EU that criticized China over the Hong Kong security law.
Hungary's previous systematic parting from common EU positions on China and its unwillingness to criticize Beijing not only casts a poor light on the EU in terms of its unity but also harms its credibility in its international relations. Moreover, Hungary's past digression from EU criticism of China demonstrates the challenges this mutually beneficial Sino-Hungarian relationship poses to the EU as a coherent foreign policy actor.
Considering Budapest's need for investments to continue funding its clientelist corruption and its readiness to shield China from EU criticism, it is to be expected that the Sino-Hungarian economic relationship will continue to grow, and political relations deepen. This is likely to further exacerbate the EU's inability to speak with one voice in its approach to China, particularly as regards Beijing's behavior toward Hong Kong, Taiwan, and its Uyghur population.