China's New Foreign Minister Is on a Diplomatic Blitz
Since taking up his post, Qin Gang has undertaken a flurry of outreach to key partners, especially in phone conversations.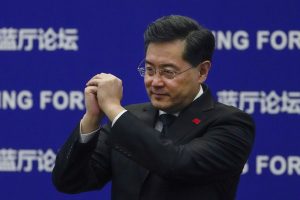 In the United States, most minds remain preoccupied with the balloon from China that crossed over the U.S. heartland in early February – followed by constant revelations of new and unidentified aerial objects and their subsequent downing. Given that distraction, most are unaware of the recent flurry of moves by Foreign Minister Qin Gang to promote China's interests overseas.
Since his elevation to the post of foreign minister in December 2022, Qin has spent his time embarking on a foreign policy blitz to visit or speak to some of China's strategic partners globally. Qin started out, as is customary for China's foreign ministers, by visiting the African continent. He reaffirmed partnerships with allies throughout the region and returned to Beijing in late January 2023.
Since then, and perhaps a more strategically important endeavor, he has telephoned numerous state leaders to shore up and enhance bilateral relations around the world. Qin's telephone diplomacy reflects China's foreign policy and regional priorities. Beijing's attempts to form closer relations with certain countries will allow it greater flexibility to carry out policy goals domestically and abroad. As competition between the United States and China moves forward, Washington must be cognizant of Beijing's foreign policy.
Who Is Qin Gang?
Qin Gang is the former Chinese envoy to the United States. He replaced the previous Foreign Minister Wang Yi, who now serves on the 24-member Politburo and is the director of the general office of the Central Foreign Affairs Commission. Qin has an active social media presence with more than a quarter of a million Twitter followers. He previously won favor with Chinese citizens for his tough approach to issues as Foreign Ministry spokesperson, making him arguably one of the earliest "wolf warrior diplomats." In his first statement as foreign minister, he pledged to offer "Chinese wisdom, Chinese initiatives and Chinese strength."
In 2014, Qin won a crucial appointment to lead the Protocol Department in the ministry's headquarters in Beijing. In this role, he facilitated President Xi Jinping's meetings with other world leaders. His career trajectory rapidly increased from this point on, as he was appointed vice minister in 2018 and China's ambassador to the U.S. in 2021. While serving as ambassador he adopted a more conciliatory approach compared to his previous rhetoric and emphasized that relations were "not a zero sum game."
Qin's Phone Calls
Once Qin Gang returned to Beijing in late 2022, he began a blitz of phone calls to advance China's interests overseas. On January 17, Qin talked with his counterpart in the geopolitically important Southeast Asian country of Malaysia, Zambry Abdul Kadir. The two discussed the celebration of the 10th anniversary of the China-Malaysia comprehensive strategic partnership. In addition, they talked about implementing new Belt and Road Initiative (BRI) projects, welcoming Chinese tourists, and deepening relations.
Qin also made a phone call to Argentina's Foreign Minister Santiago Cafiero. Qin stated China's support for Argentina to have a greater role in regional and international affairs and its desire to join the BRICS, comprised of the leading five emerging economies (Brazil, Russia, India, China, and South Africa). The two officials also exchanged backing for each other's sovereignty issues, the Falkland Islands for Argentina and Taiwan for China.
Diversifying even further his wide-ranging diplomatic outreach, Qin spoke to his Saudi Arabian counterpart, Prince Faisal bin Farhan Al Saud. The two discussed the desire to build a China-Gulf free trade zone and continue to boost ties. This came against the backdrop of Riyadh and Beijing signing 46 agreements and MoUs totaling $50 billion during Xi's visit to Saudi Arabia. Qin's phone call to his Saudi counterpart may have also served as reassurance, as Xi hosted Iranian President Ebrahim Raisi soon after.
Qin Gang's recent foreign engagement push also included a phone call with Dutch Deputy Prime Minister and Foreign Minister Wopke Hoekstra. The two officials reached a consensus to strengthen relations and increase engagement. Qin also vowed to work with the Netherlands to address many issues including climate change, and Heokstra invited Beijing to attend the U.N. 2023 Water Conference. Both sides also condemned Japan's decision to release nuclear-contaminated water into the ocean.
On February 2, Qin held a phone call with Japanese Foreign Minister Hayashi Yoshimasa. During this meeting, the foreign ministers highlighted the 45th anniversary of the signing of the China-Japan Treaty of Peace and Friendship and a desire to have amicable relations.
The same day, Qin talked to Turkish Foreign Minister Mevlut Cavusoglu. Cavusoglu reiterated support for bilateral relations and adherence to the One China principle. Additionally, Qin stressed the importance of Xinjiang-related issues to the relationship.
Furthermore, Qin spoke to Belgian Foreign Minister Hadja Lahbib in an attempt to promote amicable bilateral relations, and urged Belgium to provide a fair and non-discriminatory business environment.
Finally, Qin is currently in Indonesia for an official visit from February 21 to 23. In Jakarta, he will chair the 4th meeting of the Joint Commission on Bilateral Cooperation (JCBC) between China and Indonesia.
China's Foreign Policy Priorities
Qin's January visit to the African continent helped reassure the region that Africa is a priority for China. It also works to counteract the West's narrative of debt-trap diplomacy and recent attempts to win back favor in Africa, as seen with the 2022 U.S.-Africa Leaders Summit. Furthermore, it gave Beijing the opportunity to highlight current and future BRI projects in the region and its burgeoning trade, as commerce between the continent and Beijing surpassed $255 billion in 2022. Perhaps most importantly, China can reaffirm these countries' support for the One China principle.
Qin's phone calls were more of a targeted approach to geostrategically important countries that have become the focus of China-U.S. competition in recent years. His first call was to Malaysia, a country that is growing more economically salient and will be of great importance in any future conflict. He followed that up with an in-person visit to Indonesia, another crucial Southeast Asian country and the current chair of ASEAN.
Argentina has been strengthening ties with China in recent years, and its attempt to become a member of BRICS is reflective of these efforts. This is a clear example of China seeking to gain more influence in regions that the United States traditionally considers its sphere of influence. Beijing's engagements with the Caribbean, Latin America, and South America have all been on the rise in recent years, while the Latin American region complains of U.S. neglect.
China's energy security is a primary concern in the conflict with the West. In recent years, China has diversified its energy consumption, and Saudi Arabia is at the center of that strategic plan. It has become China's largest supplier of crude oil. Beijing wishes to win Riyadh's favor and gain greater energy security.
As relations between Saudi Arabia and China deepen, it will also be difficult for Beijing to balance this with its Iranian partnership. Last week, Iranian President Ebrahim Raisi's trip to China was an attempt to reassure Iran that it is a priority for Beijing in the region and push China to fulfill its economic promises. But, as noted above, Qin's lower-profile phone call also helped reassure the Saudis about China's intentions toward the Gulf.
The Netherlands has become a key player in the semiconductor and chip war between the United States and China. The Netherlands has already barred exporting ultraviolet lithography machines to China. Moreover, along with Japan, it has agreed to halt exporting some shipments of high-end technology machinery to China. The Netherlands and its high-tech industries are key to China modernizing its core technology areas. Thus, China will continue to pursue closer relations in an attempt to reverse restrictions on its ability to import certain machinery components.
Continued conversations between China and various European states are also an attempt to improve deteriorating relations with the EU as a whole and create a more friendly environment on the continent. Qin's phone call with Britain's foreign minister on February 20 exemplified this effort.
Qin's final communications were with two vital international actors. Japan is a close U.S. ally and China will continue to have security and sovereignty concerns regarding the Senkaku islands (claimed by China as the Diaoyu Islands). Turkey is a key NATO member whose international influence has been growing recently due to the ongoing Ukraine-Russia war and its development and selling of Bayraktar TB2 drones. Moreover, much to China's chagrin, Turkey continues to refuse the extradition of Uyghurs.
The U.S. Factor
Since U.S. President Joe Biden assumed office, he has reversed former President Donald Trump's foreign policy trend of unilateral action. Biden has utilized minilateral organizations such as the Quad and AUKUS to gain greater reach in the geostrategic region of the Indo-Pacific. The administration has also used relations with key states, such as the Netherlands and Japan, to hamper China's advanced technological industry and ensure the United States' qualitative edge.
Qin Gang's recent foreign engagements are an attempt to counter Washington's recent improvements in relations with states around the world, while also guaranteeing China's ability to carry out its foreign policy goals. The United States must pay attention to Beijing's efforts to shore up relations with key states and form closer connections with geopolitically important nations.