iCET: Strengthening the India-US Tech Agenda
The U.S.-India strategic relationship looks to be set on firm footing, with both sides keen to materialize deeper collaboration across defense and critical and emerging technologies.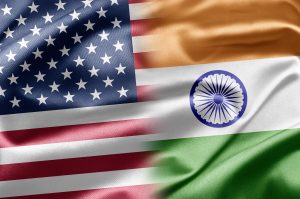 Earlier this week, India and the United States launched the initiative on Critical and Emerging Technology (iCET) with its inaugural meeting in Washington, D.C.  U.S. National Security Advisor Jake Sullivan and his Indian counterpart, Ajit Doval, held the inaugural meeting along with the participation of senior officials from both countries, including the administrator of the U.S. National Aeronautics and Space Administration (NASA), the director of the National Science Foundation, the executive secretary of the National Space Council, and senior officials from the departments of state, commerce, defense, and the National Security Council.
From the Indian side, the ambassador of India to the United States, the principal scientific adviser to the government of India, the chairman of the Indian Space Research Organization (ISRO), the secretary of the department of telecommunications, the scientific advisor to the defense minister, the director general of the Defense Research and Development Organization (DRDO), and senior officials from the ministry of electronics and information technology and the National Security Council secretariat participated in the meeting. 
The iCET initiative was launched by Indian Prime Minister Narendra Modi and U.S. President Joe Biden in May 2022 with the goal "to elevate and expand" Indo-U.S. "strategic technology partnership and defense industrial cooperation between the governments, businesses, and academic institutions" of the two countries. According to a White House fact sheet, the two leaders believe that India and the United States, being two democracies with common values and respect for human rights, should shape the way "technology is designed, developed, governed, and used" to enable "an open, accessible, and secure technology ecosystem, based on mutual trust and confidence, that will reinforce our democratic values and democratic institutions."
Some of the key technology sectors identified under the initiative include defense, semiconductor supply chains, space, and STEM (science, technology, engineering, and math). The initiative in addition identified areas such as biotechnology, advanced materials, and rare earth processing technology. There is an emphasis on finding ways to engage in co-development and co-production while underlining the importance of "innovation bridges" in the key technology areas through expos, hackathons and pitch sessions. 
iCET is seen as a useful mechanism to work out regulatory barriers, as well as business and talent mobility issues, in order to maximize the benefits for both countries. To enable all of this, strengthening the innovation ecosystems in both India and the United States was identified as an important area to work on. To this end, the two sides have signed a new implementation arrangement for a research agency partnership between the National Science Foundation in the U.S. and Indian science agencies, with the goal of expanding collaboration across a number of areas including artificial intelligence, quantum technologies, and advanced wireless technology. The aim is to put in place "a robust innovation ecosystem" between India and the United States.
The two sides have also established a joint Indo-U.S. quantum coordination mechanism involving stakeholders from industry, academia, and government to foster research and industry collaboration. There are also plans to coordinate and develop consensus and ensure multi-stakeholder standards that are in line with democratic values. The two sides also plan to collaborate on high performance computing (HPC), also by working with the U.S. Congress "to lower barriers to U.S. exports to India of HPC technology and source code." 
The focus of iCET on resilient semiconductor supply chains is particularly important for India. Speaking at the Semicon India-2022 conference in April last year, Modi said, "It is our collective aim to establish India as one of the key partners in global semiconductor supply chains. India's own consumption of semiconductors is expected to cross $80 billion by 2026 and $110 billion by 2030." Identifying several reasons as to why India could become a major destination for the semiconductor industry, he said, "We are building the digital infrastructure to connect over 1.3 billion Indians and UPI is the world's most efficient payment infrastructure today."
According to the White House fact sheet, the two countries will work toward "supporting the development of a semiconductor design, manufacturing, and fabrication ecosystem in India; and leveraging complementary strengths, both countries intend to promote the development of a skilled workforce that will support global semiconductor supply chains and encourage the development of joint ventures and technology partnerships on mature technology nodes and packaging in India." There is also a task force initiated by the U.S. Semiconductor Industry Association (SIA) in partnership with the India Electronics Semiconductor Association (IESA) along with the government of India semiconductor mission mandated to develop a "readiness assessment" to ascertain near-term opportunities for industry cooperation while examining the longer-term strategic development of complementary semiconductor ecosystems. 
Space also figured prominently in the iCET agenda. The two sides discussed deepening cooperation on human space flight, including advanced training for an Indian astronaut at NASA Johnson Space Center; incentivizing commercial players of India and the U.S. to cooperate, especially in activities related to NASA's Commercial Lunar Payload Services (CLPS) project; and broadening the scope of the India-U.S. Civil Space Joint Working Group to include issues like planetary defense. iCET also has under its ambit cooperation on research and development in 5G and 6G that could enable "deployment and adoption of Open RAN in India, and fostering global economies of scale within the sector." 
Finally, on defense innovation and technology cooperation, iCET is putting together a defense industrial cooperation roadmap that would push greater technological cooperation for joint development and production, focusing initially on projects related to jet engines and munition-related technologies. The U.S. government has already received an application from General Electric to jointly develop jet engines that "could power jet aircraft operated and produced indigenously by India." The fact sheet noted that the U.S. will make an "expeditious review of this application." Considering India's general weakness in this regard, this will be a remarkable area for cooperation.
Additionally, there are plans for long-term research and collaboration on maritime security and intelligence surveillance reconnaissance (ISR) operational use cases. During a meeting between Deputy Secretary of Defense Kathleen Hicks and Doval, the two explored ways and means to strengthen defense industrial cooperation "through innovative joint endeavors between U.S. and Indian firms that support India's unique operational requirements." 
The India-U.S. strategic relationship looks to be set on firm footing, with deep interest in both sides to materialize deeper collaboration across defense and critical and emerging technologies. Given the China factor in India's national security calculations, New Delhi has begun to shun its old hesitations in embracing the United Staes, at least in areas where it maximizes India's benefits.
And China has received the message. An editorial in the Global Times, commented that iCET is "a microcosm of 'same bed, different dreams.'"