Japan's Prime Minister Battles Fallout After Anti-LGBTQ Gaffe
The Japanese government's handling of homophobic comments by a top aide is under intense scrutiny as it seeks to revive a formally shelved LGBTQ bill.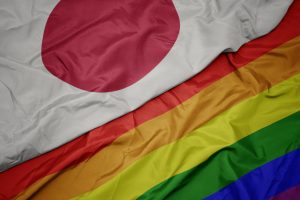 The ruling Liberal Democratic Party (LDP) is under pressure to reformulate its LGBTQ policy after  controversial remarks made by Prime Minister Kishida Fumio and executive security Arai Masayoshi infuriated the LGBTQ community.
Arai told reporters that he could not stand looking at sexual minorities and would not want to live next door to them. He also added that Japanese citizens would abandon the country if same-sex marriage was legalized.
The discriminatory comments came after Kishida himself stated that same-sex marriage is "an issue that must be examined extremely carefully" because it may "change the concept of family values as well as society."
The LDP's official stance on the rights of sexual minorities is in disarray. Kishida fired Arai in an effort to lessen the political fallout from the discriminatory remarks. He publicly apologized for "causing offense," describing Arai's comments as  completely contrary to government policy. He said it was "regrettable that I have caused public misunderstandings about the government's position on "respecting diversity and creating an inclusive society."
Amid the backlash, the government has decided to submit legislation to promote understanding of sexual minorities, backtracking on its previous noncommitment.
Despite the quick dismissal of Arai, the controversial remarks raised questions on the ruling LDP's attitude toward improving the lives of the LGBTQ community. A recent OECD survey ranked Japan second worst in terms of LGBTQ inclusion legislation among developed countries. Japan is the only G-7 country to not recognize same-sex marriage.
As the government prepares to host the G-7 Summit in Kishida's ancestral town of Hiroshima, there are growing calls to tackle LGBTQ discrimination or protect their rights on par with the rest of the G-7. The LGBTQ community is demanding that Japan adopt equal rights for sexual minorities before hosting the summit in May.
Opposition from conservative members within the LDP is a major hurdle to forming party consensus on LGBTQ policy. A bill on promoting the understanding of sexual minorities was abandoned in 2021 over the phrasing "discrimination is unacceptable," with conservative lawmakers claiming the scope of discrimination was unclear. Some LDP officials have said they would not support the bill again if it included the same phrasing on discrimination. Some argue the wording should be revised to "unfair discrimination."
Opinion polls show that an overwhelming 82 percent of Japanese people support marriage equality. It is a narrow clique of LDP conservatives, wedded to the traditional family and gender norms, who have blocked progress on the issue. The opposition has stressed that the success of the bill depends on agreement within the LDP. Hagiuda Koichi, the LDP policy chief, said he will work to "forge consensus" within the party ahead of the G-7 Summit.
Jun Azumi, chair of the Constitutional Democratic Party's parliamentary affairs committee, tweeted that public opinion on same-sex relationships had already changed for the better. He criticized Kishida's outdated stance on LGBTQ issues and called his decision to appoint and retain a senior aide with strong anti-LGBTQ views "embarrassing."
During lower house deliberations, opposition parties have questioned Kishida's awareness of human rights for sexual minorities and the importance of same-sex marriage.
Kishida, who is known as a dovish moderate, has adopted a cautious position on same-sex partner rights despite pledging to create a diverse and inclusive society – a commitment he says stems from his experience as a minority while at elementary school in New York in the United States.
Six major opposition parties have pledged their support to protect the rights of sexual minorities. The LDP's junior coalition party Komeito, which was once against marriage equality, has expressed willingness to approve the legislation to promote the understanding of sexual minorities ahead of the G-7 Summit.
The Kishida administration has continued to suffer a slump in public support following former Prime Minister Abe Shinzo's assassination last year and the ensuing Unification Church scandal. A swift policy shift toward guaranteeing LGBTQ rights could work to not only challenge concerns that the heart of the government is inherently homophobic, but also to counter Japan's international reputation as a laggard on LGBTQ issues.
The current lack of a legal framework for same-sex couples creates issues when it comes to immigration, renting property, medical care, and inheritance. There is a growing trend across Japan to award same-sex couples the same benefits as married couples. Already more than 250 municipalities have introduced same-sex partnership certificates. While they do not carry legal protections, they give LGBTQ couples formal recognition during administrative processes such as housing applications, accessing a partner's medical data as well as life and auto insurance.