Thailand's Military Modernization Again in the Spotlight Following Trade Deficit Report
Recent procurements have revived long-standing questions about poor communication and wasteful spending.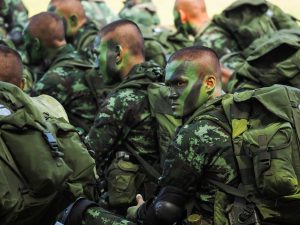 Despite many discouraging factors, the Thai economy in 2022 managed to perform better than anticipated in 2022. Thailand attracted 11.81 million international tourists, surpassing the government's target of 10 million, and saw promising domestic demand for electric vehicles (EVs), strengthening the country's hope of becoming an EV production hub in Southeast Asia. And while there was an export contraction in the fourth quarter, overall Thai exports for 2022 exceeded the Commerce Ministry's 4 percent mark by 1.5 percent, generating a record high export value of $287 billion.
Nevertheless, Thailand's imports in 2022 grew by 13.6 percent to around $303 billion, expanding for the first time in five years. That triggered a trade deficit of $16.1 billion, marking a stark contrast with the trade surplus of $3.57 billion recorded in 2021.
The deficit seen in 2022 was largely attributed to imports of natural gas worth $12.7 billion – a 115 percent increase from the previous year's figure. This was far from surprising when taking into account Thailand's status as a net importer of gas and oil, together with surging global gas prices and operating costs.
More striking were Thailand's acquisition of defense goods. Defense imports soared 1,039 percent last year, an equivalent of $3.84 billion, leaving many ordinary Thais baffled. At the same time, this reflects a growing sense of urgency for arms modernization among ruling Thai elites in the face of an increasingly dangerous post-COVID-19 security landscape – as highlighted by the recent China-U.S. spy balloon drama. Even though Thailand faces no imminent danger of being attacked, Thai leaders cannot afford to stay still when most states in the region – the big giants, middle powers like Japan and India, and smaller Southeast Asian powers – are rapidly upgrading their defensive (and, inevitably, offensive) capabilities.
Adding to that sense of urgency is the approaching expiration of the military-backed Prayut Chan-o-cha government and the prospect of a new Thai administration headed by anti-military parties, namely Pheu Thai and Move Forward.
Pheu Thai, in particular, has consistently won the popular vote in election surveys, though it is questionable whether the party can actually win this year. The Thai military's omnipresent role in politics and the continuing influence of the pro-establishment Senate in picking Thailand's new prime minister will undermine, if not totally block, Pheu Thai's chances of winning power. There is also a case to be made that Pheu Thai is not completely anti-military and is open to forming a coalition with the Palang Pracharath Party led by General Prawit Wongsuwan, deputy prime minister and former defense minister, who has played an active role in Thailand's security matters.
Among the defense procurement contracts signed by the Thai armed forces in 2022 was a deal with the United States to buy some light attack and armed reconnaissance AH-6 helicopters, and one with Israel to purchase an unspecified quantity of Hermes 900 drones to support maritime operations. Both contracts will reportedly run until fiscal year 2025.
As I have previously observed in these pages, Thailand is seeking to acquire some F-35A fighters from the U.S. – a quest that will be almost impossible to realize, largely because of Thailand's close ties to China. Thai authorities certainly recognize this difficulty and, as noted by Thailand's prominent defense journalist Wassana Nanuam, have already begun talking to Sweden's Saab AB about the potential  purchase of more Gripen jets.
Thailand's urgency to build-up its military has perhaps been manifested most clearly in the naval realm, at least in recent weeks. The Royal Thai Navy (RTN) has apparently made some progress in addressing the stalled submarine deal with China and just unveiled the Chinese-built FK-3 air defense system to the public.
Moreover, the RTN has secured an approval in principle from the cabinet for a new 15 billion baht ($449 million) frigate project. The project mandate is clear: to assemble the frigate domestically, with overseas know-how supplied by international firms, by 2027. Thus, regardless of the current rise in defense imports, Thailand is on track to reduce dependency on imported military parts and ultimately establish its own indigenous defense industry.
But understandably, ordinary Thais still have a hard time accepting these realities. Old allegations of wasteful spending on underperforming weapons aside, the unlikely sinking of HTMS Sukhothai, an American made corvette commissioned in 1987, in the Gulf of Thailand at the end of last year has raised serious doubts about safety protocols and maintenance efficiency. Poor crisis communication as well as the lack of transparency in the investigation process have further exacerbated the public's distrust of the military.
Without significant improvements to public communication and transparency within the armed forces – something that probably requires a major internal reorganization – Thailand's roadmap to military modernization remains doomed to high levels of scrutiny.