Cambodia's Ream Naval Base Upgrade and Implications for Thailand
Should it eventuate, a Chinese naval presence on the Gulf of Thailand would place the country in a tricky position.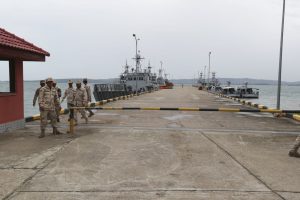 In discussions about the significance of the Chinese-funded modernization of Cambodia's Ream Naval Base on the Gulf of Thailand, which lies some 200 kilometers off Thailand's east coast, the Thai perspective is very much overlooked.
Ream is, after all, popularly theorized as a potential second overseas outpost of the Chinese People's Liberation Army Navy (PLAN), one that is meant to be a gateway to the Indian Ocean, and will allow it to project power toward claimant states in the South China Sea, primarily Vietnam. Thailand, meanwhile, has no claims in the increasingly contested waters and enjoys friendly relations with China in all dimensions.
In particular, the year 2023 has seen thriving Sino-Thai defense cooperation. In addition to accepting the delivery of the Chinese-built amphibious assault ship in April, the Thai military welcomed a series of joint air, ground and naval drills with its Chinese counterpart during the third quarter. While these are established annual drills, their enlarging scope and complexity are worth observing. The growing attention to chemical, biological, radiological, and nuclear defense at sea is one interesting point.
The "Blue Strike" naval drill in question marked the first time that China brought along a submarine, perhaps partly to shush concerns about the Gulf of Thailand, which is 50 meters deep on average, being too shallow for submarine operations – a key argument against Thailand's procurement of China's S26T Yuan-class submarines. Almost too conveniently, this development came amid the Thai navy's all but officially confirmed decision to use a Chinese-made engine on the first of the three purchased submarines, replacing the contractually-agreed German engine, which is higher in quality but has become unattainable due to Berlin's export embargo on Beijing.
Yet it must be remembered that Thailand, unlike most of its immediate neighbors in mainland Southeast Asia, has not chosen to align decisively with China. The kingdom is still a treaty ally of the United States and ultimately remains a hedger, albeit a clumsy one.
Thailand's slow implementation of the high-speed rail project linking Bangkok to Kunming via Laos, which is an integral part of the Chinese-led Belt and Road Initiative, points to the fear of being sucked too deeply into China's orbit. This fear is also reflected in the decision by the apparently pro-Beijing Prayut Chan-o-cha government to scrap a three-century-old plan to cut a canal across southern Thailand – much like the Suez Canal in Egypt – and propose a "land bridge" alternative.
By abandoning the idea of building a maritime shortcut to the Indian Ocean, focusing instead on the construction of two deep-sea ports on the country's east and west coasts in tandem with a highway and railroad to transport goods, the land bridge constitutes a big strategic loss for China, and a win for India.
In this context, a potential permanent PLAN presence on the Gulf of Thailand would ramp up fear of external coercion among Thai foreign policy makers. China is not the only worry. As a countermeasure, the U.S. would bolster its outreach to ensure Thailand's cooperation. Thus, in the context of geopolitical competition, Ream poses a significant risk to Thailand's ability to maintain its long-cherished "bamboo bending with the wind" foreign policy.
To be sure, it is unproductive to examine Ream purely as a Chinese base without taking into account Cambodian interests. As Kathrin Reed wrote recently for The Diplomat, the upgrade of Ream is necessary for enhancing Cambodia's relatively weak naval capabilities, and this complements Cambodia's broader coastal infrastructure developments, aimed at boosting economic growth.
Thai officials likewise view Ream as inseparable from other Chinese-assisted projects along the Cambodian coast, specifically the Dara Sakor special economic zone, which could be converted for military use. On the one hand, the success of Cambodia's coastal development would be welcomed by Thai investors. On the other hand, this would pose a direct competition to Thailand's own Eastern Economic Corridor (EEC). The EEC's attractiveness is already diminishing as a result of Thailand's comparatively high labor costs, which will rise even more after a wage hike later this year.
In terms of security, a strengthened Cambodian navy could help tackle issues such as maritime crimes, natural disasters, and accidents in the Gulf of Thailand. Joint patrols and other cooperative activities have become more important to combat rising maritime insecurities, many of which are transboundary in nature.
Nevertheless, Thais have reasons to be wary of Cambodian naval upgrades. Thailand and Cambodia are, at times, like oil and water, and they share overlapping claims areas of approximately 26,000 square kilometers in the Gulf of Thailand. Resource depletion in Thailand combined with the need to reduce energy imports in Cambodia have prompted the two neighbors to resume serious discussions on joint development arrangements.
Despite being on good terms, however, negotiations will not be easy considering that Thailand has vastly more domestic capabilities to extract oil and gas. Even if the area is divided fairly and equally, Cambodia would likely still find itself on the losing end. In this sense, it is not far-fetched to think that a stronger navy would give Cambodia more bargaining power.
To say that Thailand is not really bothered by Ream's modernization would therefore be an overstatement.