The Geopolitics of Sri Lanka's Energy Crisis 
Recent visits to Colombo by top officials from India and the U.S. illustrate how Sri Lanka's power sector is becoming a theater of big power rivalry.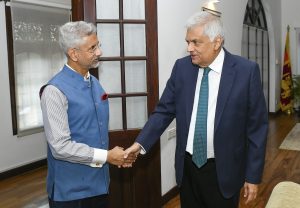 Two top foreign officials visited Sri Lanka within a fortnight spanning late January and early February. The optics of these tightly choreographed events may have obscured the nuts-and-bolts objectives sought by the United States and India. As Quad members, the two powers are on the same page in their bid to counter China's influence in the region. With Sri Lanka going through its worst-ever economic crisis and on its knees for an IMF bailout, diplomatic interactions with such visitors take place in the shadow of a glaring power imbalance.
The verbal sparring from U.S. Under Secretary Victoria Nuland, who claimed that China is "not doing enough" to help Sri Lanka get IMF funds, was to be expected. But little is known regarding other issues that she discussed with President Ranil Wickremesinghe. Did she ask about the status of the New Fortress Energy project – where a U.S. company gobbled up a 40 percent stake in West Coast Power Ltd which owns the Yugadhanavi power plant, along with an unsolicited contract, bypassing the usual tender process, to supply liquefied natural gas (LNG) needs for the next five years?
The September 2021 deal included rights to build an offshore floating storage and regasification unit (FSRU). The relevant agreements were signed despite Ceylon Electricity Board (CEB) unions protesting they had already called for bids for these very purposes. Apparently the cabinet nod had been given –  former Finance Minister Basil Rajapaksa secured their approval, though cabinet members had not been briefed ahead of time.
Two months later the agreement was called out in Sri Lanka's Parliament by Wickremesinghe, an opposition MP at the time. He said it breached parliamentary powers and privileges in its non-disclosure clause. The current status of the project remains unclear.
The New Fortress Energy deal is also believed to have upended gas exploration efforts in the Mannar Basin, off the northwestern coast of Sri Lanka. Experts were reported saying at that time that offshore blocks were just a few years away from production, and that losing the domestic market could deter prospective investors. Around the time the deal was executed, then-Energy Minister Udaya Gammanpila was seeking investors abroad for oil and gas exploration. In Parliament, he told a Consultative Committee on Energy that the Mannar Basin held $267 billion worth of oil and gas resources that could generate "three times the country's total debt."
It appears that current Energy Minister Kanchana Wijesekera has resumed the pursuit of Mannar's valuable underwater resources, with Reuters reporting last month that the government is preparing to issue exploration licenses for 900 offshore blocks. Given the record of ad-hoc decision making however, with government entities working at cross-purposes with each other, it is anyone's guess how attractive these offers will be to global players.
It is not without strategic significance that ahead of Nuland's visit, the CARAT-MAREX military exercise between the U.S. and Sri Lankan Navy and Air Force took place, mainly in Mullikulam, Mannar. The participation of U.S. assets such as the P-8A Poseidon maritime surveillance aircraft and personnel of the United States' 7th Fleet point to its scale. U.S. Ambassador Julie Chung described it as "the largest bilateral military engagement between the U.S. and Sri Lanka and one that we in the United States consider critical to the security of the Indian Ocean Region."
India in Sri Lanka's Energy Industry
Nuland was in Sri Lanka on February 1 to 2, as part of a tour that encompassed Nepal, India, Sri Lanka, and Qatar, lasting from January 28 to February 3. She was preceded in Sri Lanka by  Indian External Affairs Minister S. Jaishankar, who arrived in Colombo on January 19 – again, against a backdrop of complex developments in the energy sector.
Last year, India's Adani Group had secured an unsolicited contract for wind and solar power projects in Mannar and Pooneryn, with estimated investments of $500 million. That was ahead of then-Finance Minister Basil' Rajapaksa's visit to New Delhi seeking desperately needed financial support.
The deal had been "inked the same day the National Thermal Power Corporation (NTPC) of India formalised an agreement with Ceylon Electricity Board (CEB), to jointly set up a solar power plant in Sampur, in Sri Lanka's eastern Trincomalee district," The Hindu reported. "However, the agreement involving the Adani Group was not made public by either side" the report added.
Opposition SJB MPs cried foul, accusing the group of "back door entry" into the energy sector.
SBJ MP Harsha de Silva, an economist, was quoted by The Hindu as saying that the agreement violated the Electricity (Amendment) Act of 2013, which mandates competitive bidding for all electricity generation. The current government has passed an amendment to the Electricity Act, presumably to clear the way for Adani Group.
India also signed up for renewable power projects on three islands off Jaffna after Sri Lanka, learning of India's "security concerns," suspended a contract with a Chinese company that had secured it through the Asian Development Bank's competitive bidding process.
The need to increase the share of renewables in Sri Lanka's energy mix in the long term – the stated goal is 70 percent – is not disputed. But of late, big power maneuvering in the energy sector has become more noticeable. Could involvement of foreign powers with strategic interests in the region lead to dependencies that complicate Sri Lanka's energy security, potentially threatening its sovereignty?
Indian Oil Corporation already has a stake in oil storage and distribution through its subsidiary, LIOC, in Trincomalee, with its strategically located deep-sea harbor. While India's assurances to the IMF regarding support for Sri Lanka's debt restructuring were the highlight of Jaishankar's remarks, his statement revealed India's interest in the energy sector:
Energy security is today one of Sri Lanka's most serious challenges. A search for solutions must necessarily encompass the larger region. Only then will Sri Lanka get the full benefit of scale.This country has enormous renewable energy potential that can become a sustainable source of revenue. It has the capability as well for Trincomalee to emerge as an energy hub. In its support for Sri Lanka, India is prepared to be a reliable partner on such initiatives. We have today agreed in-principle on a renewable energy framework that would take this cooperation forward.
Details of the "framework" agreed upon are not known. Foreign Minister Ali Sabry, responding to a query from Newsfirst, said that "much of the focus of discussion centered on establishing Trincomalee as an energy hub." He said the project includes the Trincomalee oil tank farm, but "emphasized that no agreement had been signed yet in this regard."
State Minister Tharaka Balasuriya echoed these sentiments to the TV channel, saying the Indian minister suggested that Sri Lanka could use locations like Trinco and Mannar to export energy to India, as Nepal does.
Wickremesinghe has expressed support for Indian involvement in the development of Trincomalee. Speaking on the Trincomalee District Strategic Development Plan in October, he said: "We are working with India on renewable energy with the aim of making Trincomalee an energy hub based on the existing relations between Trincomalee and India." It is unusual to refer to a foreign state having "relations" with a district in Sri Lanka.
In an article on "The surge of geopolitics in South Asia's energy trade," Aditiya Valiathan Pillai warned that India's approach to cross-border trade in electricity is "unmistakably political." New rules issued by the government "define the contours of the South Asian electricity market, placing clear limits on who can buy from and sell into India, argued the author, an associate fellow at the Centre for Policy Research in Delhi.
"This has ramifications for the electricity markets of Bangladesh, Nepal and Bhutan which, to varying degrees have aligned their energy futures with the Indian market. The new rules show that India's approach is unmistakably political. It attempts to balance China's growing influence in the region with developmental aims, both its own and the region's."
Nepal, Bhutan, and Bangladesh are currently engaged in cross-border power trade with India, and Jaishankar is clearly suggesting that Sri Lanka should join the club, connecting to a regional power grid.
Theoretically, cross-border trade in energy is said to have benefits, with countries with an energy surplus being able to supply others at times when they face a shortfall. Sri Lanka, for example, periodically faces a drop in hydropower when there is drought. But there is a need for transparency in any arrangements of this nature that the government enters into. Once locked in, they could be difficult to reverse. Will decisions be guided by those with relevant background and expertise, or by shortsighted (and possibly corrupt) politicians? The dire energy crisis the country faces, and circumstances that created it, do not inspire public trust.