'Joint Vision' With India Raises Concerns in Sri Lanka
The outcomes of Sri Lankan President Ranil Wickremesinghe's visit to India faced criticisms over a lack of transparency and potential threats to sovereignty.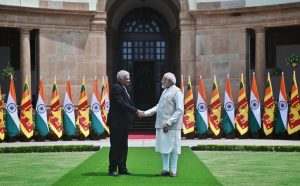 In late July, Sri Lankan President Ranil Wickremesinghe made his first visit to India since taking office. His remarks at an Indian CEOs' Forum in Colombo ahead of his trip gave a clue to the scope of the agreements to be disclosed in New Delhi. Once the country's debt restructuring process was completed, he told the businessmen, Sri Lanka's focus will shift toward a program entailing "a massive overhaul of our economy, legal framework, and systems, aligning our path with that of India."
After talks with Indian Prime Minister Narendra Modi on July 21 – a year to the day since Wickremesinghe took office – an identical statement was released, separately, by the Sri Lankan and Indian sides. Described not as a "Joint Statement" but a "Joint Vision" statement, it listed a summary of decisions, reached or anticipated, in five areas of  "connectivity" – maritime; air; energy and power; trade, economic, and financial; and people-to-people.
"We have agreed on a Joint Vision of the future India-Sri Lanka economic partnership through enhanced connectivity" Wickremesinghe said, addressing dignitaries and media in Delhi.
The neutral tone and language of the statement gives no hint of the significant revamp taking place in bilateral relations, influenced by recent history. The talks come in the aftermath of an economic crisis that led to bankruptcy, when India came forward with significant financial assistance to allow Sri Lanka to import essential fuel and medicine. As inescapable as the imbalance in the power equation is the dominance of geopolitics in the new phase of India-Sri Lanka relations.
Against this backdrop, the ambiguous language used in the official communications, short on specifics in many areas, gives rise to speculation. Even Sri Lanka's Parliament is unaware of the contents of the five MoUs exchanged. Opposition Member of Parliament Udaya Gammanpila has called for them to be tabled in the House, and other opposition parliamentarians expressed dismay about the lack of clarity.
Foothold in Trincomalee 
Reading between the lines of statements released, Sri Lanka's eastern port city of Trincomalee would seem to be the "jewel in the crown" of the understandings reached, and the locus of projects with the most far-reaching consequences.
One MoU was titled "Cooperation for economic development of projects in the Trincomalee District." The Joint Vision statement suggests what some of those projects may be. It refers to: 1) development of ports and logistics infrastructure at Colombo, Trincomalee, and Kankesanthurai; 2) the development of Trincomalee as a regional energy hub – with plans for power grid interconnection between India and Sri Lanka; 3) a petroleum pipeline connecting southern India (Nagapatnam) with Sri Lanka (Trincomalee and Colombo), reportedly based on Indian Oil's proposal; 4) further development of the oil tank farms; and 5) establishing a land bridge that would give India land access to the ports of Trincomalee and Colombo.
The latter proposal was the biggest surprise. Indian Foreign Secretary Vinay Kwatra, at a briefing of Indian media after the ceremonies, mentioned that "[t]his idea was proposed by the Sri Lankan president."
There is some discrepancy between Kwatra's statement and Wickeremesinghe's remarks reported elsewhere. Citing an unnamed "highly placed government source," the Sunday Morning newspaper said that "the Indian side had proposed the building of a land bridge connecting the two countries and the President had observed that it would depend on approval by the Parliament of Sri Lanka."
Securing a firmer foothold in Trincomalee, with its coveted natural deep water harbor, has obvious strategic advantages for India, as a bulwark of sorts against China's presence in the Indian Ocean. It's no secret that concerns over China continue to haunt the regional power's strategic calculations. Modi in his public remarks said, "We believe that the security interests and development of India and Sri Lanka are intertwined. And therefore, it is essential that we work together keeping in mind each other's safety and sensitivities."
Kwatra, responding to questions from Indian media, said that "specifics of these challenges in our maritime domain were brought up appropriately" during the discussions, and that the Sri Lankan side conveyed their "sensitivity [to] and respect" for India's concerns.
However, the public in Sri Lanka has its own concerns about the still-vague projects being discussed with India. Referring to the projects in Trincomalee, Tamil National Alliance MP Charles Nirmalananthan was reported on television as saying, "Democracy can be seen only if matters relating to Trincomalee district are discussed with MPs of the North and East." He added,"These matters need to be discussed with the people of those areas as well."
The disconnect resulting from an uninformed public should be a matter of concern to the Sri Lankan president. After all, Wickremesinghe had told Indian CEOs, "Ultimately, it's crucial to recognize that the relationship between our countries is not solely driven by governments but by our people, who are moving forward at a rapid pace."
India in Sri Lanka's "Digital Identity" Push
India's contribution to Sri Lanka's drive to digitalize is similarly compromised by the absence of informed debate and public awareness. The Joint Vision statement said both leaders "agreed to leverage India's Digital Public Infrastructure in accordance with Sri Lanka's requirements and priorities" toward efficient delivery of "citizen-centric services."
A project is said to be already underway regarding a "Unique Digital Identity" card system for Sri Lanka, based on India's Aadhaar card. Kwatra told Indian media that both leaders noted its "successful implementation." A 300 million Indian rupee grant for this project had been approved back in March 2022 by former President Gotabaya Rajapaksa's cabinet, along with other proposed projects involving India, ahead of then-Finance Minister Basil Rajapaksa's visit to New Delhi to secure a $1 billion credit line.
The project aims to collect face, eye, fingerprint, and "several other biometric data" of all persons, which will be stored in a centralized system for the purpose of issuing identification cards, State Minister for Technology Kanaka Herath has said. Government interlocutors vaguely suggest the project will bring Sri Lanka in line with "international standards" and help deliver state services more efficiently.
But the government has not addressed privacy concerns, or the very real risk that once an entire population's biometric data is collected by a government in a centralized, state-controlled database, it could potentially be used for mass surveillance of the citizenry.
Given that a foreign state will have access to this centralized database on the Sri Lankan population, sovereignty issues would seem to be baked into the project from the outset. Bidding for the tender is limited to "large Indian companies." The company securing it will reportedly "have the opportunity to design, prepare and operate this data system, as well as maintain the related software."
It is no comfort to learn that the software systems will be "installed under the supervision" of the Information and Communication Technology Agency (ICTA) of Sri Lanka. Days after the state minister's remarks, the parliamentary Committee on Public Enterprise (COPE) exposed fraud and corruption at ICTA.
In more technologically well-heeled communities of Europe and North America, where there is pressure from an informed public, governments have been obliged to uphold citizens' freedoms and even roll back data collection programs.
In October 2021 the European Parliament voted to back a total ban on biometric surveillance, in accordance with a report from the Committee on Civil Liberties, Justice, and Home Affairs (LIBE). The resolution saw a majority of parliamentarians vote in favor of the LIBE committee's report on artificial intelligence in criminal law. The relevant paragraph on remote biometric surveillance called on the European Commission to implement a ban on any processing of biometric data that leads to mass surveillance in publicly accessible spaces, and calls further on the Commission to "stop funding biometric research or deployment or programs likely to result in indiscriminate mass surveillance in public spaces."