Angshuman Choudhury on India's Robust Engagement of Myanmar's Junta
"The Myanmar military is not a reliable strategic partner for India."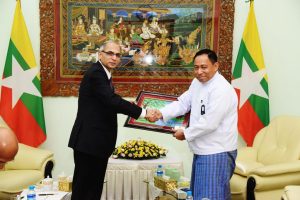 India's policy of support to the Myanmar junta is driven by its economic, security, and strategic interests. The policy has drawn much flak and is deeply unpopular among the majority of the Myanmar people, who are opposed to the military regime. Importantly, the policy does not seem to have furthered India's interests.
In an interview with The Diplomat's South Asia editor Sudha Ramachandran, Angshuman Choudhury, associate fellow at the New Delhi-based Centre for Policy Research, pointed out that Myanmar's generals are "acting against Indian interests by providing shelter to Indian insurgent groups in exchange for their services in fighting the pro-democracy civilian militias and the ethnic armed organizations." Calling on New Delhi to "capitalize on India's unique position as an influential Asian federal democracy," he said that it should "directly engage with the NUG and related groups."
Could you outline India's present policy to Myanmar?
India's present policy on Myanmar is an extension and continuation of its policy of realpolitik engagement with the Myanmar military regime in the 1990s-2000s. Back then the policy was driven by economic and security compulsions. India needed the cooperation of Myanmar's generals to tackle the insurgencies in its Northeast and for the successful implementation of its "Look East Policy." These considerations prompted India to engage the junta from the mid-1990s onwards.
After the February 2021 coup, India, now led by the Hindu nationalist government of Prime Minister Narendra Modi, is once again engaging the Myanmar junta with strategic and economic interests in mind. There might be some support for the democratic resistance, but this is kept below the radar to appease the junta next door. In short, India continues to swear by its "pro-engagement, anti-sanctions" strategy with the Myanmar military.
India's support to the junta has upset the pro-democracy forces in Myanmar. Is New Delhi in touch with the National Unity Government (NUG)?
There is no formal contact between New Delhi and the NUG. However, elements from both sides might have spoken to each other at an informal level. It is difficult to confirm such closed-door engagements or what they amounted to. In general, one would expect the NUG to broadly reach out to all its neighboring governments to communicate its concerns and aspirations. But it is safe to assume that the Modi government will refrain from establishing formal relations with the NUG anytime soon, at least in the way that the West has done.
India's support for the junta appears to have become more explicit over the past year. Would you agree?
India's core policy of engaging the junta has not changed, but subtle shifts in the public narrative are discernible, especially in bilateral engagements. Since April 2022 when he took charge as India's ambassador to Myanmar, Vinay Kumar has led the process of normalizing ties with the coup regime and over the past year, India has resumed regular government-to-government engagement with the junta. Indeed, for all practical diplomatic purposes, India has now clearly recognized the junta as Myanmar's legitimate governing authority.
Through 2021, India emphasized issues like the restoration of democracy and the release of political prisoners in its bilateral statements. But over the last year, New Delhi has quietly dropped all references to democracy in bilateral meetings. The most glaring example of this was the stark difference in the length and language of Indian press statements after the visits of the two successive foreign secretaries, Harsh Vardhan Shringla and Vinay Mohan Kwatra, to Myanmar in December 2021 and November 2022, respectively. Shringla met members of Myanmar civil society (many of whom are staunchly opposed to the junta) and subtly complained to the coup leadership about its inability to stabilize the India-Myanmar border. Kwatra, on the other hand, only met the top junta leadership. The statement issued after his visit made no mention of the issue of restoring democracy or of ASEAN's Five-Point Consensus, sticking mostly to issues of bilateral economic engagement.
In multilateral forums, however, such as within the Quad, New Delhi continues to back the ASEAN approach to Myanmar. Moreover, in its unilateral statements and the recently-released Annual Report 2022, the Ministry of External Affairs continues to call for an "early restoration of democracy." Hence, New Delhi seems to be customizing the public narrative on Myanmar depending on the audience and context.
India now seems focused on expediting its developmental projects in Myanmar, as well as facilitating the resumption of routine trade and commerce relations. This is, of course, visible in the growing bilateral contacts between both – including at ministerial and ambassadorial levels. Recently, India also established the first open ministerial contact with the junta when its Minister of Development of North Eastern Region (DoNER) held a virtual meeting with the junta's border affairs minister to discuss, among other issues, border trade and infrastructure projects. Further, in April 2022, New Delhi quietly offered a Line of Credit worth $270 million to the junta for "undertaking development projects."
Online discussions are being held through Track 1.5 and Track 2 meetings between Indian non-governmental and government-undertaking bodies and their junta-aligned counterparts to explore new ways to boost trade and commerce between India and Myanmar. Having said this, New Delhi remains concerned about the growing instability along its borders with Myanmar and its second-order effects on Northeast India, such as the refugee influx and upshot in contraband smuggling. However, I doubt the Modi government is willing to pull up the junta for this renewed disruption.
In all, India is now more open about its engagement with the junta. It is also mindful of the junta's sensitivities and avoids raising prickly issues like the restoration of democracy for the sake of warm bilateral ties.
In a recent article, you argued that "India's decision to move closer to the junta is confounding not just because of its moral vacuity but also its political and strategic myopia." Could you explain?
I argued so because the Myanmar military is not a reliable strategic partner for India, at least not in the current context. The junta led by Min Aung Hlaing is an institution that does not care about regional stability and specifically, the security of the India-Myanmar border, which is integral to India's ambitious "Act East Policy." It is only bothered about protecting itself from disintegration and collapse, while also preserving its predatory networks of profit-making. Even in the past two decades, beyond a few disparate operations against Indian insurgents based along the border inside Myanmar, the Burmese army did little to honor mutual commitments with New Delhi to protect Indian national interests, even though India has consistently armed them with both lethal and non-lethal military platforms, including tanks, torpedoes and submarines.
After the February 2021 coup, the junta is once again acting against Indian interests. It is providing shelter to Indian insurgent groups in exchange for their services in fighting the pro-democracy civilian militias and the Ethnic Armed Organizations (EAOs). By doing so, the junta has undone all the kinetic synergy that the Indian defense forces had generated over the last decade through coordinated operations and bilateral exercises with the Myanmar security forces.
Some Indian insurgent groups, like Manipur's People's Liberation Army (PLA), are even using Myanmar territory as a staging base for attacks against Indian security forces, such as during the 2021 ambush of an Assam Rifles convoy in Manipur's Churachandpur district. Others like the Zomi Revolutionary Army (ZRA) are using the junta's protective umbrella to facilitate opium cultivation near India's border, creating new avenues of illicit profit-making, extortion and violence. The presence of junta proxies like the ZRA along the India-Myanmar border is also creating a delicate situation in India's Manipur state, where the local government is using their illicit activities to clamp down on all asylum seekers belonging to the Zomi (Chin-Kuki-Mizo) community.
If India expects the Myanmar junta to ensure stability along its borders, it couldn't be more mistaken. The junta is busy fighting a brutal war against its own people. It is feeling the heat in nearly every region and state, and is struggling to maintain deployment and supply lines. In such a situation, there's no way it will be able to attend to Indian interests, which include facilitating large-scale connectivity projects like the Kaladan Multi-Modal Transit Transport Project and the India-Myanmar-Thailand (IMT) Trilateral Highway. In fact, most of the territory in Chin and Rakhine States through which these project routes pass is not even controlled by the military but by civilian militias and EAOs [ethnic armed organizations] like the Chin National Front/Army (CNF/A), Chin National Defense Force (CNDF), and Arakan Army (AA). Even smaller projects in the agrarian, IT, healthcare and vocational training sectors are suffering under the junta's destabilizing political presence and administrative incompetence.
Moreover, without the goodwill of the majority of the people in Myanmar, who have rejected the military, India cannot expect to maintain a constructive footprint and benign presence in Myanmar. By backing the junta, India is only alienating the people.
An important objective of India's engagement of the generals is to check China's influence in Myanmar. What has been the outcome?
On the issue of balancing China, which Indian policymakers remain obsessed with, supporting the junta won't help because it makes India look like a shabby carbon copy of Beijing. The Narendra Modi government should capitalize on India's unique position as an influential Asian federal democracy, and conduct itself accordingly in Myanmar. Only then can India carve out its own space in the country, which would be distinct, even irreplaceable, from the Chinese presence.
Moreover, China has longstanding links with some of Myanmar's most powerful ethnic armed organizations based in Kachin and Shan states. As a recent meeting between these rebel groups and Deng Xijun, a top Chinese envoy, shows, Beijing is willing to leverage these relationships to deepen its footprint in post-coup Myanmar. India, on the other hand, only has ad hoc and unpredictable ties with ethnic armed groups along (or near) its border. So, how can India effectively balance China if it isn't willing to look beyond its old playbook?
When 70 percent of Chin state, which borders India and where most Indian projects are located, is not under government control, can these projects move forward?
No, they cannot. Even if the contracts are in place and some limited operations begin in certain nodes, such as the Sittwe Port (part of the Kaladan project), actual construction work of most other sections will be next to impossible without a green light from the Chin armed groups and the AA. India will absolutely need to find a way to engage with these groups. This, needless to say, will involve some critical political and strategic bargains. This then implies that the Chin armed groups and the AA have some tacit leverage over India as far as the projects are concerned.
New Delhi knows these complex realities very well but remains risk-averse in its diplomatic approach. It is inclined toward believing that the junta will ultimately regain control over the border regions one way or the other, following which its own projects can proceed without hindrance.
However, this may not happen in the near future. India needs to prepare for a scenario where its borders with Myanmar on the other side are fully taken over and autonomously administered by ethnic organizations (or federal coalitions) with their own armies.
What is India's relationship with the Chin rebels?
Since the coup, New Delhi's links with the Chin rebels are even more disparate and fractured than in the past because so many new Chin armed groups have emerged.
Historically, India dealt mostly with the CNF/A, which controlled large swathes of territory along the border regions in western Myanmar and has deep sociopolitical ties with the Chin and Mizo communities in the Indian state of Mizoram. The current CNF leadership is keen to develop closer ties with India, but New Delhi remains hesitant. For now, India wants no more than a tactical relationship with the CNF to limit the offensive capabilities and mobilization networks of Indian insurgents who are taking shelter in Myanmar territory across the border. However, the CNF might want more from India in return for confronting Indian insurgents from time to time, as it did in February 2022 when one of its units raided a base of the Manipur's PLA in the Sagaing Region.
India will need the CNF on its side if it wants to resume construction work on the Kaladan and IMT Trilateral Highways projects. Whether it is willing to partake in an equal bargain remains to be seen, especially in light of the close India-junta ties.
Although New Delhi did express concern after junta airstrikes on the CNF headquarters in Camp Victoria reportedly violated Indian airspace, its response was muted, indicating that for the Modi government, ties with the junta are more important than those with the CNF.
What policy would best serve India's interest? Continue its support of the junta, engage all sides, or extend all-out support to the NUG? And why?
This is a difficult question to answer, and there could be more than one answer. But, my own view is that India needs to do two things: directly engage with the NUG and related groups, and reduce support to the junta while not cutting it off completely. On the second point, India needs to specifically stop transferring military hardware (including non-lethal or semi-lethal items), selling aviation fuel, and extending financial resources to the coup regime. India also needs to deploy all viable channels to extend humanitarian aid to the people affected by the conflict, especially along India's borders in Chin State and Sagaing Region.
New Delhi needs to remind itself that it has greater leverage over the junta today and not the other way around. The junta is craving legitimacy, recognition, and resources from its neighbors. India can offer all of that. It needs to use this distinct leverage to secure concessions for itself, of which border security, a stable and open economy, and strong popular goodwill are the most important. These gains will come only when democratic rule returns to Myanmar and India actively supports that process.
I'm not saying India needs to follow the Western model of sanctioning the junta or even arm the resistance. Instead, it needs to develop its own unique regional response that is guided by a respect for democracy (in line with its own values), a sense of ethical responsibility towards vulnerable people who are facing brutal repression, and farsighted strategic pragmatism. This would, first and foremost, mean stopping the arms flow to the junta and denying economic aid in the form of grants and loans.
India isn't wrong to argue that it has unique concerns about Myanmar that it doesn't share with the West. But it needs to realize that the junta led by Min Aung Hlaing doesn't have the willingness or the wherewithal to address those concerns. It is a grossly unpopular and widely discredited regime at war with its own people. India will only expose itself to adverse forces and sentiments in Myanmar by doing diplomacy with such an entity.