Cambodian Opposition Leader Sentenced to 27 Years Imprisonment
Kem Sokha, the former head of the banned Cambodia National Rescue Party, has also been banned indefinitely from voting or running for office.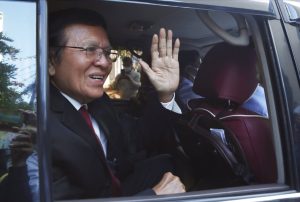 Cambodian opposition leader Kem Sokha has been sentenced to 27 years imprisonment after being convicted of treason, casting a shadow over national elections scheduled for July. In a hearing this morning at the Phnom Penh Municipal Court, a judge ruled that the former president of the Cambodia National Rescue Party (CNRP) would also be banned from politics and voting in elections indefinitely.
According to Kem Monovithya, Sokha's daughter and the director general of public affairs for the CNRP, he was taken to his residence where he will initially remain under "court supervision." She said that Sokha had also been "banned from all forms of communication with anyone except family members." Sokha's lawyer, Ang Udom, said his legal team would appeal the verdict.
The harsh sentence caps off a meandering court case that has proceeded since Sokha's midnight arrest in September 2017. At the time, Sokha was the president of the opposition Cambodia National Rescue Party (CNRP), which performed surprisingly well at national elections in 2013 and local polls in 2017, eating into the majority of Prime Minister Hun Sen's Cambodian People's Party (CPP).
Sokha was subsequently charged with "conspiracy with a foreign power" under article 443 of Cambodia's criminal code, in connection with a speech that Sokha gave in Australia in 2013 in which he allegedly boasted about the support he enjoyed from Western democracy promotion advocates. Government lawyers took advantage of a length COVID-19 delay to further backfill the treason charge, pointing to Sokha's founding in 2002 of the Cambodian Center for Human Rights, which enjoyed U.S. financial support, as evidence of foreign interference.
Sokha's arrest, which followed the forced exile of former CNRP president Sam Rainsy in late 2015, marked a decisive escalation of the Hun Sen government's campaign against its opponents. It was followed by the dissolution of the CNRP by the Supreme Court in November 2017 and the flight of most of the party's leadership into exile, amid a broader crackdown on civil society and the independent media. Liberated from the burden of meaningful political opposition, the CPP would go on to win all 125 parliamentary at the national election in 2018.
In a statement issued following today's sentencing, Phil Robertson of the advocacy group Human Rights Watch described it as "nonsensical and punitive." "It was obvious from the start that the charges against Kem Sokha were nothing but a politically motivated ploy by Prime Minister Hun Sen to sideline Cambodia's major opposition leader and eliminate the country's democratic system," Robertson said. Its counterpart Amnesty International pointed to the judiciary's "jaw-dropping lack of independence."
From the beginning, Sokha's case has been attended by serious breaches of procedure and violations of his political rights. After spending a year locked up in the maximum security CC3 prison in eastern Cambodia, a period of detention that the U.N. described as "arbitrary" and "politically motivated," Sokha was released into a form of house arrest in 2018. His trial initially opened on January 15, 2020, but was halted by the authorities in March of that year, supposedly due to COVID-19, and only resumed at the start of 2022.
Since late 2019, Sokha has been permitted a limited degree of freedom. Barred from leaving the country and taking part in politics, he has nonetheless hosted a string of diplomats and other foreign visitors at his home in Phnom Penh, and taken part in various quasi-political charitable activities.
Today's verdict casts a similar shadow over the election due in July of this year, which accounts for a recent tightening of what remains of Cambodia's political space. Hun Sen set the tone in a speech in January, when he warned his few remaining political opponents that any person accusing his party of electoral fraud at this year's election could face legal action or violent attacks. "There are only two options: one is using legal action, the other is using sticks… What do you want?" he said. "Either you face legal action in court or I rally CPP people for a demonstration and beat you guys up."
The following month, the Cambodian leader ordered the shutdown of Voice of Democracy, one of the last independent local news organizations in the country, over an innocuous article that he said harmed his son and successor-designate Hun Manet.
The Sokha verdict is clearly geared at ensuring the CPP's victory at the upcoming election, and creating the social and political stability necessary to affect the sensitive and long-awaited handover of power from Hun Sen to his son. Beyond that, the situation will remain fluid. In Cambodian politics, sentences in high-level political cases are rarely served in their entirely, and there is a chance that once Hun Sen's election victory and succession plans are secure, Sokha's fate may be subject to political bargaining.
Indeed, some flexibility may be necessary in light of the likely Western reaction to today's verdict. On Twitter, U.S. Ambassador W. Patrick Murphy, who attended the court hearing, said that the embassy was "deeply troubled by the conviction of respected leader Kem Sokha," describing his trial as "a miscarriage of justice" and stating that it was "built on a fabricated conspiracy." Given that the crackdown of 2017-18 was followed by imposition of U.S. sanctions on a number of Hun Sen's cronies and associates, as well as threats from Congress of more severe punishment, today's sentence can only result in the further deterioration of Cambodia-U.S. relations, at a time of high alarm in Washington about Hun Sen's proximity to China.
For several decades, Hun Sen has excelled at balancing the imperatives of political survival with the maintenance of stable and workable relations with the Western governments that were most invested in the idea of Cambodia as a post-Cold War peace- and democracy-building project. The decision to allow Sokha to serve his sentence initially under house arrest rather than in prison may be geared toward managing these perceptions – but it will likely take a lot more to pull these relationships out of their downward spiral.