Cambodia's Deja Vu Politics Reflect the Limits of Western Power
The result of July's election is largely a foregone conclusion, but serious retaliation from Western governments is unlikely.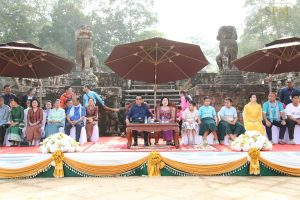 Election season in Cambodia has arrived. Cambodians will go to the polls on July 23 and the political environment on the ground in recent months indicates that political tensions are already on the rise. The consequences of those tensions have already been felt by opposition party officials, and by the independent press.
In early March, Kem Sokha, the former president of the now-dissolved Cambodia National Rescue Party (CNRP) was returned to house arrest after being sentenced to 27 years imprisonment for allegedly conspiring with foreign powers to overthrow the Cambodian state.
Meanwhile, two vice presidents of the embattled opposition Candlelight Party (CLP), Thach Setha and Son Chhay, have been entangled in legal limbo over alleged financial fraud and defamation, respectively. CLP senior adviser and veteran politician Kong Korm resorted to quitting politics altogether after Prime Minister Hun Sen ordered his 1980s-era property confiscated; he was also slapped with a libel lawsuit.
In February, Voice of Democracy, one of the last few remaining independent daily newsrooms in Phnom Penh, was hastily forced to close by the government after its failure to adequately apologize to Hun Sen over a report concerning his son Hun Manet, which the government claimed was incorrect and distorted.
For those familiar with Cambodian politics, this may sound like deja vu, mirroring the run-up to the 2018 elections, which saw The Cambodia Daily shuttered, The Phnom Penh Post sold, the CNRP banned, and the opposition party's politicians jailed and exiled.
Cambodia's 2023 pre-election politics and the enhanced pressures on anyone outside of the ruling party's orbit are partly enabled by the current international climate. To understand these events, it's critical to take into account the rise of China as well as the limits of Western agency to compel smaller nations, like Cambodia, into fully democratizing.
The Global Context
The West-led international community as we know is extremely preoccupied with the Russian war on Ukraine and other global security challenges, including North Korea, Taiwan, Myanmar, and the Middle East. Whipping Cambodia into shape on democratic reforms is clearly less of a priority.
There have been, of course, strong statements from the United States, Australia, the European Union, and the United Nations in response to recent pressures on non-governmental organizations and political figures. But that is unfortunately all these diplomatic missions are likely to do for now, particularly if they want to continue to meaningfully engage the government of Cambodia on other issues. The war in Ukraine is clearly a key issue, for example, on which these foreign missions expect Cambodian cooperation.
Each of these Western powers has their own unique relationships with and interests in Cambodia, making a collective and unified punishment for democratic backsliding a slim possibility. They, in turn, have something in common: appreciation for Cambodia's surprising move to break rank with Moscow and support Ukraine's sovereignty against Russian aggression.
Widespread economic sanctions would appear even less likely if we look at the lessons learned from the EU's partial withdrawal of Everything But Arms trade benefits from Cambodia in 2020. Without unified approaches among the Western powers, any future sanctions would likely fail to produce their desired results. And trade sanctions – without specific, realistic, and achievable objectives – also raise ethical questions regarding whom they hurt most, ordinary people or the elites.
Additionally, sanctioning specific Cambodian figures would risk jeopardizing Western efforts to convince smaller nations like Cambodia to show unity against the Russian invasion.
Kem Sokha's eldest daughter Kem Monovithya, who is also a senior opposition figure living in exile since 2017, has openly called for targeted sanctions against Cambodian officials responsible for the democratic backsliding. Both the EU and Australia now have their own version of the U.S. Global Magnitsky Act as a tool to sanction foreign individuals involved in human rights abuses.
The U.S. has imposed Magnitsky sanctions on five senior officials in the past five years. They include Hun Sen's personal bodyguard commander Gen. Hing Bunheang, well-connected timber business tycoon Try Pheap, former Royal Cambodian Armed Forces' Chief of Joint Staff Gen. Kun Kim, Royal Cambodian Navy's Commander Adm. Tea Vinh, and Defense Ministry's General Director of Technical Materials Gen. Chau Phirun. The cases against the latter three were linked to their involvement with Chinese investments or military assistance to Cambodia. But the EU and Australia have yet to use this tool against any Cambodian officials.
It's also important to note that even if the West were to take a stand and hold foreign figures accountable for their alleged human rights abuses, Cambodia is unlikely to be their top priority. The relative severity of situations in places like Myanmar, Afghanistan, and Iran, among others, maintain adequate cover for Cambodian leaders to chart their political course at home without serious risk of consequences from the West.
The ruling Cambodian People's Party (CPP) appears to be well aware of this dynamic as well. It seems to expect strongly worded statements of condemnation from representatives of the West but knows that no concrete actions will follow.
There is some indication that Cambodia's government is also, to some extent, playing its game in a way that lowers the likelihood of strong action by the West. Choosing, for instance, to confine Kem Sokha to house arrest rather than sending him to prison (at least for now), reflects a relatively measured and mild move that could be seen as less offensive in the eyes of the West.
Factoring in Beijing's role, at the same time, Hun Sen has gotten the reaffirmation of firm support from the Chinese government during his recent official visit in which he met with top Chinese leader Xi Jinping. China is speeding up its project to modernize Cambodia's Ream Naval Base and just concluded the renewed annual war games Dragon Gold with the Royal Cambodian Armed Forces.
It is clear that Phnom Penh has strong expectations that its relationship with Beijing will flourish, even after the domestic political turmoil that led China to abandon its zero-COVID policy.
But despite China's commitments to Phnom Penh, navigating a balanced standing between the West and China is still important for the CPP at this time of growing regional and global tension.
Local Context Matters
Though the result of the upcoming election can be easily anticipated, it is likely to be the last in which Hun Sen leads the CPP. The success of a planned generational transfer of power within the party could be vital in determining how tense the lead-up to this year's elections may prove to be.
A group of younger scions of Hun Sen and other CPP senior political elites is expected to take over the jobs in the executive branch and key ministerial positions after the July elections. Army Chief Gen. Hun Manet, Hun Sen's eldest son, is the CPP's sole candidate to succeed him as prime minister. He will run for a seat in the National Assembly's Phnom Penh constituency this July, a step closer to premiership, a position that constitutionally requires a nominee to be a lawmaker.
In terms of this transition, there are apparently three strategic priorities on which the CPP is focusing.
First, the CPP likely feels it needs a stable national political environment for the transition to be smooth and successful. The opposition and the civil society organizations must not be able to prevent the transition from unfolding within CPP-choreographed legal and constitutional processes.
Second, the CPP may have to secure sustained support from China as a political and economic ally even though it seeks to increase its freedom of maneuver in foreign policy. The party also needs to reassure immediate neighboring states, including Vietnam and the rest of the Association of Southeast Asian Nations, that its closeness to Beijing will not pose a risk to their security.
Third, the CPP may need to continue resisting possible Western attempts to pressure it politically through trade-related punishments, which could prove detrimental to Cambodia's economic and political stability, and through targeted sanctions, which could jeopardize the party elites' reputation and legitimacy. Like many Cambodian people, Western governments are now used to dealing with the CPP and accept the fact that it is likely to stay in power for the foreseeable future.
It's important to note, however, that while there is a low possibility of strong Western actions, this does not mean the possibility of this happening is zero. One cannot expect Western powers to behave as one united entity. With the involvement of other domestic actors in those states, including national legislatures, a small window to push for accountability for Cambodia's democratic deficit could still be cracked open.