China, Philippines Open Bilateral 'Consultative' Talks in Manila
Chinese officials took the opportunity to voice their opposition to a recent expansion of the U.S. military presence in the Philippine archipelago.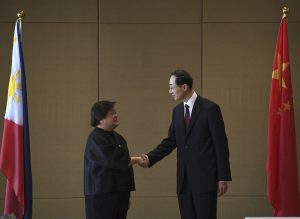 Chinese diplomats have again expressed their opposition to an expanded United States military presence in the Philippines, as the two sides held closed-door talks in Manila yesterday. According to The Associated Press, which cited an unnamed Filipino official who attended the meeting, the Chinese delegation expressed "intense objections" to Manila's recent decision to grant the U.S. military access to four additional military bases in the Philippines.
The comments came on the first day of bilateral "consultative" talks, which have been held every year since 2016. The talks, which were led by Chinese Vice Foreign Minister Sun Weidong and Philippine Foreign Undersecretary Theresa Lazaro, are the first to be held under President Ferdinand Marcos Jr. Since taking office in July, Marcos has rapidly advanced relations with the U.S., while promising not to cede "even one square inch" of Philippine territory "to any foreign power."
In February, Manila agreed to allow the U.S. military access to four additional Philippine military bases under the 2014 Enhanced Defense Cooperation Agreement (EDCA), bringing the total number of bases to nine. EDCA allows the U.S. military to rotate troops through select Philippine military facilities, and to use facilities such as runways, fuel storage, and military housing.
China has already come out in opposition to the EDCA expansion. On Wednesday, Chinese Foreign Ministry spokesperson Wang Wenbin told a press briefing in Beijing that "defense and security cooperation between countries needs to be conducive to regional peace and stability and not targeted at or harmful to the interests of any third party." This was slightly more diplomatic than an earlier statement from the Chinese embassy in Manila, which described the basing arrangement as Washington's attempt to "secure its hegemony and selfish geopolitical interests," and warned that the expanded U.S. military presence would "seriously harm Philippine national interests and endanger regional peace and stability."
During yesterday's meeting, the AP reported, Filipino diplomats responded to Chinese concerns by stating that the expansion of EDCA was not aimed at China, and that it would boost the Philippine capability to respond to natural disasters. While the location of the four new EDCA facilities has not been announced, President Ferdinand Marcos Jr. said earlier this week that they would be located in the north and south of the Philippines, as well as on Palawan, the island closest to the Philippine-claimed features in the Spratly Islands.
The South China Sea disputes have become a major point of friction in China-Philippines relations under Marcos. When he met Chinese President Xi Jinping during a state visit to Beijing in January, the two sides agreed to manage territorial disputes amicably, but he has been more willing than his predecessor Rodrigo Duterte to publicize Beijing's aggressive deployments of coast guard and maritime militia vessels into Philippine-claimed waters.
According to officials from both sides, the maritime disputes are likely to be on the agenda during talks today. After yesterday's meeting, Sun said that China's delegation hoped to have an "in-depth communication on maritime-related issues." He added, "We also hope that today's consultation will lay a favorable atmosphere for tomorrow's discussions." Given the gap separating the two sides today, however, the best that the two sides can hope for is to prevent the frictions from getting any worse.