India-Japan Relations: Out of the Shadow of Ukraine
Amid fractured global politics, Kishida's visit to New Delhi proved how crucial India in for Japan's Indo-Pacific strategy.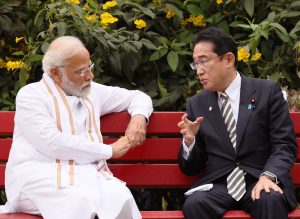 March is witnessing a whirlwind of high politics. Global conversations this week have pivoted to Chinese President Xi Jinping's visit to Moscow, and possible talks with Kyiv as Beijing plays peacemaker, riding high on the Iran-Saudi Arabia deal. However, China's pitch as a global peacemaker will not resonate with its Asian neighbors. This is evident in the India-Japan discourse, as they are often at the receiving end of Beijing's unilateral attempts to change the status quo, be it in the East China Sea or the Himalayas. 
Meanwhile, for Washington and its allies, the Indo-Pacific remained the centerpiece of March diplomacy. Japan unveiled its Free and Open Indo-Pacific (FOIP) Plan during Prime Minister Kishida Fumio's visit to India on March 20; Australia, the United Kingdom, and the United States (AUKUS) shored up deterrence in San Diego on March 13; and the Quad foreign ministers advanced the geostrategic agenda in New Delhi on March 3. Throw into this mix geoeconomics: the Bali negotiations from March 13-19 wove high-standard rules for the Indo-Pacific Economic Framework (IPEF). 
Takeaways from each of these discussions underscore the geopolitical jostling for power and influence with competing values, principles, norms, ideologies, and visions of order. From high-tech supply chains to emerging technologies, chips to undersea cables, balloons to drones – it's game on.
Within the frame of India's G-20 and Japan's G-7 presidencies this year, it is imperative to align their agendas on pressing global issues including food, energy, climate change, and health as Asian leadership is put to a litmus test at the global stage. 
Amid fractured global politics, Kishida's visit to New Delhi this week presented an opportunity to build bridges with Global South, a theme that is increasingly finding space in his key policy speeches. Japan's latest White Paper on Development Cooperation also contextualized its primacy. In engaging the Global South, Kishida demonstrates dexterity, arguing against imposing values and for "putting aside preconceptions" in "understanding of their respective historical and cultural backgrounds." 
However, there is a larger question underlying the India-Japan relationship: With differing positions in New Delhi and its Quad partners on Ukraine, is Tokyo still putting a premium on the India-Japan arc? 
Beijing's ascent in the international order has brought disequilibrium in the power balance between China and the United States at the global level, and China and its Asian neighbors at the regional level. These developments are making policy elites in both Tokyo and New Delhi revisit strategic options in pursuit of respective national interests. Beijing's ambition of building a "Great Wall of Steel," as articulated during the "Two Sessions," and what it entails for Asian geopolitics will further sharpen the texture of the India-Japan strategic partnership. Pushing back on Beijing's hegemonic aspirations and aggressive strategic posturing is a common cause. 
The regional security implications of Xi Jinping's consolidation of power in his third term, and a sharper narrative on modernization of national defense, backed by increased defense spending, is not lost on China's neighbors. Tokyo is buzzing with debates on shoring up deterrence with the revised National Security Strategy (NSS) last December. Japan's domestic discourse on security — be it raising the cost on China, acquiring counterstrike capabilities, doubling defense spending, or even the question of nuclear sharing — has taken shape amid a carefully crafted narrative of "Ukraine today may be East Asia tomorrow."
The political pulse on the pivotal issue of stabilizing the situation surrounding Taiwan is racing. While the China-Japan talk in Munich may be good optics, the undercurrents of trust deficit and perception gaps remain the defining feature. Tokyo's strategic calculus in rejecting the emergence of a Sino-centric regional order is deeply entrenched in its alliance with Washington. This is complemented with a universal values based multi-layered network of allies in the Indo-Pacific including Australia, India, Southeast Asian, and European powers. 
It is imperative to understand how India is weighed in Kishida's vision. Far from New Delhi losing relevance, the Quad partners have doubled down to buttress the strategic arc with India. India will have a pivotal role in shaping the basic direction of global politics with its strategic geography, demographic dividend, economic potential, and IT skills. Betting on India is the smart option. 
In his New Plan for a "Free and Open Indo-Pacific,", Kishida, in no uncertain terms, argued the case of India as an "indispensable partner." This echoes with Indo-Pacific Coordinator in the U.S. National Security Council Kurt Campbell's assessment that the relationship with India will be "the most important for the United States in the 21st century." 
The fact that Kishida chose Delhi as the stage for launching his signature FOIP Plan – the same launchpad that late Prime Minister Abe Shinzo used for his historic speech, "Confluence of the Two Seas," in August 2007 – underscores India's vitality in Japanese strategic thinking. 
India will be central in all the four pillars of Kishida's FOIP Plan, namely (a) principles for peace based on respect for diversity, inclusiveness and openness; (b) addressing challenges in an Indo-Pacific Way anchored on equal partnership; (c) multi-layered connectivity; and finally (d) security and safe use of both the sea and airspace. 
Japan's commitment to mobilize $75 billion by 2030 in public and private funds, through private investments and yen-denominated loans for Indo-Pacific infrastructure will be focused on advancing connectivity in Southeast Asia, South Asia, and the Pacific Islands. With the aim of de-risking supply chains and supporting economic advancement, India and Bangladesh will be the key anchors in advancing the "Bay of Bengal-Northeast India industrial value chain concept."
Whether in the power corridors of Washington, Canberra, Tokyo, India is positioned as a vital piece in their Indo-Pacific gameplan. Today the primacy of New Delhi in Tokyo's strategic outlook is firmly entrenched, as evident in official policy speeches and white papers. From Quad working groups to India-Japan-Australia Resilient Supply Chain Initiatives (RSCI), from Malabar to La Pérouse exercises, New Delhi and Tokyo are in top gear. 
Tracking closely the transformational policy debates in Tokyo – be it on revisiting the arms export principles and reinforcing economic security, or digitalization and advances in realizing Society 5.0 – would help India tap opportunities better. As such, the discussions in New Delhi will be geared toward positioning the India-Japan arc as a net positive asset in stabilizing the Indo-Pacific.