New Zealand's Middle East Strategy, 20 Years After the Iraq War
Amid rapidly evolving diplomacy in the Middle East, the time might be right for New Zealand to take another look at Iraq.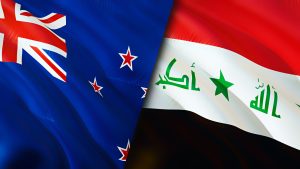 This week marks the 20th anniversary of the Iraq War.
While it strongly opposed the U.S.-led invasion, New Zealand's then government, led by Prime Minister Helen Clark of the Labor Party, did deploy military engineers to try to help rebuild Iraq in mid-2003. With violence soaring, their 12-month deployment ended without being renewed further, in 2004.
However, New Zealand re-entered Iraq in 2015 as part of the international coalition against the Islamic State of Iraq and Syria (ISIS) terrorist group. The emergence and growth of ISIS was one of many unintended consequences of the Iraq War's disastrous and bloody aftermath.
The government announced last year that the remaining two New Zealand personnel deployed as part of the coalition will be withdrawn by the end of June 2023.
New Zealand first opened an embassy in Baghdad in 1975 – one of its first missions in the Middle East – only to close it again in 1983. An embassy was re-established in Iraq in 2015 to support military operations, but the post was again closed in 2020 as the anti-ISIS mission wound down.
The time might be right for New Zealand to take another look at Iraq.
The past 20 years have been a long bloody road – but there is now a little optimism in the air. Monthly civilian deaths caused by conflict in Iraq are now at their lowest levels since the United States invaded in 2003, according to the Iraq Body Count group.
And the surprise pledge by Iran and Saudi Arabia to restore diplomatic ties has the potential to reshape the region. Behind the unexpected deal was an unexpected mediator – China – but much of the groundwork had also been laid by Iraq in talks that began in 2021. The Gulf state of Oman also played a pivotal role.
In theory, Iraq – which has significant Sunni, Shia, and Kurdish populations and sits geographically between Saudi Arabia and Iran – is perhaps a natural location for attempts to de-escalate regional tensions. Baghdad hosted a major new regional summit initiative co-organized with French President Emmanuel Macron in 2021, which inspired a follow-up event in Jordan in December that was dubbed "Baghdad II." The Iranian and Saudi foreign ministers spoke to each other on the sidelines of the conference in Amman, the Jordanian capital.
Iran has arguably been the big winner of ongoing turmoil and unrest in Iraq since 2003. Many political parties have the backing of Tehran, as do militia groups that operate under the Popular Mobilization Forces (PMF) banner.
It is unclear whether the Saudi-Iranian resumption of diplomatic ties will grow into something more – and whether Iran will dial down its role in Iraqi domestic politics. But China's involvement in the deal suggests that Iran and Saudi Arabia may have realized there is more to be gained from working together than fighting old battles.
The commitment by Tehran and Riyadh to at least contemplate burying the hatchet – with Beijing's assistance – shows that a more economic focus could be on the horizon.
For New Zealand, which has maintained embassies in Beijing, Tehran, and Riyadh for decades, any rapprochement could boost long-term trade prospects in the Middle East.
Iran – now home to 80 million people – was once the second-biggest buyer of New Zealand lamb.
For its part, Iraq holds the fifth-largest proven oil reserves in the world. Newly-built skyscrapers in the Kurdish-controlled northern city of Erbil show that this wealth is already being felt by some – if not by all. Around a quarter of Iraq's population of 43 million live below the poverty line, while over a third of young people aged under 24 are unemployed.
Peace would be good news for the Middle East. However, a deal involving China, Iran, and Saudi Arabia – matched with Bashar al-Assad's likely victory in Syria – shows the shifts will probably come without democracy. New Zealand will have to wrestle with human rights issues in its approach to the region.
Nanaia Mahuta, New Zealand's foreign minister, recently condemned Iran's "violent repression of protest activity" in a speech to the U.N. Human Rights Council – and imposed travel bans and other restrictions on members of the country's leadership.
New Zealand may be wary of getting involved too deeply in the Middle East. Change is clearly underway, but the region is likely to remain a diplomatic minefield.
Still, if Beijing is interested, Wellington probably should be too. New Zealand may want to think about re-opening its embassy in Baghdad – again.
This article was originally published by the Democracy Project, which aims to enhance New Zealand's democracy and public life by promoting critical thinking, analysis, debate, and engagement in politics and society.