Sri Lankan State Workers Strike, Protesting High Taxes
The government says it was compelled to raise taxes to strengthen state revenue, a key prerequisite to unlocking the $2.9 billion IMF package.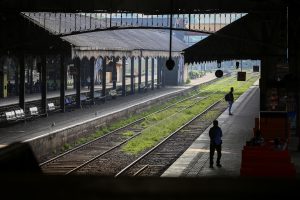 Sri Lankan health, railway, port and other state workers were on a daylong strike Wednesday to protest against sharp increases in income taxes and electricity charges, as the island nation awaits approval of an International Monetary Fund package to aid its bankrupt economy.
Most government hospitals around the country suspended their outpatient clinics because doctors, nurses and pharmacists were on strike. The railways operated fewer trains and armed soldiers guarded carriages and train stations fearing sabotage.
Trade unions say the increase in taxes and electricity charges have hit them hard amid difficulties from the country's worst economic crisis. They have threatened to extend the strike indefinitely if the government fails to address their demands.
The government says it was compelled to raise taxes to strengthen state revenue and electricity charges to cover production costs, key prerequisites to unlocking the proposed $2.9 billion IMF package. Authorities say they managed to operate some trains and most state banks despite the strike.
IMF Managing Director Kristalina Georgieva said last week the fund's board will meet on March 20 to consider the final approval of Sri Lanka's bailout package after China gave crucial debt restructuring assurances.
Sri Lanka announced last year it was suspending repayment of its foreign loans amid a severe foreign currency crisis that resulted in shortages of fuel, food, medicines and cooking gas, along with long power cuts. The crisis led to street protests that forced then-President Gotabaya Rajapaksa to flee the country and resign.
President Ranil Wickremesinghe, since taking over last July, has managed to end the power cuts and reduce shortages.
The Central Bank has said the country's reserves have improved and Sri Lanka's rupee has started to strengthen after crashing last year. The Central Bank has wrested back control of foreign currency trade from the black market, the monetary authority says.
However, critics say the strengthening of the currency might be linked to import controls and that it is bound to weaken once the country reopens for imports.
Wickremesinghe told Parliament last week that difficult reforms are needed to remain on course with the IMF program. Sidestepping them, as the country has done on 16 previous occasions, could spell danger, he added, noting that any breakdown would compel Sri Lanka to repay $6-7 billion of foreign debt every year until 2029.
However, he found no support from the opposition parties and the public, who say he is shielding the ousted Rajapaksa family from allegations of corruption, which they say caused the economic crisis, in return for their support for his presidency.