The Taiwan Emergency Debate … in Taiwan
What do the Taiwanese people themselves think?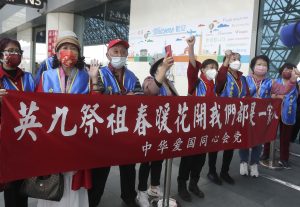 In February, the Taiwanese Public Opinion Foundation (TPOF) announced the latest results of an opinion poll that asked "If the Chinese Communist Party invades Taiwan by force, do you believe the United States will send troops to defend Taiwan?" Compared to the previous poll in August 2022, the number of respondents answering "don't know" were up by more than 2 points [2020: 8.4 percent, 2023: 10.7 percent], while "believe" accounted for 42.8 percent [2022: 44.1 percent] and "do not believe" 46.5 percent [2022: 47.5 percent] of responses, almost unchanged from the previous poll. As is widely known, in October 2021, before Russia's invasion of Ukraine, "believe" was at 65 percent and "do not believe" had only been 28.5 percent, which indicates a significant change. Of course, in March 2022, immediately after Russia's invasion, "do not believe" was 55.9 percent ["believe" 34.5 percent], before it tapered down to 46.5 percent, suggesting that U.S. lobbying has been relatively effective. Even so, it will take considerable time to get back to the situation before the invasion of Ukraine.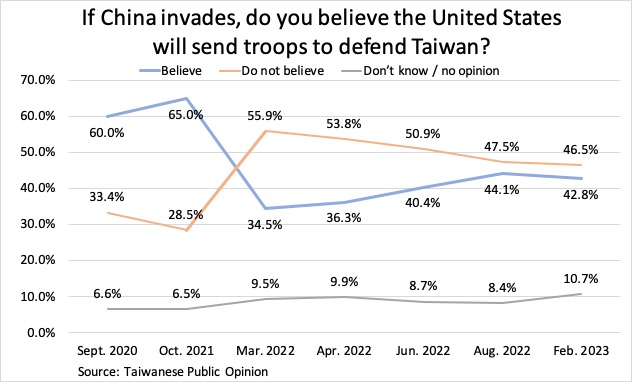 The so-called Taiwan emergency is also of great concern to neighboring Japan, and there has been considerable debate about what Japan can do in a crisis. If the Japanese Self-Defense Forces were to become involved in a Taiwan emergency, it would only be to support and cooperate with the U.S. military. If the U.S. military chose not to act, it would be difficult under existing Japanese law for the Self-Defense Forces to become directly involved.
Why does public opinion in Taiwan think that the U.S. military will not come to the Taiwan Strait? For one thing, the U.S. military did not dispatch forces to Ukraine, which is not an ally, and the U.S. is unlikely to become directly involved in the war in Ukraine given concerns about the potential for escalation. Despite the existence of the Taiwan Relations Act, Taiwan is not a formal ally of the U.S., and its state and government are not even recognized as such. Moreover, according to a simulation in the Center for Strategic and International Studies report, if a Taiwan emergency were to occur and the United States were to dispatch forces, they would likely sustain considerable losses, including the loss of aircraft carriers, which leads to the prediction that Washington would not dare commit its forces. Of course, this likely also has to do with negative campaigns, including disinformation from China and the Kuomintang (KMT), the latter of which is opposed to the Democratic Progressive Party (DPP) government's policy toward the United States.
Moreover, Taiwanese opinion polls in the near future may no longer show a majority that expects China to invade Taiwan by force. A look at the polls reveals considerable diversity, so that even if half or more of Taiwanese say that they "do not know whether the U.S. military will come to their aid in the event of an emergency in Taiwan," Taiwanese do not at any rate necessarily think that "today's Ukraine will be tomorrow's Taiwan" or that "China will launch military action against Taiwan in the near future." Of course, that doesn't mean that Taiwanese people are blasé about China. Rather, it is clear that as they go about their daily lives they do not feel that a crisis in the Taiwan Strait is imminent, but sense instead that China is ratcheting up the pressure on Taiwan in an effort to promote reunification with Taiwan as a relatively long-term strategy.
China has been bolstering its military power, demonstrating it to the Taiwanese people through exercises and other means, applying pressure, suspending imports of certain products on the economic front, pouring disinformation into social media and other online spaces, launching cyberattacks to disrupt Taiwan's democracy, and criticizing the Tsai Ing-wen administration. It is precisely because they feel this pressure every day that Taiwanese people recognize the ways in which China is currently trying to pressure them to move toward unification. However, as many opinion polls also show, a majority of Taiwanese want to "maintain the status quo," a number that rises to nearly 80 percent of respondents if we include the phrase "somewhat independent." It is inconceivable that Taiwanese will bow to Chinese pressure and opt for "unification." The issue is what might happen if the Xi Jinping administration concludes that its pressure policy is ineffective. In those circumstances, military pressure could rise, the situation may enter a new phase, and invasion may be the ultimate outcome.
In thinking about a Taiwan emergency, it is important to fully understand not only Chinese policy and perceptions about its effects, but also the perceptions of the Taiwanese people themselves, given their position on the frontlines of any crisis. Discussing a Taiwan emergency and how to deal with it without considering this aspect would be disconnected from reality.