What Does China Expect From Malaysia Relations Under Anwar?
China-Malaysia relations are going to see good opportunities with Anwar in office. However, it is not safe to assume that relations will develop smoothly.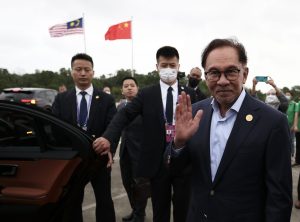 Following Malaysia's general election last November, the chairman of Pakatan Harapan (PH) Anwar Ibrahim was officially sworn in as the nation's 10th prime minister. Anwar was able to form government through a partnership between PH and Barisan Nasional (BN), and the public holds high expectations for the new prime minster. But it remains to be seen whether he can keep his unity government actually united, as PH and BN have been in opposition to each other historically.
As if that weren't enough, Anwar is faced with big challenges in managing Malaysia's foreign affairs amid the intense China-U.S. power competition in Southeast Asia.
Soon coming to power, Anwar visited Malaysia's Southeast Asian neighbors, including the Philippines, Indonesia, and Cambodia, and traveled to Saudi Arabia to consolidate the traditional friendship with the Muslim states.
But China was Anwar's next destination after his Southeast Asia tours and trip to the Middle East. He attended the Boao Forum for Asia on March 28, the first stop on a a four-day trip in China. It is clear that Anwar wants to push forward China-Malaysia relations by taking full advantage of the 10th anniversary of the establishment of the comprehensive strategic partnership between China and Malaysia this year, and next year's 50th anniversary of the establishment of the diplomatic ties between the two countries.
From a Chinese perspective, Anwar is seen as a strong advocate for a liberalized, multicultural, and diverse society, with a focus on foreign economic cooperation and regional stability. His premiership will provide more opportunities for the booming development of Sino-Malaysian relations.
For example, on his visit, Anwar led a business delegation including the minister of international trade and industry, the minister of transport, and the minister for local government development to visit China. That showed his intention to promote the trade and investment cooperation with China.
All the main political parties in Malaysia maintain friendly disposition toward China, laying a solid foundation for the advancement of Sino-Malaysian ties.
For instance, when contesting the election, Anwar's Pakatan Harapan coalition, led by Parti Keadilan Rakyat, didn't use the so-called "China threat" as a bargaining chip to win votes. Fellow governing partner BN, Malaysia's long-ruling political coalition, represented by UMNO, has long been committed to a friendship policy toward China, and sees China as an economic partner instead of a strategic threat. The political parties representing the Chinese community in Malaysia, including Malaysian Chinese Association (MCA), have been cooperating with China in different fields, such as trade investment, culture, and education. Also, the political parties in East Malaysia seek close economic ties to China to reduce their dependence on West Malaysia.
All of the above demonstrate that China-Malaysia relations are going to see good opportunities with Anwar in office. However, it is not safe to assume that relations will develop smoothly.
On the internal level, the fast-growing Malaysian Islamic Party and its religious nationalism are giving rise to nationalist sentiment, which could take its toll on China-Malaysia relations.
First of all, Malaysian nationalists are concerned that Chinese investment and the Belt and Road Initiative (BRI) could weaken the political power of the Malays. Parti Pribumi Bersatu Malaysia (PPBM) and other nationalist factions have criticized former Prime Minister Najib Razak for giving too much economic profit to China. Such sentiments contributed to the suspension of three major Chinese-funded projects, including the construction of the East Coast Rail Link (ECRL) under the PPBM and PH coalition government. The former government also banned the publication of pro-BRI comic books due to highly controversial content.
In spite of the resumption of the ECRL project a few months later, negative perceptions toward the BRI – it is associated with corrupted officials – are imprinted on the Malaysian society. Therefore, corruption allegations will be the main weapon used by opposition parties to attack the government, and the BRI projects may become a potential target of the factionalism in Malaysia.
In addition, right-wing nationalists even fear that too much investment from China will strengthen the political status of the Chinese community in Malaysia. Hence, Malaysia will be under China's thumb. The IRIS, a Malaysian nationalist think tank, has long held a hostile stance toward Malaysian Chinese and China.
Finally, Malay nationalists complain that China is acting arbitrarily in the South China Sea dispute, and thus press the government to take harder position in maritime issue. PPBM and Muslim political parties have also condemned China on its treatment of the Uyghurs in Xinjiang.
At the external level, the United States has enhanced defense cooperation with its allies and partners in Southeast Asia through arms trade and military exercises, so as to counter China's rise. Washington has also increased its trade and investment connections with the Southeast Asian nations by implementing the Indo-Pacific Economic Framework, aiming to compete with the BRI. With increasing pressure from Washington to take sides between the United States and China, it becomes more and more difficult for Malaysia to continue with its balancing approach.
To conclude, warm China-Malaysia relations, thriving economic cooperation in particular, could be witnessed during the Anwar era, but the anti-Chinese sentiment led by the Malay nationalists and U.S. pressure are the main challenges.