Where Next for ASEAN-Japan Relations in a Changing Indo-Pacific?
Both sides confront a challenging strategic context as they look to commemorate 50 years of diplomatic relations.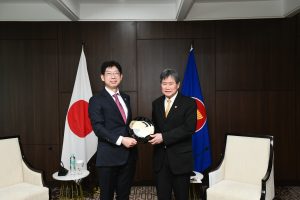 This year marks the 50th anniversary relations between Japan and the Association of Southeast Asian Nations (ASEAN), and both sides have organized a series of commemorative engagements out to a planned summit towards the end of the year. This process will take place amid the broader question about the future opportunities and challenges in ASEAN-Japan relations in a rapidly changing Indo-Pacific region.
ASEAN-Japan relations have certainly made significant inroads since ties were initially informally established in 1973. Cooperation with key ASEAN states has been able to transcend lingering perceptions from the World War II era, in part due to Tokyo's efforts. These included the announcement of the historic Fukuda Doctrine in 1977, Japan's status as the regional grouping's first-ever dialogue partner, and Japanese assistance that was provided at key junctures, including during the Asian financial crisis in 1997-1998 and when the region was forging responses to transnational threats in the 2000s. As a result, Japan has not only emerged as one of the region's top economic, security and diplomatic partners, but also its most trusted one by some estimates.
Yet ties today also confront a more challenging strategic context. As Japan chairs the Group of Seven (G-7) and ASEAN continues its annual string of meetings under Indonesia's chairmanship year in 2023, they both face an environment where major power rivalry has intensified, traditional regional and international institutions are under stress, and growth is still recovering from the COVID-19 pandemic with a potential recession looming. More broadly, fast-paced changes such as the proliferation of new and emerging technologies, new challenges in areas like supply chains and decarbonization, and a more crowded major power mix in Southeast Asia also mean that both sides need to once again recalibrate their ties to account for these shifting dynamics.
The two sides recognize these realities, and the ongoing work for this commemorative year is already beginning to reflect that. ASEAN and Japan are likely to move forward on upgrading their ties to the level of a comprehensive strategic partnership – the highest tier of partnership offered by the regional grouping that China entered into in 2021 and the United States did in 2022 – and forge deeper cooperation in areas such as infrastructure and human resource development. Japan is also likely to play a role in helping the mainstreaming process of the ASEAN Indo-Pacific Outlook (AOIP) in areas like maritime cooperation, connectivity, sustainable development and economics, which Indonesia has helped keep alive since its original adoption in 2019. This is in line with the development of its own shifting Indo-Pacific strategy built on the foundations of the approach originally championed by the late Prime Minister Abe Shinzo.
But there is also a recognition that both sides need to do more. On the ASEAN side, beyond help that Japan can provide in areas like the AOIP, the grouping needs to find ways to reassert its own centrality in a changing institutional context, including new minilateral mechanisms like the Quadrilateral Security Dialogue that are providing public goods and sectoral agreements like the Digital Economy Partnership Agreement. While promising, these also intensify pressure on ASEAN to make inroads on its own digital framework pact, which it was originally set to do by 2025. On Japan's side, even Tokyo's own diplomats now candidly note publicly some shifts that could help in areas that have been recognized privately, like on economic assistance in key ASEAN countries.
Making these advances are not without their share of challenges. On ASEAN's part, as the then-ASEAN Secretary General Lim Jock Hoi wrote late last year before departing his post, navigating this strategic environment may require not just programmatic advancements, but also reimagining the very conception of the ASEAN community as the group charts out its post-2025 vision even as it also manages the ongoing situation in Myanmar. For Japan, playing a bridge-building role that takes into account views from the Global South, as Prime Minister Kishida Fumio has rightly stressed, could prove even more challenging if the Russia-Ukraine war continues to drag on and the world economic environment takes a turn for the worse.
These challenges are far from insurmountable. And as the theme of this year's ASEAN-Japan anniversary, "Golden Friendship, Golden Opportunities," illustrates, navigating them together can help not only navigate obstacles, but also unlock opportunities to broaden and deepen collaboration for the next half century in the Indo-Pacific region.