Why India and Pakistan Should Work Toward a Joint Framework Against Smog
A transboundary problem, smog inflicts a heavy burden on public health and the economies of the two countries.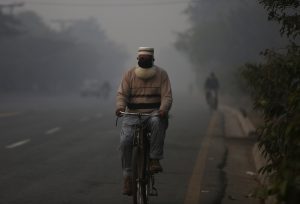 South Asia's environmental challenges are regional and present opportunities for cooperation in unconventional spaces, especially for India and Pakistan. This can in turn help achieve cooperation in the conventional domain as well.
Despite acrimonious relations, the rapidly unfolding environmental changes can compel India and Pakistan to explore cooperative mechanisms. A case in point is smog which impacts the Punjab provinces of both South Asian nations. This transboundary issue cannot be solved in isolation by either country; they need to work together to develop a joint policy framework to make the environment smog-free. By jointly tackling smog, they have an avenue to positively impact the overall spectrum of bilateral ties, particularly in the non-traditional security domain.
Air pollution is a major problem in Pakistani cities, particularly in the most populous Punjab province. However, in the last two decades, smog, which is a hazardous kind of air pollution, has made Punjab's environment unbreathable and more toxic for its citizens. Smog forms when sunlight reacts with air pollutant PM2.5—fine particulate matter with a diameter of 2.5 micrometers. These air pollutants are small enough to be inhaled deeply into the lungs and can cause adverse health effects.
According to the November 2021 IQ Air report, Punjab's major cities like Faisalabad, Lahore, and Gujranwala have air quality data of 297.2 μg/m3, 271.8 μg/m3, and 201.6 μg/m3, respectively, far exceeding the standard safe limit of 35 µg/m3 for humans. The good air quality index, according to the World Health Organization, is 50 or below, but Lahore's AQI averages between 300-400 micrograms per cubic from October to February, the period when smog is thickest.
The World Bank estimates that Pakistan's annual burden of disease due to outdoor air pollution accounts for 22,000 premature adult deaths, while indoor pollution accounts for 40 million cases of acute respiratory infections and 28,000 deaths per year. The major contributing factors to smog are traffic pollution, crop and coal burning, and industrialization. Smog leads to significant problems, including health issues related to the lungs, eyes, skin and heart as well as overcrowding of hospitals and the closure of educational institutions. Smog is known as the fifth season in Pakistan.
India's air pollution crisis is well-known as 30 of the world's most polluted cities are in India. Delhi Chief Minister Arvind Kejriwal has, in fact, described the Indian capital as a "gas chamber" due to its severe air pollution. India's growing urban population has led to increased demand for vehicles, energy usage and construction activities, resulting in higher levels of fossil fuel combustion, air pollution, and greenhouse gas emissions. The Indian National Ambient Air Quality Monitoring Program has identified several common air pollutants in the country, including PM2.5, PM10, NO2, and black carbon.
Poor air quality in India is the second largest risk factor contributing to India's disease burden. The Health Effect Institute's 2018 report projects a rise in the death rate in India from 1.1 million in 2015 to 1.7 million in 2030. Burning biomass in fields poses a grave threat to soil and environmental quality, as well as human health. This harmful practice is responsible for a staggering 26 percent increase in air pollution levels (specifically, PM 2.5) in the National Capital Region (NCR) during the winter season. Air pollution puts human security at risk and reduces life expectancy in affected regions by six years. For all this, environmental problems are still poorly understood by the general public.
The problem of smog is transboundary, and therefore cannot be solved in isolation either by Pakistan or by India. The Indo-Gangetic region, which includes areas from both the Punjab regions of India and Pakistan, is highly affected by smog.
It is estimated that the economic cost of air pollution to the Indian economy is more than $150 billion per year while that to the Pakistani economy is around $47.8 billion or 5.88 percent of the GDP. The economic burden that smog inflicts on the Indian and Pakistani economies underscores the need for a policy framework that would ensure a smog-free environment on either side of the border.
Through cooperation and information sharing, both countries can find solutions to this critical environmental problem. First, there is a need to identify the interconnected reasons for smog during winter in both countries, including coal industries, crop burning, India's Diwali festivities, and the burning of fossil fuels. Second, a consensus that acknowledges smog as a shared problem affecting heavily industrialized and populated cities across borders is needed. Finally, both countries need to acknowledge that the issue lies within the human security paradigm, affecting the health and well-being of citizens on both sides of the border.
Only by working together and addressing the root causes of smog can a sustainable solution be found.  To address the problem of smog, it must be securitized by the Indian and Pakistani governments. This involves elevating the issue to a high-level political priority.
However, the securitization process will be ineffective if it involves only a limited group of elites. To fully securitize the issue, it must be sensitized and integrated into daily public discourse. This requires breaking down the traditional understanding of security in politics, leading to a series of events that ultimately results in a policy framework to combat smog on a regional level. For this to happen, the public on both sides of the border must recognize the seriousness of the issue and make it a priority for their respective governments.
Mitigating smog through dialogue can offer a roadmap for collaboration between the two countries through the prism of environment-peace building.
Historically, India-Pakistan relations have been defined by fear and balance, resulting in strained bilateral ties. However, by working together to mitigate the smog problem in the Indo-Gangetic region, there is a chance to shift the relationship towards open dialogue and improved diplomatic engagement. Both nations must seize this opportunity to strengthen their bond and work towards a sustainable future for the region.