Japan PM Escapes Election Bomb Attack 
Less than a year after Abe's murder, violence again erupted on the election campaign trail, raising concerns about how to protect public figures in Japan.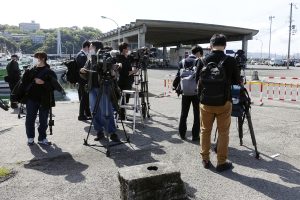 On Saturday, Japanese Prime Minister Kishida Fumio was unharmed after an explosive device went off before he was scheduled to give an outdoor election speech in a fishing port in south Japan. There were approximately 200 audience members but only one police officer sustained minor injuries. The 24-year-old suspect, who was unknown to police, was immediately tackled by police and has been arrested.
Security personnel shielded Kishida from the cylindrical device with a bulletproof briefcase. A local fisherman who also tackled the suspect told the Mainichi Shimbun that most of the attendees were residents and the young man's backpack stood out. He added that the suspect's movements in the lead up to the bomb being thrown were "unnatural" and suspicious.
An internal probe is underway to determine how Kishida's security detail allowed the bomb to be thrown in the first place. Authorities are investigating the motive for the attack and believe the explosive device was a likely handmade pipe bomb. The device is also being analyzed to determine if it had a capacity to kill.
Kishida denounced the attack saying, "We cannot allow such a violent act to take place during an election, which is the foundation of democracy." On Twitter Kishida thanked the security personnel and his supporters who attended the political rally. He promised to "take all security measures" to ensure the election campaign for each political party goes smoothly.
The latest incident has triggered traumatic memories of the assassination of former Prime Minister Abe Shinzo who was shot during an election rally by a man who held a grudge against Abe's ties to a controversial religious group.
In response to Abe's assassination, the National Police Agency (NPA) and prefectural police have revamped police coordination. The NPA is tasked with intelligence gathering and analyzing the risk of attacks, while local police are in charge of conducting on-site inspections and eliminating any blind spots in security coverage.
Since Abe's assassination the NPA has also stepped up efforts to remove online information on how to build weapons and explosives, but taking down dangerous content from overseas websites is a major challenge.
Despite these changes, the risk of sudden attacks on dignitaries in outdoor areas remains. In Japan, election candidates place importance on interacting with local voters and holding speeches on the street without any security checkpoints. Both Abe's assassination and the attack on Kishida took place during an outdoor election speech, and both suspects were able to blend in with the audience and get close to their target. Kishida's schedule was made public on the Liberal Democratic Party (LDP) website, making it easy for anyone to access Kishida's upcoming public appearances.
An editorial published by The Yomiuri Newspaper commented that Japan's prestige is on the line, as any lapse in security during the G-7 Summit in Hiroshima in May would trigger a loss of confidence from the international community. Only one month ago authorities expressed confidence in Japan's G-7 security arrangements but there will undoubtedly be diplomatic requests for security to be bolstered. South Korea has already raised concerns about the size of Hiroshima airport, which will see the presidential plane need to be switched to a smaller aircraft.
Authorities say security protocols will be reassessed for the G-7 Summit. Japan's National Police Agency has not disclosed how many police personnel will be deployed to Hiroshima, but it could be higher than the 32,000 personnel mobilized for the G-20 Summit hosted by Japan in 2019.
The latest incident is the third time a sitting prime minister has been attacked since the end of World War II. In 1960, Prime Minister Kishi Nobusuke was seriously wounded after being stabbed six times in the thigh. This was followed by Prime Minister Miki Takeo getting punched in the face while attending the national funeral of a former prime minister in 1975. Both of the perpetrators were right wing activists.
As of this writing, it is unclear if the suspect in the current incident is a "lone wolf" or a copy-cat assailant.