Old Tricks in a New Uzbekistan: Constitutional Reform and Popular Legitimacy
The referendum may be a way of employing old tricks to extend Mirziyoyev's rule, but a total reversion to the "old ways" could also prove detrimental to his regime.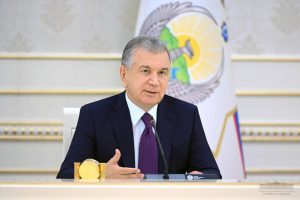 The long journey of constitutional reforms in Uzbekistan is nearing its conclusion as the Oliy Majlis (Uzbekistan's parliament) has scheduled a national referendum for April 30. The process was initiated by President Shavkat Mirziyoyev, who emphasized the need for a revised constitution during his second inauguration speech following his re-election in late 2021. The final draft revealed a substantial update, altering approximately 65 percent of the constitution, including the introduction of 27 new articles and 159 new provisions. Despite these comprehensive changes, numerous observers speculate that the primary motivation behind the referendum is to enable Mirziyoyev to seek a third or even potentially a fourth term as president. While this is not totally unexpected, a bigger question is whether this is the end of the "Uzbek thaw" or not. 
On the one hand, Mirziyoyev came to power over six years ago following the death of his ruthless predecessor, Islam Karimov. Throughout his political career, Mirziyoyev served in Karimov's regime, including a 13-year stint as prime minister. Consequently, it is not surprising that Mirziyoyev is following in his mentor's footsteps by altering presidential term limits to prolong his time in office.
On the other hand, Mirziyoyev has initiated large-scale transformative reforms while in office, fostering optimism about the country's future. The primary objective of these modernization efforts has been to incorporate Uzbekistan into the global economic system. Additionally, the reform agenda has addressed freedom of speech, religion, and other civil liberties, albeit to a more limited extent. Although many experts remain skeptical about the prospects for genuine democratization in Uzbekistan, a total reversion to the "old ways" could also prove detrimental to Mirziyoyev's rule.
In an effort to distance himself from Karimov's legacy, Mirziyoyev's leadership has also embraced a shift in political legitimation. He pledges to achieve tangible socioeconomic improvements, such as better employment, housing, and poverty alleviation, rather than simply making promises on paper. A key characteristic of his governance style is the concept of a "listening state" that actively engages in dialogue with citizens to address their grievances, instead of suppressing them. Data from the Oxus Society's Central Asia Protest Tracker reinforces this new vision, showing that an overwhelming majority of social protests are met with either constructive or neutral responses from government agents.
Internationally, Mirziyoyev has cultivated a reputation as a reformist, opening up Uzbekistan to the outside world after a decade of international isolation. His actions spurred a new wave of regional cooperation in Central Asia, an effort that is at the forefront of his foreign policy agenda. Reinvigorating relations with the Western world and financial institutions in order to attract foreign investment became another distinguishing feature of post-Karimov Uzbekistan. The international community welcomed the restructuring of the notorious state security body (SNB), the release of political prisoners, and the elimination of forced labor in the cotton fields as positive steps toward greater human rights protections. Given these concrete changes, any noticeable deviation from this path could jeopardize Mirziyoyev's popular legitimacy.
This is the seventh time the constitution is being considerably altered in Uzbekistan since its introduction in 1992. The Mirziyoyev administration is following the trend of evading term limits and using mixed strategies to zero out previous terms served. But the process of the constitutional reform this time suggests the leadership understands well what has changed. For example, the regime has never sought to gain additional procedural legitimacy by obtaining a legal assessment from the constitutional court until this time. 
Symbolically, the regime is vigorously trying to frame the public as the main and only author of "New Uzbekistan's new constitution." Even videos with citizens demanding a longer term for Mirziyoyev circulated on social media. Representatives of business, art, and the intelligentsia have been mobilized to give speeches during rallies in support of constitutional amendments. 
As a response to protests in Nukus last summer, Mirziyoyev immediately withdrew proposed changes to the autonomous status of Karakalpakstan. During a subsequent speech, he blamed local MPs for "not telling him that people are unhappy," and pointed out that "a new constitution will be drafted and changed only according to people's suggestions." 
Overall, the public plebiscite on the constitutional amendments has been portrayed as a de facto vote of confidence in Mirziyoyev's rule. Thus, the timing is also key. Halfway through his seventh year in charge, the popularity of Mirziyoyev's reforms is at a tipping point. If delayed further, rising frustration about the pace of changes slowing down could hinder a smooth reset of the clock.
With the referendum's results highly preordained, what comes after is the main cause for concern: It is not yet clear if Mirziyoyev's government will continue to advance reforms or put them on hold, risking a crisis of legitimacy. What is clear is that either option might be a great challenge for his regime.