Pakistan Denies Israel Trade After Businessman's Export
The two countries do not have diplomatic ties.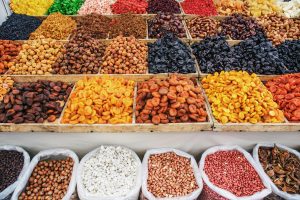 Pakistan on Sunday denied rumors of trade with Israel following a Jewish businessman's tweet about successfully exporting food samples to Jerusalem and Haifa.
Fishel Benkhald, a Pakistani Jew based in the southern port city of Karachi, went viral for tweeting about his first kosher food shipment to Israel. The two countries do not have diplomatic ties.
"Congratulations to me as a Pakistani. I exported the first batch of Pakistan food products to the Israel market," he said last week.
Benkhald shared a video clip showing his visit to an Israeli market. He walks past stalls with containers of dates, dried fruit and spices with product tags in Hebrew.
Pakistan denied having any diplomatic or trade relations with Israel. "There is no change in the policy," Foreign Ministry spokesperson Mumtaz Zahra Baloch told media in response to queries about bilateral trade.
Pakistan officially backs a two-state solution to the Israeli–Palestinian conflict and has a longstanding position of non-recognition of Israel until an independent Palestinian state is established within the pre-1967 borders and with East Jerusalem as its capital.
Pakistan's Commerce Ministry said rumors of bilateral trade were "sheer propaganda." "Neither do we have any trade relations with Israel nor do we intend to develop any," it said in a statement.
Benkhald, who is part of a dwindling Jewish community in the Muslim majority-nation of 220 million, had his religion status in his national Pakistani documents corrected from Islam to Judaism in 2017. Although a statement on his Pakistani passport says the document is valid for travel to all countries except Israel, he is the first Pakistani to have officially performed a pilgrimage there with the permission of Islamabad.
"Food, trade, music and tourism bring people together. Let's build bridges," Benkhald said in his tweet.
Benkhald sent food samples to three businesspeople in Jerusalem and Haifa through the United Arab Emirates, where he met them at food exhibitions, according to the Commerce Ministry. The ministry said the shipment was not supported by the Pakistan government and no banking or official channel was involved.
The American Jewish Congress earlier welcomed news of the shipment, saying it could have wider implications for the two countries' economies and for the region at large. It said Benkhald was at the heart of a small, but growing Pakistani kosher industry exporting food to different destinations.
But there were mixed opinions in Pakistan about Benkhald's venture. Shireen Mazari, a key leader from ex-Prime Minister Imran Khan's party and former minister for human rights, criticized the government and asked how a Pakistani citizen was exporting to Israel directly and visiting the country on a Pakistani passport.
But an interfaith representative from the current administration, Tahir Mehmood Ashrafi, said Benkhald was permitted to visit Israel during Khan's tenure.