Papuan Separatists Ambush Indonesian Forces Searching for Kidnapped Pilot
In addition to one confirmed death, nine soldiers have reportedly been taken hostage by separatist rebels.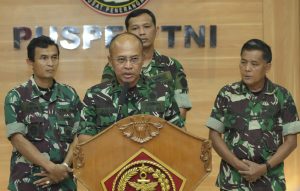 Separatist gunmen have killed at least one Indonesian soldier in an attack on a squad of troops attempting to rescue a New Zealand pilot who has been held captive in a remote part of highland Papua since February.
According to The Associated Press, which cited Indonesian army reports, fighters from the West Papua National Liberation Army (TPNPB), the armed wing of the Free Papua Movement, on Saturday opened fire on a group of around 36 soldiers in Nduga Regency, a center of separatist activity in Highland Papua province. At least six died and 21 others fled into the jungle following the attack, the AP reported, while nine soldiers are believed to have been captured by rebels.
Sebby Sambom, a spokesperson for the TPNPB, which is fighting for independence from the Indonesian state, said that nine soldiers were killed in Saturday's ambush, but he did not say if any separatist fighters had been killed or injured, BenarNews reported.
Captain Philip Mehrtens was kidnapped on February 7, after landing a small plane at Paro Airport in Nduga, along with five passengers, including an infant. Accusing New Zealand of providing support to Indonesia's security forces, the TPNPB subsequently announced that Mehrtens would not be released until the Indonesian government acknowledged Papua's independence. The other passengers were released.
Indonesian military officials said the soldiers were part of a group that had been dispatched to Nduga province to search for a New Zealand pilot captured by separatist rebels. First Adm. Julius Widjojono, an Indonesian military spokesperson, said that the TPNPB fighters confronted the Indonesian troops as they searched an area close to where Mehrtens is believed to be being held. The separatists shot a soldier who fell into a 15-meter-deep ravine, and then fired on troops when they sought to recover his body.
"It's still unknown exactly how many Indonesian army troops died and were injured," Papua military spokesperson Col. Herman Taryaman told reporters. "We are still searching, but heavy rain, foggy weather and a lack of communication have hampered our search and evacuation efforts."
The kidnapping – just the second that the TPNPB has committed since 1996 – reflects the deteriorating security situation in Indonesia's easternmost province. A separatist insurgency has existed in Papua since the region was absorbed by Indonesia after what independence activists say was a flawed U.N. referendum in 1969. But the conflict has worsened considerably in recent years, as the Indonesian state has extended infrastructure and transport links into the heart of highland Papua. This has inflamed resistance, prompting more sophisticated and successful attacks by TPNPB and other pro-independence groups, which has been followed by further Indonesian military deployments, in a spiral of conflict that shows no signs of ending anytime soon.
Saturday's attack is an indication of this intractability. The Free Papua Movement clearly lacks the firepower and the international sympathy to detach the region from Jakarta's rule, but the Indonesian Armed Forces stand merely to bleed themselves of resources and manpower in seeking to defeat the dedicated insurgency by force. The only likely outcome is continued instability until one or the other side come to see that there is more to be gained via negotiations that from the barrel of a gun.