Reclusive Taliban Leader Releases End-of-Ramadan Message
Akhundzada has played a bigger role of late in directing domestic policy, including banning girls' education and role in public life.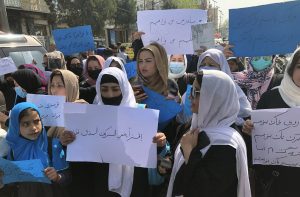 The reclusive top leader of the Taliban released a message Tuesday lauding the changes in Afghanistan since the Taliban takeover and the measures they imposed after seizing the country following two decades of war.
The statement from Hibatullah Akhundzada was made public ahead of the Eid al-Fitr holiday later this week, which marks the end of the fasting Muslim month of Ramadan.
Akhundzada, an Islamic scholar, rarely appears in public or leaves the Taliban heartland in Afghanistan's southern Kandahar province. He surrounds himself with other religious scholars and allies who oppose education and work for women.
In recent months, Akhundzada appears to have taken a stronger hand in directing domestic policy, banning girls' education after the sixth grade and barring Afghan women from public life and work, especially for non-governmental organizations and the United Nations.
The message was distributed in five languages: Arabic, Dari, English, Pashto and Urdu. The Taliban, Akhundzada says, have taken "significant reform measures" in culture, education, the economy, media and other fields.
"The bad intellectual and moral effects of the 20-year occupation are about to finish," he said, extolling "living in the light" of Sharia, or Islamic law.
This, he instructed Afghans, would lead to the "well-being of our world and the hereafter, as well as eternal happiness, success and salvation of our society."
Despite initial promises of a more moderate rule than during their previous stint in power in the 1990s, the Taliban have imposed harsh measures since seizing Afghanistan in August 2021 as U.S. and NATO forces were pulling out.
The Taliban have also barred women from public spaces, like parks and gyms, and cracked down on media freedoms. The measures have triggered a fierce international uproar, increasing the country's isolation at a time when its economy has collapsed — and worsening a humanitarian crisis.
Akhundzada reiterated his call for other countries to stop interfering in Afghanistan's internal affairs, and said Afghans should not rely on others for rebuilding and reconstruction efforts. He stressed that the main goal of the Taliban struggle was implementing Islamic law in Afghanistan.
Michael Kugelman, the deputy director of the Asia program and senior associate for South Asia at the Wilson Center, said Akhundzada's message was likely an attempt to unite Afghans, including factions feuding within the Taliban, by invoking their religious ideology.
"It also telegraphs defiance directed at the international community. In effect, we don't welcome your criticism and we don't need your largesse," said Kugelman.
In highlighting Taliban efforts to combat poppy production and an anti-corruption campaign, the message may also have been an attempt to shore up Taliban legitimacy in the eyes of the Afghans, said Kugelman.
Tuesday's message came just days after the Taliban shared a rare, months-old audio message from Akhundzada in which he purportedly says that Afghanistan would be "ruined" without justice handed out by the country's new rulers.