Vietnamese Blogger Reportedly Kidnapped in Bangkok
The kidnapping, which coincided with U.S. Secretary of State Antony Blinken's visit to Vietnam last week, highlights the gaps in interests and perceptions between Washington and Hanoi.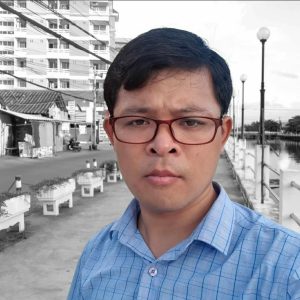 A prominent Vietnamese blogger and YouTuber seeking asylum in Thailand has been abducted by Vietnamese intelligence agents and forcibly returned to his country, according to media and civil society reports, on the same day that U.S. Secretary of State Antony Blinken hailed the strength of the U.S.-Vietnam relationship.
Duong Van Thai, who published under the name Thai Van Duong, fled to Thailand in 2018, fearing political persecution for his many social media posts and videos criticizing the Vietnamese government and leaders of the ruling Communist Party of Vietnam (CPV). He had been granted refugee status by the United Nations.
According to a report by Radio Free Asia (RFA) yesterday, Duong "went missing on the morning of April 13 after he left his rental home in Bangkok to pick up a friend at the airport." Calls to his mobile phone that afternoon went unanswered, the U.S.-funded broadcaster quoted several of his friends as saying. According to Viet Tan, a pro-democracy organization formed by South Vietnamese exiles in 1982, Duong was abducted by secret police on April 14.
Whatever happened in Bangkok, Duong does now appear to be in Vietnamese custody. RFA quoted police sources as saying that he was now in custody in the northern province of Ha Tinh, after being detained for entering the country illegally from Laos. On April 16, the Ministry of Public Security put out a statement to similar effect.
But the Viet Tan statement said that this story did not make sense given Duong's refugee status and legitimate fear of persecution in Vietnam. "Fellow activists and Vietnamese asylum seekers in Thailand dispute the official account of the arrest, arguing that Duong Van Thai would not have voluntarily returned to Vietnam, given the risks of persecution and imprisonment he would face," it said in the statement.
Extraterritorial actions like this are certainly a part of the Vietnamese security state's repertory. The most publicized case took place in December 2017, when intelligence agents abducted the former Vietnamese state company official Trinh Xuan Thanh from a park in Berlin, where he was seeking asylum. The incident, described by The Guardian as a "brazen Cold War-style kidnapping," chilled relations with Germany for several years. Then, in February 2019, blogger Truong Duy Nhat was kidnapped from a shopping mall in Bangkok where, like Duong, he was waiting on an application for an asylum claim.
The alleged abduction coincided with last week's visit of U.S. Secretary of State Antony Blinken to Vietnam, where he pushed for the two nations to raise their diplomatic relations to the "strategic level" – the second highest designation in Hanoi's diplomatic taxonomy. It also came after the April 12 sentencing of the political activist Nguyen Lan Thang to six years in prison for conducting anti-state activities.
This conjunction of events highlighted the extent to which human rights have been downgraded in the U.S. policy toward Vietnam, as it seeks a partner to help it curb and contain Chinese power. To be sure, U.S. officials still pay ritual obeisance to the idea of human rights in Vietnam, as when a State Department spokesperson said, in response to Thang's sentencing last week, that the U.S.-Vietnam partnership "can only reach its full potential if the government of Vietnam takes concerted steps to meet its obligations and commitments under international law and improve its human rights record."
However, it is hard to argue that human rights occupy anything approaching a determinative place in U.S.-Vietnam relations. After a meeting with Vietnamese Prime Minister Pham Minh Chinh, Blinken described the U.S.-Vietnam partnership as "one of the most dynamic and one of the most important relationships we've had." He added, "It's had a remarkable trajectory over the last couple of decades. Our conviction is that it can and will grow even stronger." Whether or not the arrests of these dissidents were purposely timed to Blinken's visit, these are not the words of an official for whom human rights violations are a high issue of priority.
To point this out is not to argue that the U.S. position makes no sense. In an era marked by the emergence of powerful non-Western or post-colonial countries, including China and India, nations like Vietnam have a greater diversity of partners who view human rights as a purely domestic question. (Even leading Asian democracies like Japan and South Korea often take this approach in practice.) This makes a rights- or values-centered policy a hard sell, as the European Union has discovered in its relations with several Southeast Asian states.
The more important question is what this suggests about the gaps in interests and perceptions between the would-be strategic partners. As I noted in my preview of Blinken's trip to Vietnam, the CPV may harbor concerns about its heavy economic reliance on China, and the ongoing maritime and territorial disputes in the South China Sea, but it also shares with the Chinese Communist Party an ambiguous, if not hostile, view of Western intentions, and a suspicion that the long-term aim of many Western countries is to overthrow communist rule. However excessive it might seem, the intensifying crackdown on dissidents – since 2018, the country has convicted at least 163 people for criticizing the authorities – reflects this goal.
At the same time, this is very far from the U.S. perception of China as a threat, perhaps an existential one, to the survival of the current "liberal, rules-based" international order.
"Washington is now taking itself for a massive ride in its misunderstanding of what Vietnam wants from the bilateral relationship," Bill Hayton, an associate fellow of the Chatham House Asia-Pacific Programme, wrote last week. "All the Communist Party of Vietnam wants is regime security. It has no interest in confronting China."