What Can Japan Do for Ukraine?
Japan is eager to cultivate a lasting commitment to Ukraine, but its international clout is limited despite chairing this year's G-7 Summit.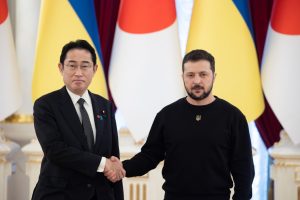 Prime Minister Kishida Fumio's unannounced visit to Ukraine last month reflected the government's effort to boost Japan's presence and leadership in the conflict. He stated that "Japan was able to demonstrate its determination to lead the response to the invasion of Ukraine." The Kishida administration also hinted at further assistance to aid Ukraine's reconstruction. This is likely to be unveiled in front of world leaders at the G-7 Summit hosted by Japan in May.
But is Japan's long-term commitment to Ukraine and effort to contribute to security in Europe too ambitious, in light of its limited financial resources and pacifist constitution?
Kishida is in high spirits as he prepares to host world leaders in his hometown of Hiroshima next month. The main agenda will be addressing international security and order, with a focus on supporting Ukraine. Kishida's trip to Ukraine was historic; he became the first Japanese prime minister to visit a war zone since World War II. Ukrainian President Volodymyr Zelenskyy pointed to Japan as a country that will play a key role in Ukraine's reconstruction.
According to the World Bank, post-war reconstruction costs will balloon to $411 billion dollars, two times higher than estimates in 2022. But Japan's financial contribution to Ukraine was the lowest among the G-7 members. So far the Japanese government has pledged $7.5 billion – compared to $71 billion in military, financial, and humanitarian assistance by the United States and $30 billion by the United Kingdom.
Despite Japan promising "maximum support," it is limited to helping Ukraine in non-lethal ways. The country is bound by the Three Pillars on Transfer of Defense Equipment and Technology, which prevent Japan from exporting arms overseas. So far the Japanese government has provided civilian assistance in the form of bulletproof vests and protective masks, among other gear, as well as generators and solar-powered lights. Japan also provided a number of mobile systems and equipment to support Ukraine's public broadcast stations after the destruction of a television tower in the capital. It also provided Japanese landmine detection equipment to help Ukraine's worsening landmine problem, created by invading Russian forces.
Zelenskyy also urged Japan to cooperate with long-term reconstruction in areas such as healthcare, green energy, as well as Ukraine's automobile and mineral production industries. But it's not easy to provide win-win investment that would bring returns to Japanese industry.
In a trip to the United States earlier this year, Kishida said the Russian invasion of Ukraine had shifted Japan's foreign policy as well as security policy. He stressed the importance of maintaining tough sanctions against Russia and strengthening the Japan-U.S alliance. But there is no indication that the international community expects Japan to play a leading role in peace negotiations. Ukraine's Deputy Minister Emine Dzhaparova praised Kishida's visit to Ukraine but even that was laced with a sense of surprise: "A year ago we couldn't even expect that Prime Minister Kishida would come… But it happened."
Japan's proactive response to Ukraine is said to be in response to criticism during the Gulf War when Japan's financial support to the United States was dismissed as "too little, too late." The Kishida administration is providing what it calls "uniquely Japanese" assistance for the reconstruction and rebuilding Ukraine's economy. But ending the war is the most important preliminary step, and Japan is unlikely to play a role in leading peace negotiations.