Anatomy of a Sausage Scandal in Kyrgyzstan
Industrialized meat processing is inherently a messy business. In Kyrgyzstan, the politics of regulating the food supply and flows of trade can be just as messy.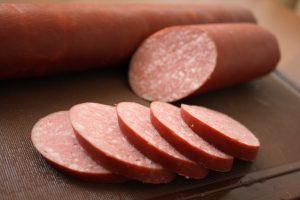 On April 7, Rosselkhoznadzor, Russia's federal agricultural oversight body, announced they had found pig DNA in a batch of sausage imported by Toyboss, a Kyrgyz manufacturing company. From Russia's perspective, the infraction was a problem because the pig products had not been declared in customs. But the accusation had larger significance in Kyrgyzstan. Toyboss's sausages are halal, meaning they are produced according to Islamic law. Although there are different ways to standardize halal – with several global norms and two competing certifications within Kyrgyzstan – one rule is universally agreed upon: pork is strictly forbidden. 
Myrzabek Orumbayev, the general director of Toyboss's parent company Adal Azyk, responded to Rosselkhoznadzor's claims in a press conference and an Instagram video on April 10. Orumbayev assured Toyboss's customers: "I want to say with confidence that we have not and never will use pork in the manufacturing of our products – this goes against our principles and moral values."
Beyond using pork products, there could have been several ways for pig DNA to show up in Rosselkhoznadzor's testing. Orumbayev explained that Toyboss only controls the distribution process from Kyrgyzstan to Moscow and Novosibirsk. From there, Russian suppliers transport Toyboss sausages to other cities, and close proximity to pork products could have contaminated the halal sausages. 
This guessing game over the source of the pig DNA was ultimately a moot point, though. Toyboss sent a total of 57 samples to laboratories in Bishkek, Almaty, and Irkutsk for DNA testing – a lengthy and expensive process. Every single test came back negative for swine DNA, Kyrgyzstan's Ministry of Agriculture announced on May 18.
In the month between Rosselkhoznadzor's announcement and the DNA testing that conclusively showed there was no swine present in the imported sausages, Kyrgyzstan's business community and government officials rallied behind Toyboss. On April 11, the Jogorku Kenesh, Kyrgyzstan's parliament, addressed the Toyboss scandal. Ruslanbek Jakyshov, a member of the Ishenem party, told Deputy Minister of Agriculture Murat Ramatov, "Your ministry should promptly take action to provide the population with information and to protect companies' interests."
Kyrgyzstan's Ministry of Agriculture has taken protectionist measures when it comes to food. Back in November 2020, they temporarily blocked the export of livestock with the goal of keeping meat prices stable. A similar logic guided a January 2023 decision to ban Kyrgyz farmers from exporting onions. But the ministry is somewhat constrained in its power to protect companies' interests because of Kyrgyzstan's membership in the Eurasian Economic Union (EAEU), a trade agreement between Russia, Belarus, Kazakhstan, Kyrgyzstan, and Armenia that encourages the free movement of goods and services. Both of the trade bans mentioned above excluded exports to EAEU member states.
Kyrgyzstan has been a member of the Eurasian Economic Union since 2015. The process for joining was rushed, though, and when Kyrgyzstan became a full member, it was not clear that it could meet agreed-upon requirements for inspection standards. 
This has led to not infrequent ad hoc bans, seizure of shipments, and sharply critical press releases from Rosselkhoznadzor. Sometimes these bans are narrow, such as in February 2023 when Russia called for Kyrgyzstan to stop issuing export certifications for several Kyrgyz trout farms. But other responses have been more far-reaching, as with the full ban on dairy goods from Kyrgyzstan that went into effect April 21.
Despite the ad hoc bans, trade between Kyrgyzstan and Russia remains robust. 2022 saw record high levels of trade. So why is Russia flexing on a key trade partner and political ally?
Some have questioned the motives for Russia's trade policies. For example, RFE/RL's Kyrgyz Service, Radio Azattyk, connected the dairy ban with recent legislation designed to promote the use of Kyrgyz. Regarding the pig DNA scandal, the director of Kyrgyzstan's National Center for the Development of the Halal Industry – a private organization with a halal certification process that rivals the government's – Abdul-Khamid Shamshidin uulu also sensed some unsavory undertones. Shamshidin uulu told Kaktus Media, "In light of what is happening now in the Russian Federation, the deplorable state that the whole society of Russia is in, and how deeply corruption has penetrated all state structures, I do not rule out that the inspection body is corrupt." 
With this particular scandal, it's hard to see whether there are bigger economic incentives to undercut Kyrgyzstan's sausage industry or narrower opportunities for inspectors to cash in on infractions. It's understandable to jump to these explanations given Russia's past actions, but it is important that in rallying around Toyboss sausages, the government and other responsible actors do not skirt the important work of improving Kyrgyzstan's food safety infrastructure in the future.