Putin to Visit Kyrgyzstan for EAEU Summit
Authorities in the Kyrgyz capital extended a ban on protests that's been in place most of the year, hoping to head off any trouble when Putin (and Mirziyoyev) come to town.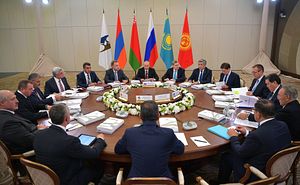 On December 9, Kyrgyzstan will host a meeting of the Supreme Eurasian Economic Council, the Eurasian Economic Union's highest body. Russian President Vladimir Putin is expected to attend in person.
Armenian Prime Minister Nikol Pashinyan, Belarusian President Alexander Lukashenko, and Kazakh President Kassym-Jomart Tokayev are also expected to attend, given that Kyrgyz authorities have stressed that the meeting will take place in person — as opposed to virtually, as was the council's May 2022 meeting.
Attention has focused on Putin and his making a rare excursion outside of Russia. But another planned attendee of note is Uzbek President Shavkat Mirziyoyev. Uzbekistan is an observer in the EAEU, in recent years flirting with membership but stopping short of fully pursuing it. Mirziyoyev will arrive in Bishkek on December 9 and the next day will begin his long-anticipated state visit to Kyrgyzstan.
(Update: After this piece was originally published, Kyrgyz authorities said that Mirziyoyev's visit was postponed. Uzbek Prime Minister Abdulla Aripov is now scheduled to attend the EAEU Summit. Mirziyoyev will reportedly make his state visit by the end of the year, Kyrgyz Deputy Foreign Minister of Kyrgyzstan Aibek Moldogaziev told 24.kg.)
Arguably in anticipation of protests — either against Putin over the war in Ukraine or Mirziyoyev over the Kempir-Abad reservoir border deal — authorities in the Kygryz capital extended a ban on rallies that has been in place since the spring. 
In March, a court in Bishkek issued a ban on rallies near the Russian embassy, which is located between two coffee shops in central Bishkek, and the nearby Ala-Too Square, which has long featured as a prime protest location in the city. 
Last week, the same court not only extended the previous ban to the end of the year but expanded it to include Erkindik Boulevard, a pair of streets bordering a long thin wooded park that runs from near Ala-Too Square nearly half a mile south to the Bishkek Railway Station. The boulevard, its name meaning "freedom," is another popular protest and march location. 
Protesters in Bishkek have been asked to relocate to Gorky Park, west of the capital's main government buildings. 
The Eurasian Economic Union's relevance and future have been challenged by the Russian invasion of Ukraine, even as the war has increased the union's utility for Russia. A Chatham House explainer published earlier this year noted that "For Russia the benefits of the [EAEU] are mainly political." But, the same explainer noted, in the wake of the invasion of Ukraine, the EAEU has become "considerably more useful economically to Russia than ever before. Countries such as Kazakhstan have been instrumental in allowing it to bypass sanctions and import restricted goods."
One analysis published in August stated that while Kazakhstan's exports to Russia over the previous six months had only increased slightly, certain commodity categories witnessed a dramatic boom: For example in January-June 2021 Kazakhstan exported just $190,000 in computers to Russia; in the same period in 2022 that figured exploded to $35.8 million. Similar leaps were witnessed for smartphones and railway car axles.
Kyrgyz exports to Russia, meanwhile, have nearly doubled according to data compiled by the U.N. COMTRADE Database. In the first eight months of 2021, Kyrgyz exported $227 million in goods to Russia; that figure for the same period in 2022 is $438 million, with distinct spikes in May and June (a breakdown of commodities didn't seem to be available, though it would be fascinating to see).
As Japarov welcomes the leaders of the EAEU to Bishkek later this week, evergreen questions about the EAEU's utility for Kyrgyzstan — and all the member states — will again be aired. But the Ukraine war has arguably altered the balance, if only for the interim while Russia's ability to trade more widely in the world is curtailed by sanctions. This isn't without risks, but also not without profits.
On December 6, Japarov's birthday, Putin sent a friendly telegram and followed up with a phone call. He'll soon land in Bishkek hoping to demonstrate, in contrast to his avoidance of the recent G-20 and APEC meetings, that Russia still has friends in the world.