French President Emmanuel Macron Makes a Historic Visit to Mongolia
The first visit by a French president to Mongolia was decades in the making.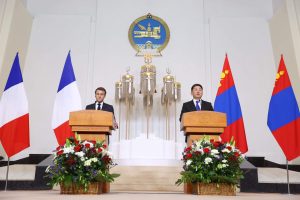 French President Emmanuel Macron made a historic visit to Mongolia on May 21 at the invitation of Mongolian President Khurelsukh Ukhnaa. Macron's state visit, bringing with him a 54-people delegation, marks the high-level political will for Mongolia and France to advance their bilateral ties to a strategic-level partnership – one of the stated goals after the visit.
France and Mongolia established diplomatic relations in 1965. In Mongolia, France is recognized as one of the European countries to have devotedly supported Mongolia's independence, democracy, and modernization from an early stage. Especially since Mongolia's democratization in the early 1990s, the two countries have shared a mutual understanding of the significance of democracy, human rights, and democratic governance.
Since the two established ties in 1965, France has received three presidential state visits from Mongolia. In 1996, the first delegation was headed by Ochirbat Punsalmaa, followed by Enkhbayar Nambar in 2007, and Elbegdorj Tsakhia in 2015. Each high-level meeting between the heads of state strengthened France-Mongolia diplomatic relations and paved the way for agencies, businesses, and institutions to cooperate on diverse issues and projects.
On the prime ministerial level, Mongolia sent Byambasuren Dash to Paris in 1992, Bayar Sanj in 2009, and Batbold Sukhbaatar in 2011. These diplomatic visits – albeit intermittent – demonstrated Ulaanbaatar's interest in augmenting France-Mongolia relations. But Mongolia had never hosted France's head of state – until now.
Macron's historic visit to Mongolia ultimately cemented previous attempts to bolster the two countries' relations. His visit shed light on three major areas for advancing France-Mongolia relations to a strategic partnership.
First and foremost, the timing of Macron's state visit highlights Mongolia's geostrategic location.
Despite its landlocked position, Ulaanbaatar's foreign policy remains multi-pillared and democratic. Therefore, as countries around the world, particularly, democratic countries seek stable partners, Mongolia provides a rare opportunity. For France, as Macron is determined to strengthen its presence in East Asia under its Indo-Pacific Strategy, Mongolia is a partner that cannot be neglected.
The second important outcome was that Macron and Khurelsukh showed a political will to advance bilateral ties to a strategic partnership level. Indeed, establishing a strategic partnership requires a certain level of trust in governance, institutions, and mutually accepted and respected cultural ties. In 58 years of diplomatic ties, Mongolia and France have strengthened these fundamental linkages. Macron's visit demonstrates these shared values.
Finally, Macron's high-level meetings with Khurelsukh and Prime Minister Oyun-Erdene Luvsannamsrai clarified the significance of France's interest in Mongolia, ranging from investment and strengthening business relations to cultural ties.
A diplomat, and leading Mongolian international relations scholar, Bayarkhuu Dashdorj, explained, "Macron's state visit to Mongolia is a significant step in advancing the two countries' relations. If Mongolia and France were to establish a strategic partnership, this signifies the two countries' relations have entered the next level. This itself a significant indication of France's respect and continued support for Mongolia's democracy, human rights, and fundamental ties as an important third neighbor partner."
Khurelsukh's foreign policy adviser stated that Macron's state visit to Mongolia illustrated – among many things – Mongolia's multi-pillared, balanced, and peaceful foreign policy. Moreover, he stated, "Macron's visit carries both political and geopolitical relevance. Also, it is a major indication of Mongolia's successful utilization of the third neighbor foreign policy."
In a joint press conference with Macron, Khurelsukh reaffirmed France as an important third neighbor partner and a country that has continuously devoted itself to supporting Mongolia's democracy. For his part, Macron stated that France considers Mongolia to be a "privileged partner."
In the Mongolia-France Joint Declaration, the two countries declared mutual respect for the robust partnership between the two countries, which is embedded in democracy, human rights, freedom, and the rule of law. Moreover, as members of the United Nations, Mongolia and France declared the responsibility of implementing a multilateral approach promoting peace, security, stability, and sustainable development.
The Joint Declaration also indicated areas of cooperation, such as in the fields of "politics, defense, civil defense, economy, trade, investment, energy, agriculture, communications, technology, industrialization, education, science, culture, and sports."
One major area of cooperation between Mongolia and France is the strengthening of Mongolia's civil protection sector. France has offered support in strengthening Mongolia's emergency response and disaster relief management system. The two sides have agreed to extend this collaboration by providing professional training in disaster relief operations and bringing the emergency team to international standards and requirements.
Moreover, France has shown increasing interest in Mongolia's climate change, and air pollution issues. Macron praised Khurelsukh's "One Billion Tree" initiative as part of Mongolia's commitment to the Paris Agreement. One of the major infrastructure projects currently under discussion is creating an environmentally friendly aerial transportation system in Ulaanbaatar.
The two sides will also expand cooperation in space science and communication satellites for peaceful purposes.
In an interview, Mongolia's ambassador to France, Nyamkhuu Ulambayar, touched on the importance of bilateral relations, particularly the two countries' cooperation and success in defense, trade, education, investment, mining, and the health sector. She added that the civil protection sector, husbandry, and education sectors have been the most active and successful areas of cooperation. Since 2015, France and Mongolia have jointly provided funds for 10 students to study in France each year.
From a political and governance perspective, Macron's historic state visit reaffirmed Paris' respect for the fundamental democratic values shared by both countries. Each meeting between the heads of state strengthened France-Mongolia diplomatic ties, but more importantly, it has paved the way for government agencies, private businesses, and other civil institutions to cooperate on diverse issues and projects.
With bilateral relations approaching their 60th anniversary in two years, Mongolia and France are on their way to advance ties to a strategic partnership level.
We may soon see more progress as well: French President Emmanuel Macron officially invited Khurelsukh to pay a state visit to France in October.