What's Driving the France-Mongolia Rapprochement?
Just five month after the French president's historic visit to Ulaanbaatar, Mongolian President Khurelsukh Ukhnaa paid a state visit to France.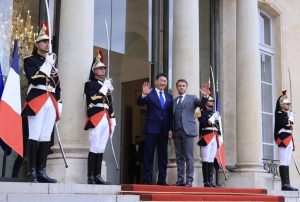 Mongolian President Khurelsukh Ukhnaa paid a state visit to France from October 10 to 14. Khurelsukh's visit – just five months after French President Emmanuel Macron's state visit to Ulaanbaatar – shows a mutual interest in advancing France-Mongolia relations. The two leaders found momentum to engage in high-level dialogues regarding global issues, energy transition, and the significance of establishing strong cultural ties. The visit was headlined by major uranium deals underway between the government of Mongolia and a French mining company.
The Mongolian delegation, headed by Khurelsukh and accompanied by Foreign Minister Battsetseg Batmunkh, was received by the French ambassador to Mongolia, Sebastien Surun, and the minister of ecological transition, Agnes Pannier-Runacher, in Paris. The working delegation from the Mongolian side included multi-party parliamentarian representation.
At first glance, France and Mongolia may seem like a curious match, given the geographical distance between them, a large economic gap, and cultural differences. Yet the bilateral relations between the two countries have reached unprecedented heights in 2023. Macron was the first French president ever to visit Mongolia in May 2023. Now Khurelsukh's state visit to Paris exhibits a strong desire to advance the France-Mongolia partnership within a mutually agreeable framework of geopolitical, economic, and cultural means at the highest level. 
One major breakthrough agreement was the France-Mongolia joint venture protocol agreement between Erdenes Mongol, Mongolia's state-owned mining corporation, and Orano Group, a French mining company, to explore uranium deposits in Zuuvch-Ovoo in Mongolia's southwestern Dornogovi province. 
The protocol agreement marks the very first stage of a new source of partnership between Mongolia and France. The megaproject is worth $1.6 billion, and when fully operational will cater to around 4 percent of global uranium demand. 
Beyond the immediate impact, the investment agreement has the potential to alter Mongolia's business practices more broadly. Given the critical importance of uranium in the global market today and in the future, the Mongolian government is looking into different models than the Oyu Tolgoi deal, which saw multinational firm Rio Tinto adopt a majority share of the massive gold and copper mine. The new France-Mongolia project could prove a testing ground for policies on taxation, acquiring technical knowledge and tools, training engineers, and supporting the country's export sector. 
Dorjkhand Togmid, a Mongolian parliamentarian who was present during the drafting of the agreement, highlighted the different business practices conducted by the French. He said Mongolia can learn from these norms to negotiate and adapt. 
The president of Orano Group, Claude Imavuen, spoke to The Diplomat's Bolor Lkhaajav on the uranium exploration agreement. "The momentum of our presidents and the geopolitical circumstances make it important for both parties to find new allies and partnerships," he said. "The position of Mongolia – geopolitically situated between Russia and China – and its rich natural resources, [as well as] the prospects of decarbonization and global warming are very important." 
Imavuen applauded Mongolia's conscious action to fight climate change, decarbonize, and show leadership in new pursuits and projects. 
During Khurelsukh's visit, the French side also affirmed its support to organize the 17th Conference of the Parties (COP17) of the United Nations Convention to Combat Desertification in Ulaanbaatar in 2026.
As France strives to strengthen its political, economic, and security interests in the Indo-Pacific region, Mongolia's resources are of utmost interest to Paris. Indeed, France relies on nuclear power for 75 percent of its energy mix, yet it has for a long time been limited to a small pool of suppliers for the necessary uranium. This vulnerability was exposed in the summer of 2023 as a coup unfolded in Niger, France's second-largest supplier, accounting for 15 percent of its total uranium imports. 
Although France, through its main nuclear company, Orano, had embarked on an active effort of diversification even before the crisis in Niger, the coup underlined the need to accelerate that process. Resource-rich Mongolia can play a pivotal role in this endeavor. 
For its part, Mongolia chose France as a partner in exploiting uranium deposits for its capability (France has deep expertise in nuclear energy), accountability, and reliability. Despite Mongolia's mining-dependent economy, government agencies are seeking new, reliable partners who can support and improve Mongolia's development, not only the extraction of natural resources. 
Besides the uranium deal, Paris and Ulaanbaatar also agreed to work together to search for lithium, a key material for France's electric vehicle manufacturers, using satellite imagery. 
While energy is the backbone of the France-Mongolia rapprochement, the flourishing bilateral relationship allows the two countries to explore new avenues for cooperation. 
During Khurelsukh's state visit, another landmark partnership agreement was signed between Thales Alenia Space, a major French satellite specialist, and the Mongolia Ministry of Digital Development and Communications. Thales Alenia Space will construct the high-performance Ku Band satellite, to be named "Chinggis Sat." Mongolia's interest in establishing its own satellite station has both financial and national security implications. 
Mongolia's minister of Digital Development and Communications, Uchral Nyam-Osor, explained the significance of the deal: "If Mongolia were to have a satellite station, internet and communications would be strengthened, and able to use up to the highest capability, 10 GB. The French company, Thales Alenia Space is aiming to complete the feasibility studies by November." 
Moreover, in a bilateral MOU, France agreed to strengthen Mongolia's civil protection sector by providing financial and technical support to its National Emergency Management Agency (NEMA). The MOU aims to finance search and rescue training and the acquisition of new firefighter vehicles. 
Khurelsukh's state visit to France shed light on Ulaanbaatar and Paris' strong desire and political will to upgrade bilateral relations. We can expect more developments in the next two years, leading up to the 60th anniversary of the establishment of diplomatic relations in 2025. In particular, the strengthening of France-Mongolia relations reflects important foreign policy decisions by Macron, as France's Indo-Pacific strategy includes Mongolia as a new partner. 
France's call for a "third way" in the Indo-Pacific, rejection of competition among blocs, and insistence on "strategic autonomy" all resonate positively in Ulaanbaatar. This strategic positioning promoted by Macron frustrates some of France's partners, as it does not align with U.S. priorities. But at the same time, Macron's brand of foreign policy has allowed France to forge deeper relations with countries that also insist on pursuing "non-" or "multi-alignment" – not only Mongolia, but also India, Indonesia, the United Arab Emirates, Bangladesh, and Papua New Guinea. 
Macron's foreign policy certainly plays an important role in Mongolia's openness to engage in strategic partnership with France, a country perceived as less likely to undermine Mongolian stability. In Mongolia's "third neighbor" foreign policy, France is viewed as an emerging important partner that can diversify and strengthen the investment environment, while establishing strong cultural ties between Ulaanbaatar and Paris. 
That said, discussions of Mongolia's "third neighbor" policy sometimes fuel the misconception that Ulaanbaatar is in a position to choose between China or Russia, or contain itself in one specific economic bloc. Mongolia's flexible foreign policy – particularly, the third neighbor policy, fueled by economic and cultural diplomacy – does just the opposite: It seeks partnerships in addition to China and Russia, not partnerships to replace those important relationships. Its comprehensive strategic partnerships with Beijing and Moscow will continue to be an important economic gateway for Mongolia, but seeking a new partner (like France) can only strengthen Mongolia's economic activities, global engagement, knowledge, and capability. 
Moreover, strong France-Mongolia relations can strengthen Ulaanbaatar's position on the international stage, with the European Union, and at the United Nations. Since the two established diplomatic relations, France has supported Mongolia's democratic and international pursuits. These historical elements serve as a strong building block for both Macron and Khurelsukh to show commitment to strengthening bilateral ties in areas including geology, renewable energy, healthcare, education, and the environment. 
As the ambassador of France to Mongolia, Sebastien Surun, stated, "The special partnership of mutual respect between France and Mongolia is based on strategic projects aimed at the future generations of our people."