How the Baltics Can Help Boost Civil Defense in Taiwan
As Lithuania, Latvia, and Estonia move to deepen relations with Taiwan, they also have a lot to offer in terms of civil defense cooperation.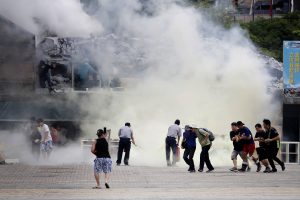 In recent years the Baltic states — Lithuania, Latvia, and Estonia — have moved to demonstrate solidarity with Taiwan as China ramps up military coercion in the Taiwan Strait. While such solidarity has largely been symbolic or economic in nature, there are a number of lessons Baltic states can provide Taiwan in defense. This is particularly true in areas such as civil defense, which various actors in Taiwan have sought to bolster to little avail. 
The bulk of civil defense work in Taiwan continues to be spearheaded by private actors such as the Kuma Academy and Forward Alliance in addition to figures such as United Microelectronics Corps (UMC) Founder Robert Tsao, who has donated US$33 million to train "civilian warriors" in Taiwan over the next three years. There continues to be a critical lack of government coordination of civil defense initiatives despite surging demand. Although civil defense exercises have been organized, they remain highly scripted and lacking in substance. Furthermore, while city governments such as Taipei have allocated limited funding for civil defense, only 4 percent of that has actually gone to training civil defense volunteers. There are no programs oriented toward Taiwan's youth in high schools, for example, to prepare them for conflict.
In this context, it would behoove the Taiwanese government to learn from their counterparts in the Baltics and for Baltic states to dispatch advisers to Taiwan to help local authorities bolster civil defense and training initiatives, especially those oriented toward young people. 
Baltic advisers could provide numerous lessons in civil defense Taiwan can benefit from. Their support is entirely plausible given active attempts by Baltic states to distance themselves from Beijing and resist Chinese economic coercion. Lithuania has expanded ties with Taiwan by welcoming the opening of a Taiwan Representative Office in Vilnius and issued joint statements with the United States calling for bolstered economic ties with Taipei. Likewise, Latvia and Estonia have drawn Beijing's ire for participating in parliamentary delegations to Taipei and withdrawing from China's 16+1 cooperation framework. 
All three countries could step up their support for Taiwan by providing it civil defense expertise. Lithuanian advisers could help Taiwan form organizations similar to the Lithuanian Riflemen's Union, which provides an excellent model for Taipei to adopt nationwide to bolster civil resistance and the survivability of civilian populations in case of a military contingency. The Riflemen's Union shares a close relationship with Lithuania's armed forces, receiving shipments of automatic weapons from the military and participating in training exercises with the National Defense Volunteer Force, the equivalent of Lithuania's National Guard. Its members comprise citizens of all walks of life, ranging from tax consultants to small business owners.
Moreover, Taiwan can seek to publish manuals akin to that provided by the Lithuanian Ministry of Defense that advise citizens on how to proceed during an invasion scenario. While Taiwan published such a manual for the first time in April 2022, it still lacks critical information present in the Lithuanian version, such as pointers on how to identify collaborators and how to hand them over to authorities.
From Estonian and Latvian advisers, Taiwan can learn how to better cultivate the civil defense capabilities of citizens from an early age. For example, Taipei could seek to emulate the Estonian Defense League (EDL), a volunteer force that plans military defense exercises for civilians and also runs the Estonian Defense League School. The school provides state-supported training to develop military competency among civilian populations. The EDL runs programs targeting specific demographics, exemplified by the Women's Voluntary Defense Organization (Naiskodukaitse) and various youth groups. The Naiskodukaitse undergo physical and endurance training and participate in military exercises. Youth organizations such as the Young Eagles (Noored Kotkad) and Home Daughters (Kodutütred) provide young Estonians classes in leadership skills in addition to physical training via activities such as hiking and first aid, survival, and shooting lessons. Additionally, the EDL oversees a civilian-staffed Cyber Defence Unit, comprised of young IT professionals who wish to contribute to defense against foreign information warfare tactics.
Taiwan would also benefit from emulating Latvia's successful attempts to integrate national and civil defense courses in schools. New national defense courses, with an emphasis on physical training such as obstacle courses and mine identification, are being offered to Latvians in grades 10 to 12.
Taiwan has a tremendous opportunity to leverage heightened support from Baltic states to not only expand its trade relationships but also bolster its underdeveloped civil defense infrastructure. Advisers from the Baltics have previously been dispatched to Iraq, Ukraine, and Afghanistan. Dispatching them to Taiwan as well, to augment an expanding contingent of U.S. military advisers and assist authorities in planning and designing civil defense curricula, programs, and exercises, would help bolster credible deterrence on Taipei's part and improve the survivability of Taiwan's civilian population during wartime scenarios.