India's Ruling Hindu Nationalists Challenged in State Vote
PM Modi's Bharatiya Janata Party is battling to retain Karnataka, the only southern state where it has ever won power.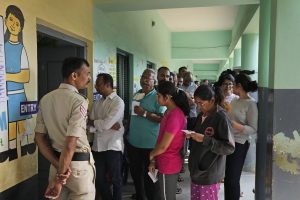 People in the southern Indian state of Karnataka were voting Wednesday in an election where pre-poll surveys showed the opposition Congress party favored over Prime Minister Narendra Modi's governing Hindu nationalist party.
The votes for 224 state legislature seats will be counted on May 13 and the outcome is likely to be an indicator of voter sentiment ahead of national elections expected by May next year.
Bengaluru, the state capital, is India's information technology hub and the area is a sought-after workplace for young professionals.
Modi's Bharatiya Janata Party (BJP) is battling to retain the only southern state where it has ever won power. BJP strongholds are in northern, central, and western India, while opposition parties rule the other southern states of Kerala, Tamil Nadu, Andhra Pradesh, and Telangana.
The BJP is battling to limit its losses due to anti-incumbency, inflation, allegations of corruption, and poor infrastructure development in the state.
A. Narayana, a political analyst, said there is voters' anger against the ruling BJP government in the state. "If this anger somehow translates into voting, the BJP has reasons to worry and the Congress has reasons to rejoice," he said.
Sandeep Shastri, another expert, said the situation seems to be like that, adding, "The Congress has its nose ahead."
A BJP win would put top Congress figure Rahul Gandhi's popularity in question. If Congress prevails, the credit will go to Gandhi's crucial campaigning for his party in Karnataka.
In the 2018 assembly elections, the BJP emerged as the single-largest party with 104 seats, followed by the Congress with 78 seats and the Janata Dal (Secular) with 37. The BJP formed the government 15 months after defecting lawmakers from other parties joined.
The party is seeking to repair a dent in its image caused by the suicide of a government contractor earlier this year and the arrest of a lawmaker who was caught accepting bribes.
The opposition Congress has built its campaign around the Karnataka Contractors' Association accusation that BJP ministers and officials demand and accept 40 percent commission or a bribe for every project sanctioned by the government. The BJP leaders deny the accusations.
Karnataka, with a population of 61 million, has strong caste-based voting patterns. The dominant Lingayat community comprises 17 percent of the population and influences the outcome in nearly 100 seats. It's the stronghold of key BJP leaders who belong to the community.
The BJP is banking on its ties with powerful religious institutions followed by different castes and communities like Lingayats, Vokkaligas, Kurubas, Valmikis, Nayakas, and Madiga.
It also is trying to maximize gains in a coastal region where communal polarization between majority Hindus and minority Muslims has deepened due to a row over the wearing of hijabs.
Last year, a government-run school in Karnataka's Udupi district barred students wearing hijabs from entering classrooms, triggering protests by Muslims who said they were being deprived of rights to education and religion.
That led to counter-protests by Hindu students wearing saffron shawls, a color closely associated with that religion and favored by Hindu nationalists. An Indian court later upheld the ban on wearing hijab in class in the state saying the Muslim headscarf is not an essential religious practice of Islam.
According to the 2011 census, India's most recent, 84 percent of Karnataka's people were Hindu, almost 13 percent Muslim, and less than 2 percent Christian.