Malaysian Authorities Seize 'Pride' Watches in Raids on Swatch Outlets
The May 13-14 raids stem from the religious right's growing attack on LGBTQ symbols and expression.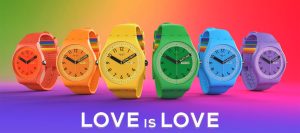 The Swiss watchmaker Swatch announced yesterday that Malaysian authorities raided its stores and confiscated 164 watches featuring the rainbow pride flag, the latest sign of the growing intolerance facing the country's LGBTQ community.
According to Swatch, Ministry of Home Affairs officials raided 11 outlets on May 13 and 14 and seized the watches because they "bore LGBT connotations," The Associated Press reported.
Swatch's Pride Collection features watches in a choice of the six colors on the gay pride flag, which have two rainbow loops on their straps, as well as "a symmetrical seconds hand symbolizing equality." It was reportedly brought to the attention of authorities via a social media post that associated the collection with the British band Coldplay and its support for LGBTQ rights.
"We strongly contest that our collection of watches using rainbow colors and having a message of peace and love could be harmful for whomever," Swatch Group CEO Nick Hayek Jr. said in a statement, according to The Edge Malaysia. He said that there was "nothing political" about the watches' designs.
While it is unclear what action, if any, the government will take against Swatch, the gay rights group Jejaka criticized the confiscation of the watches, saying that it showed "a deeply unsettling level of intolerance."
"It is more than a matter of colorful watches. It's about respect for diversity, freedom of expression, and, most importantly, love," it said in a statement, the AP reported.
Open celebration and advocacy of LGBT rights have become more open and visible in Malaysia in recent years, but same-sex sexual activity remains prohibited under Section 377 of the country's colonial-era Penal Code, which criminalizes acts of "carnal knowledge against the order of nature" and "gross indecency." These provisions carry a maximum penalty of 20 years imprisonment and whipping.
While the selection of the relatively progressive Anwar Ibrahim as prime minister in November raised the hopes of LGBT groups, activists are concerned at the growing power of Malaysia's religious right, as Robin Vochelet explored in these pages last month.
November's general election saw a surge in support for the opposition Malaysian Islamic Party (PAS), which is now the single largest party in the Malaysian parliament and is one of the main instigators of the anti-LGBTQ backlash. It has since chosen to make LGBTQ rights a major front in its attacks on Anwar and his Pakatan Harapan (PH)-led government. As Focus Malaysia reported in January, it is the subject of a major PAS social media campaign, "particularly on TikTok and on some Facebook fan pages where [PH] supporters are attacked with homosexual memes and jokes." Anwar is viewed as particularly vulnerable on this front, given that he was twice prosecuted for sodomy under Section 377 – wrongly, in his account.
The Swatch raids came a few days after Nasrudin Hassan of PAS called on the government to cancel Coldplay's upcoming concert in Malaysia in November, due to lead singer Chris Martin's past advocacy of LGBTQ rights.
"Does the government want to nurture a culture of hedonism and perversion in this country?" he asked in a post on social media. According to Pink News, this appeared alongside screenshots of two tweets: one of Anwar welcoming the band and another from a fan account that posted photos from a 2016 London concert in which Martin is holding a rainbow Pride flag.
This followed other recent incidents in which more than a dozen attendees of the annual Women's March were questioned by local authorities for waving rainbow flags at the event. The same month, a nightclub in Kuala Lumpur canceled an event featuring "sexy muscle men" from Thailand, after an outrage from conservatives. Takiyuddin Haji Hassan, the secretary general of PAS, labeled the nightclub event "outrageous, insensitive, immoral, and even disgusting."
The following day, the Friday sermon at mosques in Selangor warned Muslims against supporting the LGBTQ cause. "It is compulsory for Muslims who believe and fear God to reject LGBTQ and liberal groups that support such perverted habits," stated the sermon.
Attacked by PAS and other conservative Malay rivals as a "deviant Muslim," and worried about the solidity of his coalition government, Anwar has felt a need to disavow any support that he might have been willing to show for the LGBTQ community. In January, under questioning by a PAS parliamentarian, Anwar affirmed that LGBTQ Malaysians will "never be recognized" by his government. This followed comments that Anwar made in 2018, when he declared that "religious people from all races and faiths and society should rise and say that the majority opposes LGBT tendencies and their ideas, as they force all of society to accept them, homosexuality, lesbians, and the like."
There is a sad irony that the advent of Malaysia's most reformist government in many years has also coincided with increasing attacks on, and intolerance of, the country's LGBTQ community.