Pakistan: In the Eye of the Political Storm
Chaos erupted after Imran Khan's arrest. His release brought an uneasy calm, but the stage is set for a more serious clash.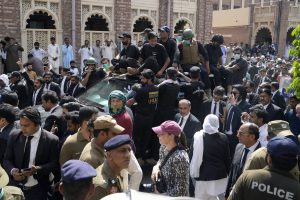 Pakistanis could be forgiven for waking up on Tuesday morning and questioning whether the previous week's events were an unnerving nightmare.
The world's fifth most populous country is no stranger to political unrest. No prime minister has ever completed their tenure in Pakistan's history, but never before has a politician challenging the country's all-powerful military and intelligence services, known as the establishment, enjoyed such public support.
One week ago, on May 9, former Prime Minister Imran Khan was violently beaten and then detained by the country's paramilitary. This led to several days of rioting across Pakistan.
While he has since been released – after Pakistan's Supreme Court ruled that his detention on an alleged land fraud charge was "invalid" and "unlawful" – the current stalemate will be temporary, not permanent.
Khan, who narrowly survived an assassination attempt in November, plans to resume his campaigning for early elections in Pakistan on Wednesday.
Ousted from power in April 2022 in a no confidence vote after falling out with the country's establishment, Khan's popularity is now at an all-time high. There is little doubt that if free elections are held, as planned, in the autumn, he will return as prime minister. The Pakistani people are seemingly prepared to take on the country's establishment, for the first time in history, in an attempt to ensure that happens.
With neither side backing down, what comes next is likely to involve serious unrest. Things are sure to get worse before they get better in Pakistan, which is also already enduring the gravest economic crisis in the country's history.
It was unsurprising to see Khan in the dock last week. Pakistan's establishment and the ruling Pakistan Muslim League-Nawaz (PML-N) party – headed by Prime Minister Shehbaz Sharif – seeks to disqualify Khan from politics.
The former international cricket captain is facing more than 140 criminal cases. In the latest, it was alleged that Khan and his wife, the Sufi mystic Bushra Wattoo, secured lucrative real estate in exchange for carrying out favors for Malik Riaz Hussain, one of Pakistan's wealthiest businessmen, while Khan was prime minister.
Khan and his Pakistan Tehreek-e-Insaf (PTI) party said the case was politically motivated. The PML-N said Khan should face trial. On Friday, after the country's Supreme Court sided with the former premier, Khan was released and returned to his home in Lahore.
It seems certain, though, that Khan will be arrested again. He has only been granted bail until Wednesday and Sharif and his allies have suggested he will be detained again this week.
On Sunday, Khan himself suggested he would be jailed for 10 years for sedition after his supporters had rioted following his arrest.
"Absolutely, Mr. Khan will be arrested again. We are looking at a judiciary in Pakistan which is fragmented and can be influenced," argued Dr. Avinash Paliwal, associate professor in International Relations at the School of Oriental and African Studies (SOAS).
"The ruling [on Friday] was made by pro-Khan judges within the Supreme Court and now the Army will try to fix that. It will 100 percent happen at some point that he will be behind bars and charges will be brought against him that no court can overrule."
In many ways, Khan, a populist politician, is a victim of his own success. Since his ousting, in April 2022, which directly followed a spectacular falling out with the military, his popularity has surged.
Khan has been able to successfully exploit growing frustration among the Pakistani public towards Sharif for his inability to address the country's economic woes and the Army's continued meddling in public policy.
Food inflation is running at 40 percent, the highest in Asia, and approximately 70 million Pakistanis are going hungry, as per a March study by the Wilson Center, a leading U.S. think tank.
Hospitals have run out of many life-saving medicines, including those used in diabetes, heart and kidney disease treatment, while a lack of funding meant Khyber Pakhtunkhwa, one of Pakistan's four provinces, suspended free medical care on May 2.
Relief does not seem imminent, either. Negotiations with the International Monetary Fund for over $1.1 billion in funding have broken down – in part due to Sharif's reluctance to impose further unpopular austerity measures on the population as an election draws near.
Certainly, there have been decades of economic mismanagement in Pakistan. The country has consistently borrowed beyond its means and failed to diversify its tax base. And Khan's detractors argue that he engaged in corruption, as have the Sharifs and Pakistan's other political dynasty, the Bhuttos.
Nevertheless, Khan has carefully crafted a victim narrative since he was removed from power and has convinced a significant majority of Pakistanis that only he can reform the country's stagnant political and economic apparatus.
His approval rating in February was 61 percent, according to a Gallup Pakistan survey, with Shehbaz Sharif trailing far behind at 32 percent.
"Imran Khan, politically, has captured the imagination of most of the country, certainly in Punjab and that is not going to go down. The people's power is with him," said Paliwal.
"He wants an early election and if the authorities give him an honest vote, then he will win."
The establishment will do anything they can to stop him. Khan would fail to do their bidding; he could strip them of their power and even seek to jail senior military or political figures in revenge.
Khan has accused Major General Faisal Naseer, a senior military figure and Sharif of being behind an assassination attempt in November in which he was shot in the legs four times. While on his release from prison, he accused the country's new chief of army staff, General Asim Munir, of being behind his arrest.
Khan and Munir have a long-standing feud. While he was prime minister, Khan removed Munir as the head of Pakistan's intelligence services after the latter began allegedly investigating his third wife, Wattoo, for corruption.
We are now likely to see Sharif and his establishment allies take further action against the judiciary and the PTI's leadership to weaken protection of Khan.
On Monday, hundreds of members of the PML-N, armed with sticks, broke into the country's Supreme Court to threaten its judges.
Pakistan's parliament further announced it would set up a committee to prepare a case against the judge, Chief Justice Umar Ata Bandial, who had ordered Khan's release.
Following Khan's arrest, the PTI called on Pakistanis to take to the streets and it is certain to do so again if Khan is re-arrested. The violence that followed was unprecedented in the country's history, as large swathes of angry protesters torched military buildings, including the army's headquarters in Rawalpindi.
Only when Khan was released on Friday did unrest subside. The PTI claims at least 47 of its supporters were killed by the military; the latter puts the death toll at nine.
Khan says 7,000 PTI workers – including much of the party's senior leadership – have been jailed. Claims of torture are widespread. The elderly relatives and minor children of PTI members have also been arrested in an attempt to lure their relatives out of hiding.
Sharif has said he will come down with an "iron fist" against the protesters and mass arrests will now follow. The ability of Sharif and the establishment to incite fear among Pakistanis is perhaps their best chance of holding onto power.
"To me, it is clear that only one – either Mr. Khan or the army chief – can survive this crisis, politically," argued Uzair Younus, director of the Pakistan Initiative at the Atlantic Council, a U.S.-based think tank.
"Over the next few weeks, how this situation plays out will come down to General Munir and the armed forces ability to assert themselves and then Mr. Khan and the PTI's ability to maintain public protests and the momentum."
Several further variables could influence events in Pakistan. First, there appear to be fractures among the country's senior military leaders, although it is unclear as to their severity.
Many commanders remain pro-Khan from his time as premier, and it was notable that during the recent violence former army figureheads, many now living abroad, directed protesters. Several acting military commanders also refused to take a heavy-handed approach against PTI supporters.
During previous crises, foreign powers, including Saudi Arabia, the United Arab Emirates, and the United States, have also intervened to mediate. This has not occurred this time around, at least openly. But it is unlikely that China, which has invested around $65 billion in Pakistan as part of the China-Pakistan Economic Corridor, or India, which has fought four wars with its neighbor, will continue to watch on if law and order deteriorates.
One victor from the crisis is likely to be the Tehreek-e-Taliban Pakistan (TTP), an Islamic militant group allied with the Afghan Taliban, who called off their ceasefire with the Pakistani state in November.
The TTP has since launched daily attacks against the police and military. January 2023 was the deadliest month for the country's security forces in a decade, with one such suicide attack on a mosque in Peshawar killing 83 people.
A united front will have to be presented against the emboldened TTP – otherwise Pakistan risks descending into total anarchy.