Rising India: A Welcome Partner for ASEAN?
How committed India is to its relationship with Southeast Asia will depend in large part on how committed it is to globalization in general.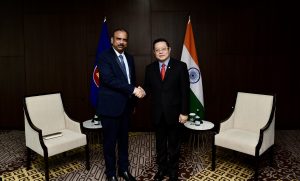 Over the last two decades, the geopolitics of the Asia-Pacific has been fundamentally transformed by the rise of China, and the United States' response to it. For the rapidly developing and crucially located nations of the Association of Southeast Asian Nations (ASEAN), readjusting to an evolving international order defined primarily by the Sino-U.S. contest has proven particularly challenging. Consequently, ASEAN has sought a "third party" regional power to hedge against the uncertainties of the U.S.-China rivalry.
This search for new partners comes amidst the rising profile of India on the world stage. According to the United Nations' Department of Economic and Social Affairs, India's population may already have overtaken that of China. Economically, India has enjoyed an average of 5.5 percent annual growth between 2002 and 2022, with Morgan Stanley predicting that its GDP could more than double from $3.5 trillion today to upward of $7.5 trillion by 2031. India has also become more internally stable, with incidents of religious and caste violence, terror attacks, and riots having declined in the first two decades of this century compared to the two decades prior.
Relations between India and ASEAN have been on a steady rise over the last three decades, beginning in 1992, when India implemented its "Look East" policy and became a sectoral dialogue partner of the Southeast Asian bloc. These relations were elevated to dialogue partnership and strategic partnership in 1996 and 2012, respectively. In 2014, New Delhi revamped the Look East policy and rebranded it "Act East" in acknowledgment of the need for a more proactive role in the Asia-Pacific. In November 2022, in recognition of the 30th anniversary of ASEAN-India relations, ASEAN granted India the status of a comprehensive strategic partner at the ASEAN-India Commemorative Summit in Phnom Penh, Cambodia.
Southeast Asians may be beginning to view India as a welcome partner. This was suggested in the ISEAS-Yusof Ishak Institute's most recent survey of elite Southeast Asian public opinion, with India emerging as a surprise third choice for a "third party" partner for ASEAN, with the support of 11.3 percent of respondents, behind the European Union (42.9 percent) and Japan (26.6 percent). The survey also showed an increase in levels of trust in India in almost all of the ASEAN countries, with overall trust jumping from 16.6 percent in 2022 to 25.7 percent in 2023, with levels of distrust also dropping in tandem.
This has been attributed to perceptions of India as a major non-aligned player, particularly in light of the ongoing Russia-Ukraine war and India's position of quiet neutrality. India has also sought to rival China for leadership of the Global South, whose cause New Delhi seeks to champion as head of the G-20 this year. For India's part, ASEAN has been identified as central to its larger strategy toward the Indo-Pacific.
Both India and ASEAN are thus seemingly destined for closer relations moving forward. There are multiple areas through which India and Southeast Asia can promote further engagement, the least discussed of which is soft power. Certainly, as compared to other major players in the region such as the U.S. and Japan, India is in a rather unique position in fostering people-to-people links with ASEAN through an emphasis on its historical and civilizational links with the region.
A unique aspect of the India-ASEAN relationship is the long-standing civilizational ties that both parties have enjoyed. Besides China, no other major power within the Indo-Pacific had as much of a cultural impact on Southeast Asia as India. For some 2,000 years, Indian religion, literature, language, architecture, and art influenced Southeast Asian societies, blending in with local practices to create distinct cultures.
Like China, India has sought to tap into its shared cultural heritage and historical connections to enhance bilateral relations with Southeast Asian nations. One of the more prominent strategies of Indian cultural diplomacy vis-a-vis ASEAN has been the restoration of temples across the region. The wider context for this is centuries of religious connections between India and Southeast Asia, with Hinduism and Buddhism transmitted from the former to the latter, leading to the construction of temples, stupas, and pagodas across the region. Representing a legacy of rich civilizational connections, the restoration of these temples has emerged one of the more public faces of Indian soft power in Southeast Asia.
India's "temple diplomacy" started as early as 1992, when Indian archaeologists helped restore Angkor Wat and other Angkorian temples in Cambodia. Since then, the Indian government has also supported the restoration of the My Son temples in Vietnam, and Buddhist pagodas in Myanmar including the Ananda Temple in Bagan, the Wat Phou Temple Complex in Laos, and some parts of Preah Vihear temple in Cambodia. For Southeast Asian countries, the support of the Indian government in restoring important aspects of their national identities provides an opportunity for the citizens of both parties to buy into the common values and heritage that they both share.
The presence of an Indian diaspora in Southeast Asia has also provided another vector for cultural diplomacy. The Indian government's appreciation of the foreign policy role of its diaspora is a relatively recent phenomenon. Immediately after independence, the Indian government followed a hands-off approach when it came to overseas Indians. It was only in the 1990s, following economic liberalization, that the government came to realize the importance of its diaspora, as it was only through remittances from overseas Indians that India was able to survive its then balance-of-payment crisis. Since then, more recent Indian administrations have become even more serious about harnessing its diaspora as a form of soft power.
In the case of Southeast Asia's Indian diaspora, most found in the region today remain a legacy of colonialism, being largely concentrated in the former British colonies of Myanmar, Malaysia, and Singapore (where they compose 5 percent, 8 percent, and 7 percent of the population, respectively). Scholars have pointed to these communities as invaluable tools of soft power for New Delhi, similar to how the overseas Chinese community helped facilitate the early economic linkages between China and Southeast Asian nations.
In comparison to the Southeast Asian Chinese, however, the Indian diaspora in Southeast Asia generally lacks economic clout. In countries like Malaysia and Myanmar, this has been due in part to policies of marginalization by their respective governments. Politically, Indians play a more prominent role, with prominent ethnic Indians in both government and civil society in countries like Malaysia and Singapore. Notwithstanding the varied socioeconomic circumstances of Southeast Asia's Indian diaspora, scholars argue that they still retain the potential to act as a bridge between India and the region. Rather, scholars have called for a more inclusive approach in New Delhi's diaspora outreach to Southeast Asia, rather than their traditional focus on just successful segments of diaspora society. Doing so, scholars argue, will allow India to nurture truly civilizational links.
However, there remain obstacles to fostering deeper relations between India and ASEAN. Among these are New Delhi's continued aversion to economic openness. India's exit from the Regional Comprehensive Economic Partnership (RCEP) mega-trade deal in November 2019 was a significant blow to proponents of regional economic integration. Exclusion from RCEP has locked India out of helping shape the trade architecture of the Asia-Pacific or integrating India into the ASEAN-led multilateral order within the region. At a time when multinationals are seeking to diversify their production bases away from China, opportunities present themselves for greater integration between India and the value chain hub of ASEAN.
Moreover, the increasing normalization of Hindutva ideology in India, connected to Narendra Modi and his ruling Bharatiya Janata Party (BJP), has created past complications with Muslim-majority Malaysia and Indonesia, both founding members of ASEAN. Sectarian violence between Hindus and Muslims in New Delhi in February 2020 sparked protests and condemnations from Islamic groups in both countries. In June 2022, comments made by a BJP spokesperson that was widely considered blasphemous by Muslims elicited protests from the Malaysian and Indonesian governments, both of whom summoned their respective Indian ambassadors to lodge official complaints.
Furthermore, the long history of the BJP's engagement with diaspora communities risks facilitating what one Singapore-based scholar described as the spread of "Hindu transnationalism," posing risks to the social cohesion of multicultural societies with large Indian diasporas such as Singapore and Malaysia. In this event, diaspora connections would no longer be seen by ASEAN governments as tools for building closer relations, but as actual potential threats to domestic stability.
Ultimately, the increasing strength of the Indian economy alongside geopolitical realities provides opportunities for India and ASEAN to foster closer relations. Certainly, within the realm of people-to-people links, the centuries-old civilizational ties between Southeast Asia and India provide areas for both parties to strengthen engagement, whether in the form of temple restoration or the Indian diaspora. However, New Delhi's aversion to economic openness as well as domestic Hindutva politics will also provide challenges to the ASEAN-India relationship going forward. In the end, how committed India is to building up the relationship with ASEAN will depend in large part on how committed India is to globalization in general.